Your bed is the most important piece of furniture in your bedroom as it sets the mood for the entire space. When choosing a new bed, it is important to choose one which creates a unique style. The Bon Ton bed by EmmeBi is a beautiful piece which brings sophistication, style, and appeal to any bedroom. Its utter functionality and the simplicity of its clean lines are a mark of superior Italian workmanship and design. Created by Antoanella Frezza, this bed allows you to sleep in luxurious refinement.
The Bon Ton bed by EmmeBi perfectly blends high fashion and function. Its unique and extraordinary appearance makes it a distinctive piece of furniture. The bed is upholstered with fabric in brushed wool double-face. Its head rests, rollers, and stainless steel feet give it an elegant look and added appeal. It comes in three different sizes in a variety of finishes. Get it in fabric or leather and create a distinctive bedroom everyone will adore. Place it in your guest room and wow your guests with its elegant, modern design.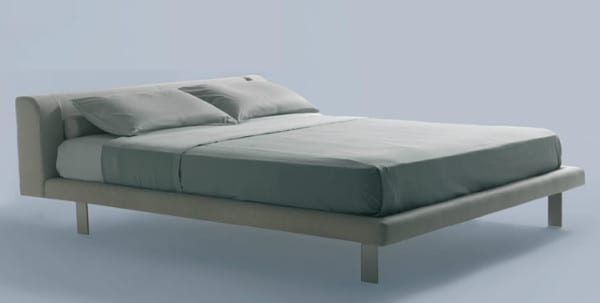 Since you spend a lot of time in your bedroom, it is important to make it comfortable. An uncomfortable bedroom will not only make you restless, it will also cause a general feeling of disharmony. The Bon Ton makes a great base for a good night's sleep. Its design combines genuine quality materials with innovative workmanship to provide a pleasurable experience to you and your guests.
Which furniture pieces would your pair the Bon Ton with?