Looking for a way to transform your old and dull kitchen? How about getting the Terra Kitchen from Aran Cucine? It is made with trendy materials of high quality and will transform your home in an instant. It comes in a variety of finishes and offers the perfect combination of comfort and quality. The unit is characterized by natural colors and looks just as good in a traditional setting as it does in a contemporary one. Aran Cucine is known for experimenting and developing creative solutions in kitchens and this unit is no different. It is the essence of modern style and delivers top performance.
We're an affiliate
We hope you like our recommendations! Just so you know, we may collect a share of sales or other compensation from the links on this page. Thank you for using our links, it is much appreciated.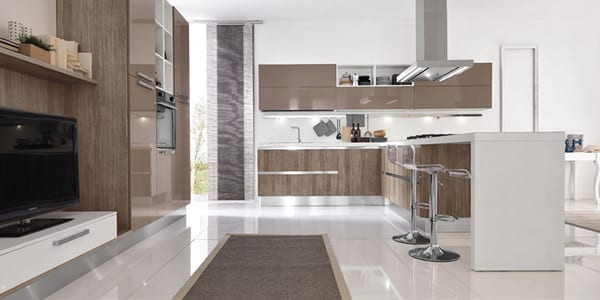 The Terra Kitchen by Aran Cucine is available in polymeric, laminate, and other stunning finishes. It is a must-have for every home. Its high quality finishes recall the earthly and natural impressions of wood through their surfaces. They bring a clean, lively style to your kitchen. Terra shows off a stylish and unusual design that does not sacrifice on functional performance.
The unit is fresh, original, and modern and has a look that endures. It creates a peaceful and tranquil environment where you can work in total comfort. Besides putting all your cuisine accessories within easy reach, it makes cooking a real joy. The Terra kitchen features beautiful geometric form easily allows for the insertion of new volumes. Its practical and unique design makes it ideal for any type of space. It creates a perfect coexistence between elegance and high performance. Do you love cooking? Would you get the Terra kitchen?