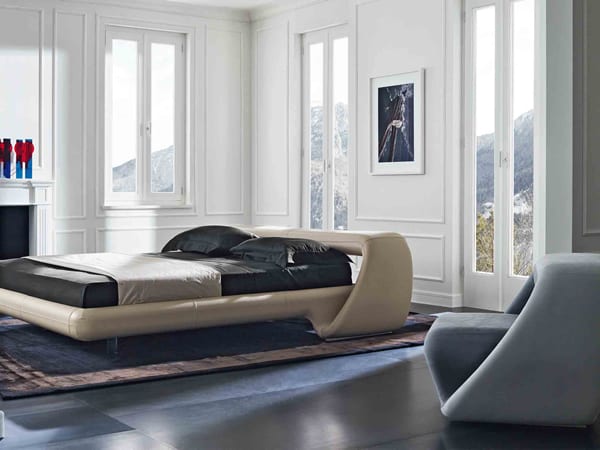 This sleek and futuristic bed may look like unlike anything before it, but the care and craftsmanship that Meritalia uses to create the Air Lounge bed is firmly rooted in time-tested and traditional standards of quality.  To form the foundation for this edgy new bed, designer Fabio Novembre chose a flexible polyurethane foam material.  The foam can be molded into virtually any shape imaginable and then cold-cured for a durable result that doesn't limit creativity.  This innovative material enabled Novembre to fashion an open headboard with a single, framed edge that cuts a slim and distinct line across the top of the low-profile bed.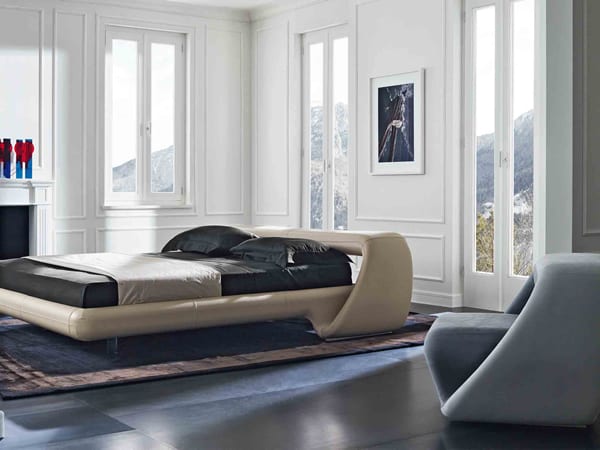 To soften the powerful lines of the Air Lounge by Meritalia , the entire frame is upholstered in your custom selection of fabrics, leathers, or a high-contrast combination of multiple colors and materials.  The padded upholstery completely encompasses the steel plate support structure.  The result is a smooth, uninterrupted look that is only possible with careful design and expert tailoring to precisely fit all of the unique forms.  It is impossible to miss the experienced craftsmanship that goes into creating a bed that feels both excitingly futuristic and yet traditionally tailored.
For your own personal space, the Air Lounge is the sophisticated choice that never ceases to deliver a stunning visual that is both innovative and traditional at the same time.  Whether you choose to upholster it in bright colors or subtle neutrals, the Air Lounge bed will get attention for its elegant shape.  Are you ready to send your bedroom into the next century?