Staircase and Storage Ideas For Your Home
Are you looking for a new staircase design or ideas for a new home project?
Almost everyone has a staircase that looks like the one in the house next door. These are normally the type that run straight up the side of a wall in a hallway or living room up to the first floor landing of the home.
Why not have something a little different or look for a house that already has a staircase that is a spiral stair or one that looks completely different to all the others in your avenue or street. Here we have listed a few different styles of stair cases including spiral staircases, wooden staircases with slots, and some great storage staircase ideas.
The Wave Staircase
Wooden staircases are not exactly graceful or sleek, but the Wave staircase makes you change your idea about wooden stairs. Christian Siller, the designer and innovator behind Siller Stairs, used bent shaped wooden treads to create a staircase that's also a sculptural element and the main attraction of the place it's placed in.
The bottom side of the treads is shaped like waves and the bent hardwood used for railing and support is very suitable to create a breathtaking look.
The Wave staircase is another imaginative staircase that mixes sustainability and design in an excellent combination. A unique design with a contemporary tone, this piece combines prestigious wood finishing with natural and artificial lighting to create a remarkable statement and become the centerpiece of the room.
The uniquely shaped design is not only amazing but offers functionality. The open wooden slats and upper single sheet of transparent glass railing allow natural light from the large windows to pass through.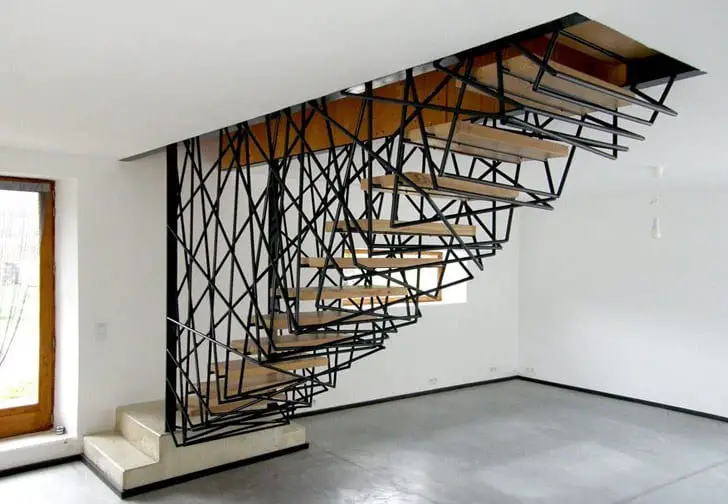 The sculptural design becomes even more striking with the insertion of ambiental lights inside the waved steps.
Wood, glass and lighting combination managed to go hand in hand and form a pleasant design which perfectly complements the surroundings.
Back in 1995, Christian Siller built his first glass staircase with a structural glass railing. At that time no one ever thought that the architectural glass in the stair industry would become so popular. Since then lots has changed.
Siller stairs is a company specializing on custom stair designs using materials like glass, wood, steel and concrete. Siller is a company created on people's needs and lack of suppliers for custom stairs.
They build their stairs based on the requirements and demands of each individual and depending on what impact the stair shall have on its surroundings they will build modern to classic stairs from a wide variety of materials.
A Staircase Storage Unit
Your storage prayers are answered, particularly if you live in a small home or apartment. The Staircase storage solution is a vertical shelf that has plenty of drawers for you to hide away your stuff that would otherwise clutter the already crowded space you live in.
Since the shelf expands vertically rather than horizontally, the Staircase uses "minimal ground square meters" (that's 55 x 74cm), not to mention that it looks good.The Staircase is 2.6 meters high and therefore the bottom three shelves act as a staircase in order for you to reach the top shelves. Worried about safety? Well, hold on that side railing there and you should be fine.
The Olmo double-spiral staircase with storage is a one of a kind project designed by Jo-A for a private residence in Brussels.
When opting for a spiral staircase you never expect to get three products in one, but in this case the end result is a staircase, a sculpture and an ingenious storage system.
Olmo Metal and Wood Staircase
Once you will see this two spiral staircase with storage that has been formed by stacked wooden cases they will convince you that it perfectly fits the space it's placed in.
The wooden storage "boxes" create a frame that is rigid and stable, although Olmo has no central shaft and its held in place only by the white steel hangings.
Hence, the design can be seen by all and the spiral effect is much more powerful. This really manages to steal the show, and lifts the aesthetic level of the apartment to a new scale.
Being a custom made item, the designers precisely calculated the diameter and the height of the steps that would match the needs of all the inhabitants and decided that a diameter of 1.6 meters would be the perfect choice.
A diameter that would offer comfortable access, limited incline and at the same time, occupy the least amount of space in the room.
Stunning Wood Staircase With Storage
One would probably think they only intend the small cases created by the steps are only for storage or for placing small decorative objects.
But that's not all! The boxes are specially designed by Jo-A designers to guarantee the rigidity of the 4 meters tall staircase, and they were essential in creating this particularly high project.
Another surprising detail is the passage of light from one floor to the other. This is another particularity that in the design details show much more effectively.
The Knockdown Stair
"The new standard stair design by Steele Solutions is referred to as a Knockdown Stair. This new design has some key differences from the previous design, and they offer many benefits to the end-user.
In this new design, the guardrail is in line with the stringer and the handrail is inside the guardrail. This design allows the tread to remain the same, but the overall footprint of the stair takes up less space. This creates more flexibility with placement and design on new and existing structures.
There is also more flexibility with color options with the new design, allowing for handrails and stringer to be different colors to comply with any specific design/safety requirements."
Beauty and Elegance Staircase Design
Let's all be thankful that after eating far more turkey, stuffing and mashed potatoes than anyone ever should, most of us don't have to climb a never-ending series of steps to crawl into bed for a midwinter's nap.
In homage to the act of burning calories, though something we'll all get too perhaps tomorrow or the next day we present some amazing modern staircases, each a work of art on its own.
Every one in the collection is a critical study in balance and form; cantilevers and helix shapes dominate the flotation-obsessed landscape of contemporary stairs, causing more than a moment or two of hesitation before we suspend our disbelief rather literally and step onto them.
These optical illusions may require a strong leap of faith along with each timid step, but we're willing to bet the view from the top is worth the climb.
The Staircase Bookcase Design
What do you do when you have too many books in print? You either get a Kindle to better manage your reading passion, or build yourself an out-of-the-box storage solution like the Staircase – Bookcase design project in the images below.
It's one of the most efficient designs I have ever seen for storing book collections, but there are two downsides too when looking at this bookcase with a double personality.
First you need a two-story house or apartment, otherwise building such a storage design will lose its second functionality and thus its coolness.
But most importantly, using the Staircase – Bookcase as an actual staircase might not be something you'll want to do since inevitably, you'll end up getting dirt on some of your favorite titles.
The Concrete Stairway and Slide
Building a slide in your own house can be challenging but with enough imagination and plenty of concrete you'll be able to pull the job in no time.
The concrete slide in the modern house presented in the pictures below will help you skip all those stairs when descending, not to mention all the fun it will provide to your kids.
The slide is pretty impressive as it will let you spiral down at amazing speeds. Well, okay, maybe you're not going to experience amazing speeds but sliding down will be a lot faster than simply climbing down two flights of stairs.
The concrete slide can be currently found in a house in Indonesia made by Aboday Architects, and besides the slide, the house has plenty of other interesting elements.
One of them is the staircase, which will still need to be climbed all the way up after each slide.
Freestanding Stairway
What do you think about the free floating stairs in this picture? I came across this interior design idea in my research and where I have my own opinions, I would like to get yours.
My first thoughts are that it looks pretty cool, but I wonder about the stairs safety.
If there is no handrail, it might be easy to fall from the stairs. Also, this does not look like a workable design concept for a home with children.
I am drawn to the minimalism it creates and in the right setting, it would look cool. Let me know what you think.
Efficient Stairs by EeStairs
The Efficient Stairs by EeStairs stays true to its name as it takes up minimal space without fading away in the background or becoming inconspicuous.
Designed to fit into openings of just 1m x 1m, these stairs don't compromise the floor space below and act as a genuine space saving solution.
Conclusion
Staircase ideas and designs should always be top of your list if you are looking to build a new home, or are planning to change the stairs in your current home design project. We hoped you found something in out staircase designs today.