Are you limited for space but still want somewhere to sit and eat? Get the LAX Series Wall-Mounted Table from Mashstudios. It is as minimal as you can get and makes normal table legs seem like unnecessary intrusions. The great thing about the table is that it can be mounted to your desired height. It has a minimalist and organic aesthetic and promotes reductive and calm living with pieces that fit subtly into spaces without overwhelming or distracting. It has no superfluous additions or extraneous parts and is perfect for modern homes.
We're an affiliate
We hope you like our recommendations! Just so you know, we may collect a share of sales or other compensation from the links on this page. Thank you for using our links, it is much appreciated.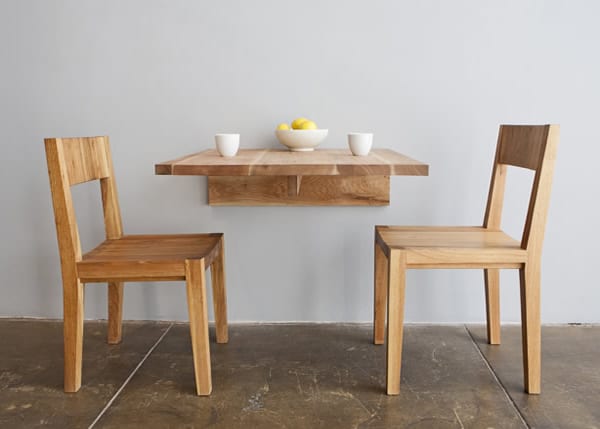 The LAX Series Wall-Mounted Table from Mashstudios will create a lovely and contemporary dining area. It utilizes an engineered steel mounting system to provide a stable and sleek surface. The system keeps the table fixed to the wall ensuring there is no visual clutter. The table creates a cozy eating spot for two. It is made from solid English walnut and has a natural oil finish. It boasts superior craftsmanship and will give your home enduring style.
Having a place to sit and eat is one of the things that make your house a home. This table doesn't take up a lot of room but it will seat you comfortably. It is understated yet refined and is all you need to perk up your space. While a small dining area can be a challenge, this table helps you to make the most of the available space. Don't you agree that the Wall-Mounted Table will look great in your small home?