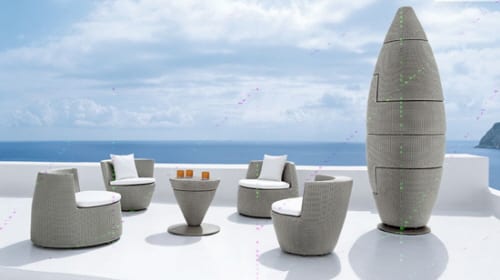 Janus et Cie – SMALL PATIO FURNITURE
About a 10 years ago I saw the Obelisk by Janus et Cie for the first time. It is a truly striking set of patio furniture, which is easily fashionable enough to be used indoor as well. It is a set of four chairs and a small table that stack into a towering obelisk when not in use.
I love the idea in theory. In obelisk form, it takes up very little square footage — equivalent to one of its chairs. The rest of its volume is stacked, thus freeing your precious floor space. The quality and durability of these pieces are truly top-notch.
The chairs' frames are made of powder-coated aluminum for lightweight durability. The outer shell is a woven polyethylene, extremely resilient and especially good at standing up to the elements. It's truly a perfect set — in fact, the only drawback I can see is it's nearly $9,000 price tag.
This year it's in with the knock-offs. Yesterday I found three suspiciously similar sets made from rattan. Now rattan, done right, can be very durable. It can also be that cheap wicker furniture that disintegrates after a few seasons.
I am sure these new sets will not live up to their high style counterparts, but they are good budget options. The three sets range in price from $2,379 to $4,000. This represents a huge price difference from the Obelisk.
I will be excited to see how these new pieces stack up against the competition and what they are worth now