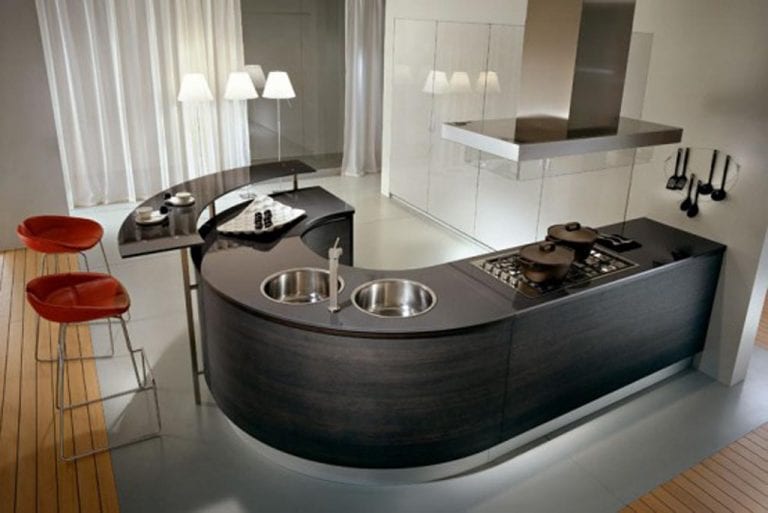 Small Kitchen Design Layouts
If you're lucky enough to have a large and spacious kitchen, today's article is not for you. It is so much easier to utilize a room when there's a lot of space to work with. However, when the area is small, you have a bigger challenge designing, decorating and making it functional for the family.
Today we are inspiring you with wonderful photos of small kitchen design layouts that are ideal space saving concepts great for many apartments and lofts.  Let's have a look and hopefully, you'll see a layout that inspires your next big move.
Small kitchen design layouts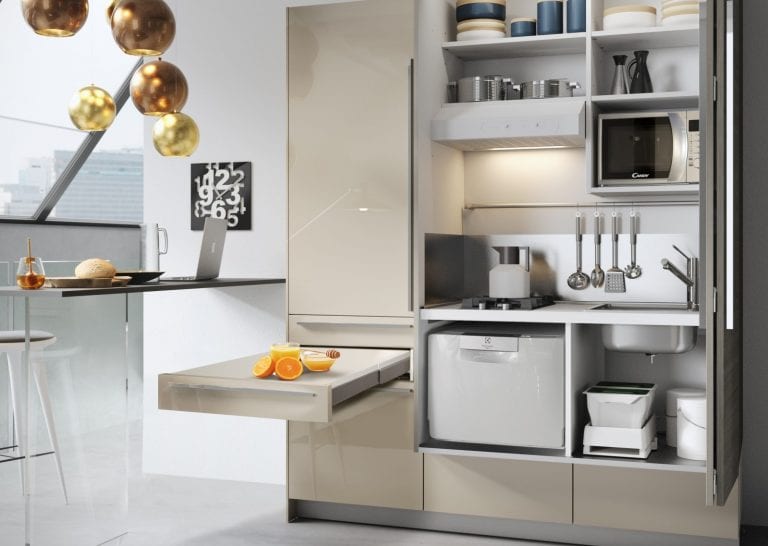 A pull out cutting and prep board and a concise sink area, we love the innovation and contemporary feel behind this petite layout. We love how this space utilizing every inch, but still doesn't feel or look cluttered in the least. Also, the smooth, stainless steel accents help push forward that futuristic vision.
Modern small kitchen design
Check out this red accent nook! There's enough space to prep and create dinners and desserts for days to come, but there isn't a chaotic feel just because it's compact. There's drawers and cabinets to utilize and even enough counter top to grab a quick breakfast or decorate cookies during Christmas.
Small Kitchen With Bar Stools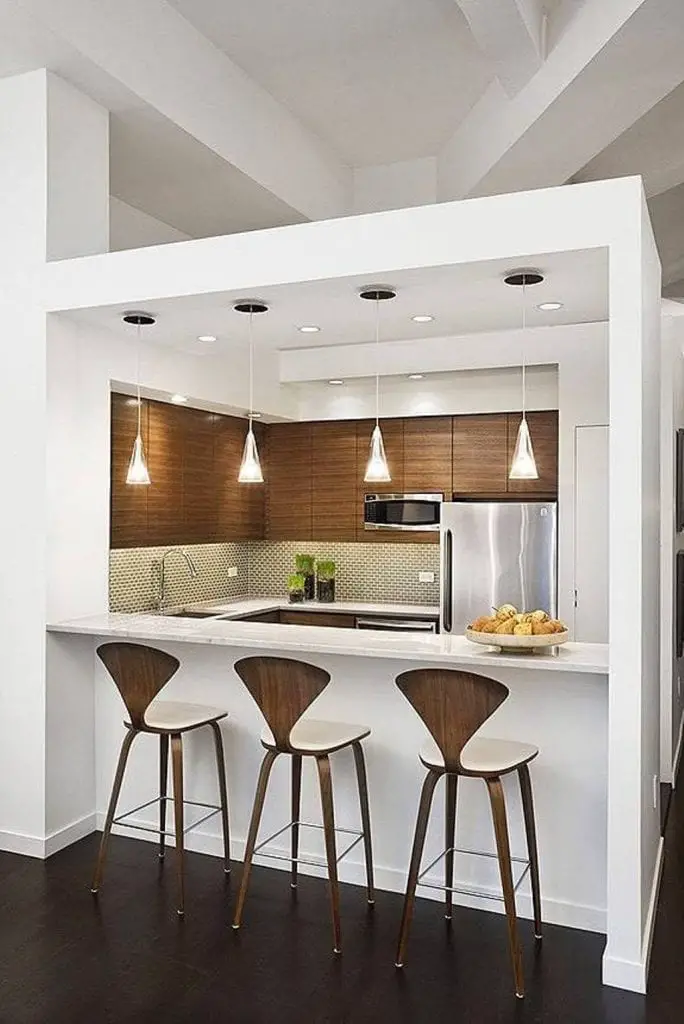 A bit bigger than its two predecessors, this idea has a bar area that's perfect for afternoon snacking and homework time, which gives the opposite end enough room for food prep. There's definitely enough cabinet space above (and we assume below) for dish and food organization as well, and it's all done in a very traditional, yet modern, look.
Open Plan In White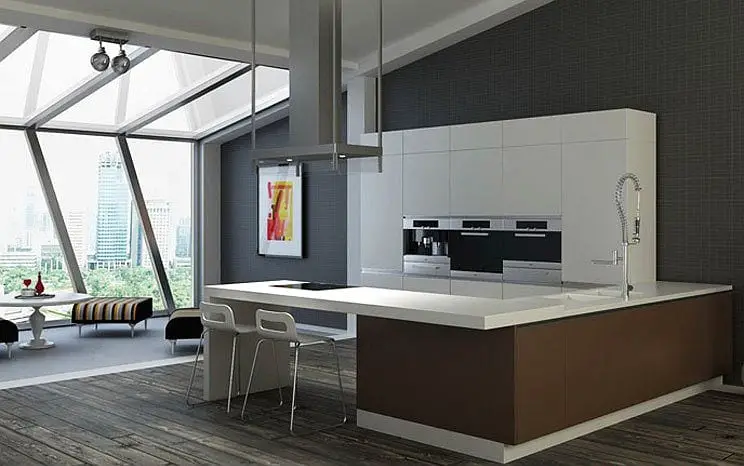 Your kitchen really doesn't have to take up an entire room, instead it can be just a part of a larger floor plan. In studio areas or rooms without partitions, you can have your kitchen be a focal point but not the entire presence, just take a look at this beauty. It's clean, precise and functional without being overwhelming.
Small Kitchen With Included Table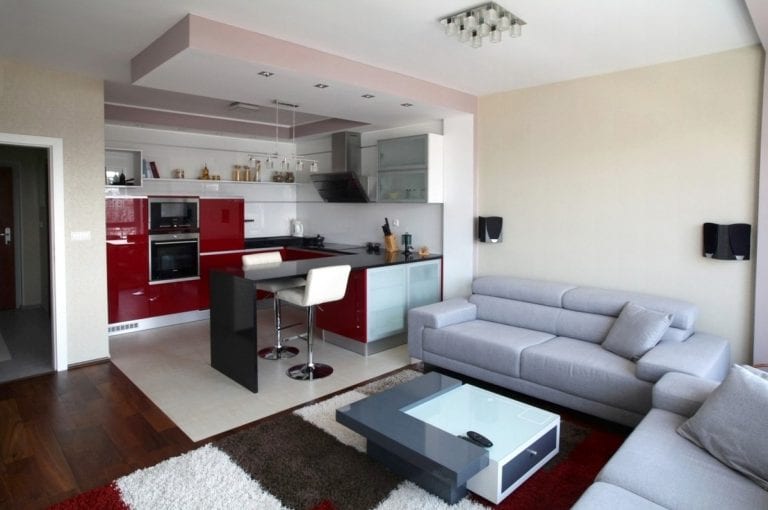 Here's another example with an ultra modern vibe and cherry red accents. There's a timelessness and always-in-style appeal to red, white and black color trios, so even when your space is small it can still be trending and fashion-forward. There's just enough room to make that corner function well and we love the shelving option giving the area a more open feel.
Ultra modern small kitchen designs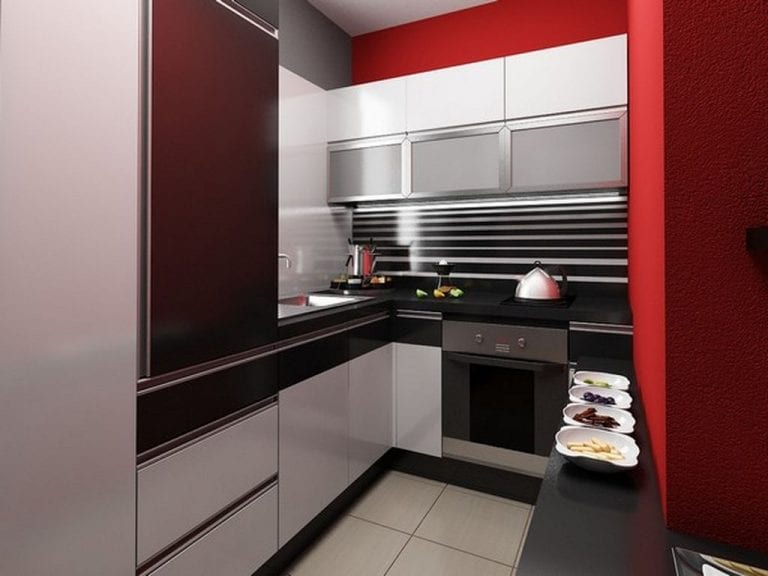 Although a bit dark, this layout has a lot of room for prep – which is great for those that love to cook and bake. We also love the cabinets and drawers, there's enough for all of your essentials but there's a smoothness that doesn't make the room feel bulky or too chunky.
Big Window Small Kitchen Design
We fell in love with this charming tiny layout at first glance. There's definitely a more cottage-esque vibe that's going on in the area. Even though the cabinetry is quite contemporary and chic, the unfinished wood floor, floral printed backsplash and quaint little breakfast table make it so girlish and flirty. A nice modern kitchen design for small kitchens.
Basic Small Kitchen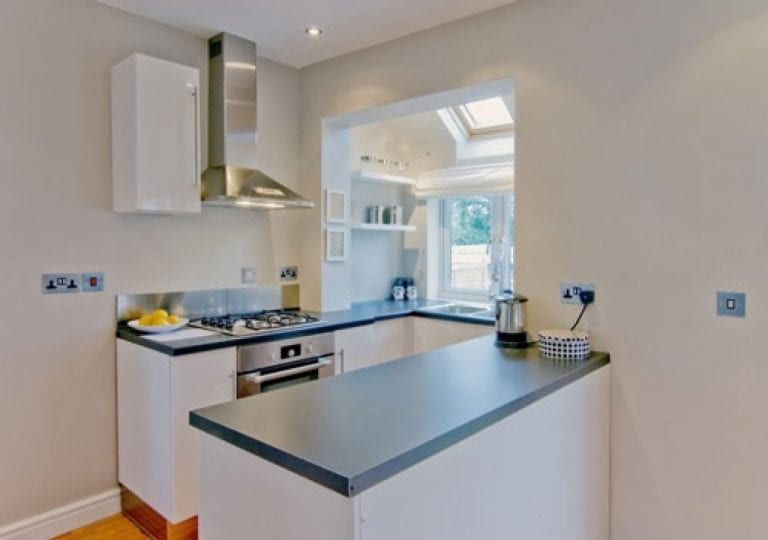 Chic and clean with a dash of stainless steel, we are swooning over this light and bright corner. There's all the necessities you need to make dinner fast (although we're not sure where the fridge is or will go just yet) and we love the contrast between the solid counter tops and lower cabinets.
Open Plan Stunning Small Kitchen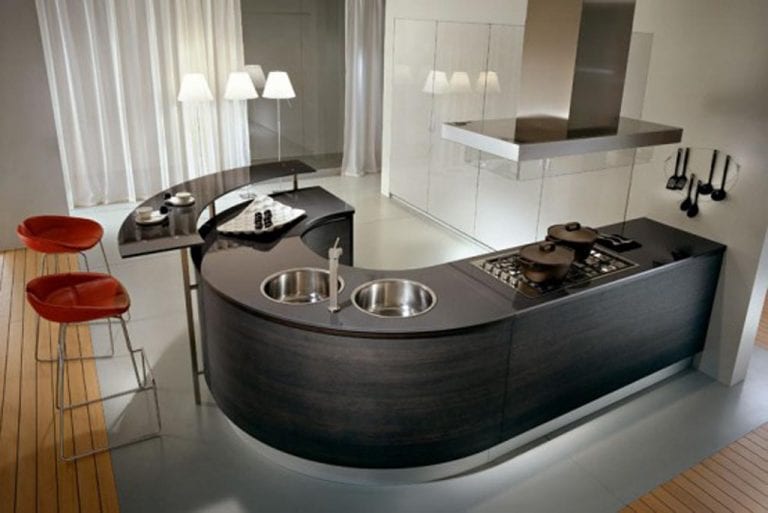 Not only does this compact layout have a wonderful way of utilizing and compacting all the needs one must have in the kitchen, but the overall design is gorgeous and unique! The curved counter top, the double (yet separated) sink, the traditional stove top and hovering breakfast bar have come together to create the most chic example on the list!
Ultra modern small kitchen designs
We saved the tiniest of our small kitchen design layouts for last.  You can see how the island flows into the theme of the entire living space.  The Microwave is snugly placed in the cabinetry along with some added storage space.  This is ideal for a tiny apartment or living space.
Depending on personal preferences, you can choose between Black and Distressed Oak finishes. Both versions feature the same innovative designs and will work with 24-inch counter stools. You'll find a handy drop leaf, which can be raised up for serving food or to use as extra storage space.
The island, made of Asian hardwood, is outfitted with antique pewter hardware along with cabinet doors with adjustable shelves. You can take advantage of the open-ended storage on either side to stash accessories, tools and more.