We're an affiliate
We hope you like our recommendations! Just so you know, we may collect a share of sales or other compensation from the links on this page. Thank you for using our links, it is much appreciated.
Bathrooms in and of themselves aren't particularly exciting things, but small details (like a chic bathroom sink) go a long way toward transforming a dull everyday space into a spa-inspired experience. Case in point: the Motif washbasin series by Omvivo, playing with light through its array of glass patterns.  Offered in Kaleidoscope, Forest and Pebble, the glass-bottom basins act  as filters for light from above, casting corresponding patterns on the countertops below.  As water runs over the surface, a soothing ripple effect carries through the glass, affecting the reflection and creating the illusion of movement.  Set inside a white bowl, the basin quietly brings a Zenlike sense of clean, calm simplicity to its surrounding space — everything a powder room should offer when in its finest possible form.  Similar vessels (without the patterned effect of the Motif series) are available from Omvivo in materials ranging from natural stone and corian to satine and glass. Per Omvivo itself: "From the contemporary lines of the KL with its gentle waterfall like qualities, to the classic sophistication of the Pond vessel, there is a basin to suit every style and environment."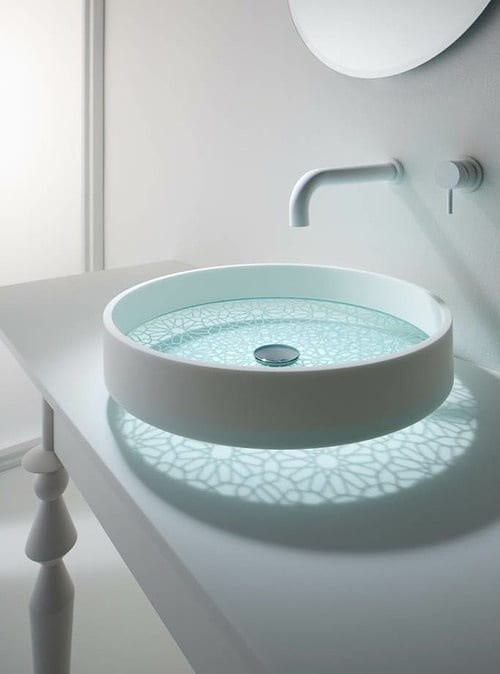 Photo credits: Omvivo.