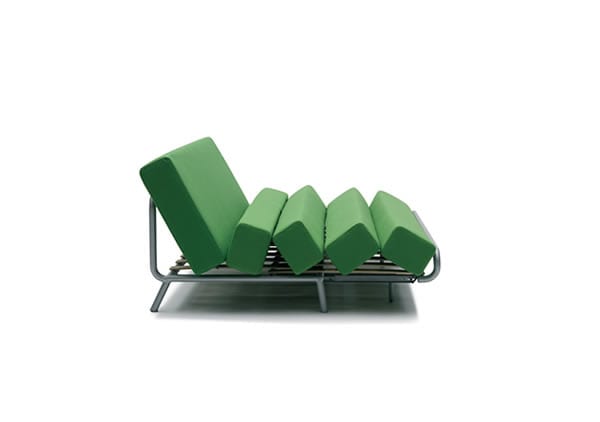 The Slash Bed
If you're short on space or simply looking for a piece of furniture that can accommodate unexpected guests, try the Slash sofa bed by Campeggi. The multipurpose object transforms from a sofa to a bed in an instant. While sofa beds come in all shapes and sizes, some are more comfortable to sit on while others are more comfortable to sleep on. The Slash bed is comfortable both as a couch and as a bed. It looks great both ways thanks to its unique slender pieces of upholstery.
Inspired by a foldable mattress, the Campeggi sofa bed goes to the extreme in terms of comfort and use. It is designed by Swiss designer Adrien Rovero and converts into a bed when its upholstered blocks are rearranged.
Unlike many sofa beds which hide the mechanism that allows them to transform, this campeggi sofa bed shows off its mechanism. It has a metal frame that holds a fragmented mattress that can be transformed into a chair, a back seat, or a large double bed.
The tabular structure has slats that support the foam blocks and slide apart to form a bed. The frame makes the design extra sturdy and capable of accommodating different shapes and sizes. 
When you have little space, finding chic double-duty furniture pieces becomes crucial. The Slash couch is perfect for small spaces as well as expansive ones. It allows you to make the most of your space and entertain guests in a unique way. Don't you think your living room would look great with the Slash sofa bed?