We're an affiliate
We hope you like our recommendations! Just so you know, we may collect a share of sales or other compensation from the links on this page. Thank you for using our links, it is much appreciated.
The purposeful and calculated look of a black and white decorated home can be one filled with elegance and modernity. The sleek look of black combined with the spacious look of white makes for a perfect combination that won't clutter the eye. Simplicity is sometimes the best option when choosing to decorate your home. You can decorate every room in black and white or choose to focus on one stylish room. You really can't go wrong with this classic look and rather than these basic colors minimizing a room, they really makes it stand out. Black and white screams luxury and conjures visions of lofty metropolitan apartments and upscale living. The minimalist approach is ideal when it comes to evoking that sleek modern look that so many admire. What is more minimal than black and white? Don't let the minimalist approach of colors fool you; there are many ways to use black and white in new and different ways from placement, patterns, texture, and other mediums. The possibilities are endless but challenge you to decorate in innovative ways to keep the look from falling flat.  These 5 black and white interior decorating ideas cover every room of the home showing you what the possibility is from the kitchen to a sun room.  This neutral combination of colors is sure to please your eyes and those of your guests.
In the Bedroom
In this bedroom, the designer decided to focus on black walls and accents in the decor around the room. This would be great for a guest room as it is ultimately gender neutral.
via
In the Kitchen
For the kitchen, this designer chose to make the walls and counter tops white with the drawers being black.  This is a great choice as a kitchen would fare better in a lighter color as it evokes cleanliness.
In the Bathroom
While this is a very modern bathroom, one can use the ideas of simple white walls and tile with black furnishings.
Here is an example of a sunroom or porch in black and white that also includes the use of patterns and textures to create a certain mood.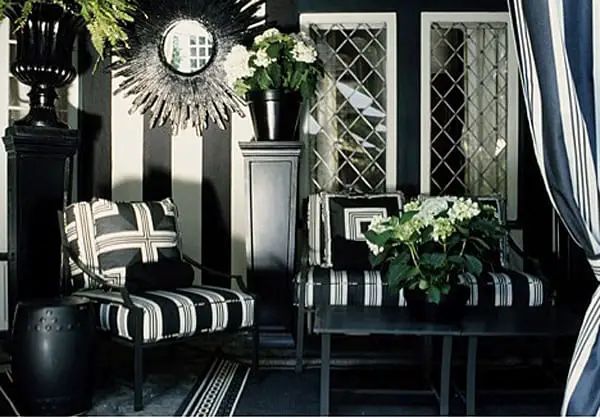 In the Living Room

This living room boldly uses black for the walls, chandelier, rug, curtains and has purely white couches and a coffee table.  The effect is dramatic eye and catching.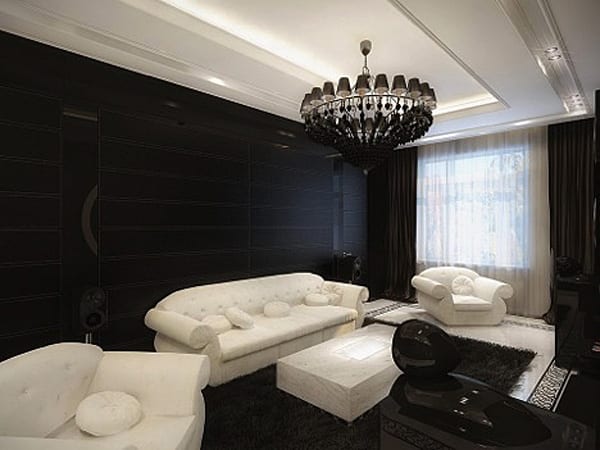 You can choose to use predominately black décor with white accents or just the opposite.  The best part is you won't have to worry about your colors clashing and if you ever get bored with the design you can add any pop of color you want for a dramatic effect that leads the eye to a piece you are dying to show off.