The Shoe Bathtub
The stiletto's power is undeniable, it can instantly make you taller, sexier, and more confident, but its list of attributes, unfortunately, has never included "comfortable." Until now…check out the most pampering high heel shoe you've ever seen, after the jump.
SICIS known for its work as an art factory working in the medium of mosaics introduced this collection of mosaic tile shoe bathtubs shaped like stilettos and appropriately named "Audrey" showcased this very unusual shoe bathtub at the Salone del Mobile. The shoe bathtub was designed by Massimiliano Della Monaca, a designer from Italy.
The piece was adorned with beautiful mosaic tiles to accent its beauty and salute the classic "pump" shoe. Shoe lovers worldwide can take in the beauty of this bathtub and revel in this piece where fashion combines with home furnishing design to create a work of art.
Prices start at $30,000.
This shoe bathtub article was written in 2009 so you may not get hold of one of these any longer. If you do, you are very lucky.
The High Heal Shoe Bathtub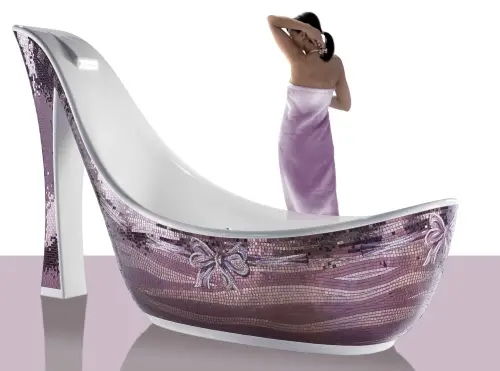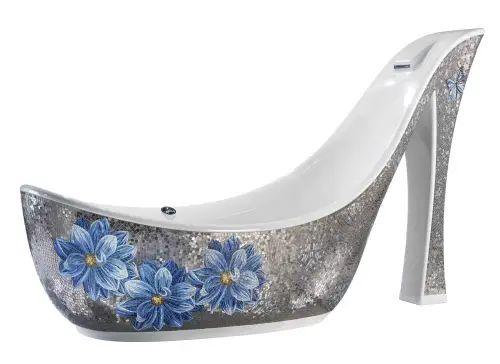 [amalinkspro type="showcase" asin="B07CRTSBTR" apilink="https://www.amazon.com/dp/B07CRTSBTR?tag=furnitur11-20″ new-window="true" addtocart="false" nofollow="true" sc-id="5″ imgs="LargeImage" link-imgs="false" btn-color="#ff9900″ btn-text="Check Me Out On Amazon" alignment="aligncenter" hide-prime="0″ hide-image="0″ hide-price="0″ hide-button="0″ width="500″ link_id="8722″]Woodbridge Deluxe Free Standing Bathtub, B-0033 Air Bubble Tub[/amalinkspro]