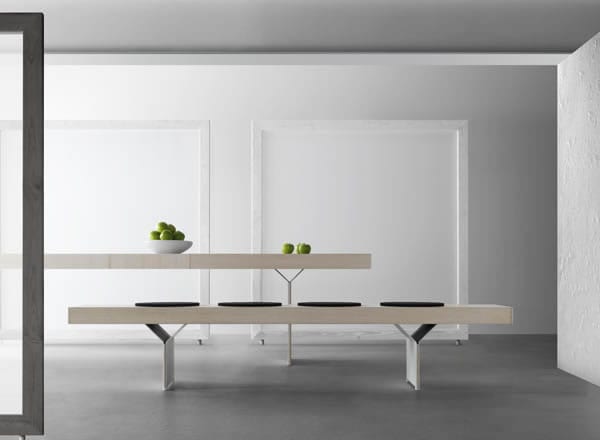 Inciso Table by Bauline
The bold new design from Enzo Berti takes contemporary minimalism to a whole new level of functionality.  Built for Bauline, the Inciso table has all the right bold lines to make it cutting-edge in contemporary forms.  Resting on lightweight, 'Y' shaped legs; the long banquet-style rectangular table has a thick plank-style tabletop.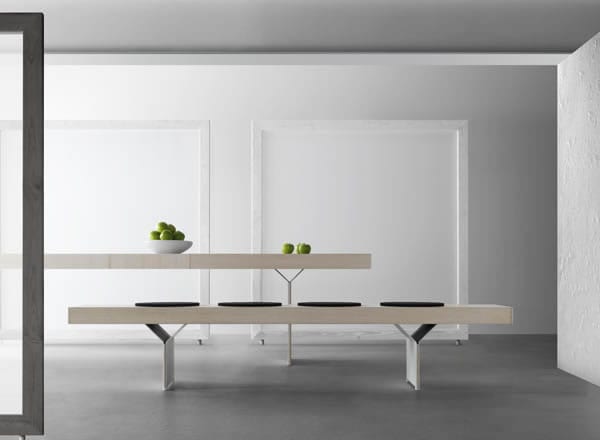 The unusual balance of weight, light on the bottom and substantial on top, could easily look askew in the wrong hands.  The Inciso table by Bauline, however, finds harmony in the unusual and unity in opposing elements.  With such clean lines and minimalist style, the visual interest of the Inciso comes from the shape and balance of its pieces.  As a whole, the Inciso becomes a quietly engaging centerpiece of the dining room.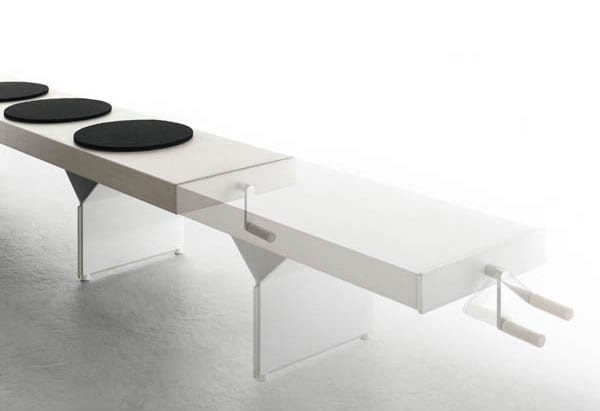 The only break in the smooth tabletop is an industrial crank handle.  The practicality of the Inciso reveals itself when, with a turn of the handle, the table expands and contracts to accommodate the exact number of guests.  No loose or cumbersome leaves, no uncomfortable crowding: it's a brilliantly simple solution that reflects the overall simplicity of the design.
Pair it with the matching Inciso bench featuring the same crank movement and you will always have the right amount of seating for meals both small and large.  With the Inciso table, it makes no difference whether you're hosting dinner for two or a party for eight.  Simply turn the handle to adjust on a moment's notice without ever losing a bit of style.  Won't your next party be more entertaining with the Inciso Table?