There are few forms more organically created by the forces of nature than driftwood.  Once a part of a living, growing tree, nature's mysterious process transports a piece of the forest to the sea and back to land again.  The already-organic shape of the branch or trunk is transformed yet again in the passage of time and creativity of the elements to reveal a new form with smooth curves.  Designer Amanda Levete took a daring challenge to capture a process untouched by human hands.
We're an affiliate
We hope you like our recommendations! Just so you know, we may collect a share of sales or other compensation from the links on this page. Thank you for using our links, it is much appreciated.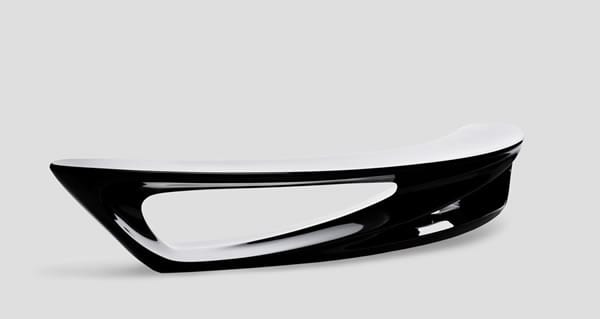 Inspired by an example of found driftwood on the beach, she studied complex forms, sweeping and graceful lines, and balance of space and weight to achieve her goal. The Drift Bench for Established & Sons is the sculptural result of her efforts.  For her interpretation, Levete chose to retain the organic form but realize it in a tough, engineered glass-reinforced polyester to discuss the contrast of nature and man.  The ultra-smooth texture of the bench has a sensual feel when coupled with the flowing lines.  The Drift Bench is relies just as much on negative space as it does positive, as the implied, inverse shapes are just as essential as the outlined structure.
Available in high-gloss color choices as a contemporary design, the Drift Bench is perfectly capable of holding its own as a freestanding architectural element in your design.  You can also mirror two benches opposite each other for a circular pairing or arrange them in a sequence for more seating capacity.
What does the Drift Bench inspire in you?