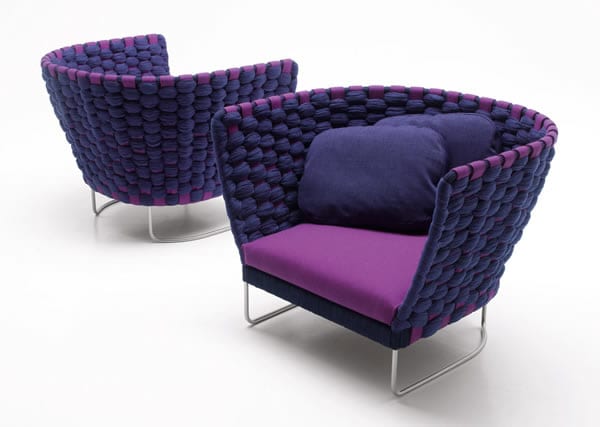 Designer Francesco Rota is bringing wicker-style furniture back into vogue with a fresh new take on an old tradition.  The Ami collection of armchairs and sofas was created for Paola Lenti's contemporary and casual look.  The woven texture of the Ami seating collection has the organic, natural feel that matches current trends.  Meanwhile, the hand-woven pattern balances the rustic look with an industrial, knitted Chain material stretched over a stainless steel frame with a soft satin finish.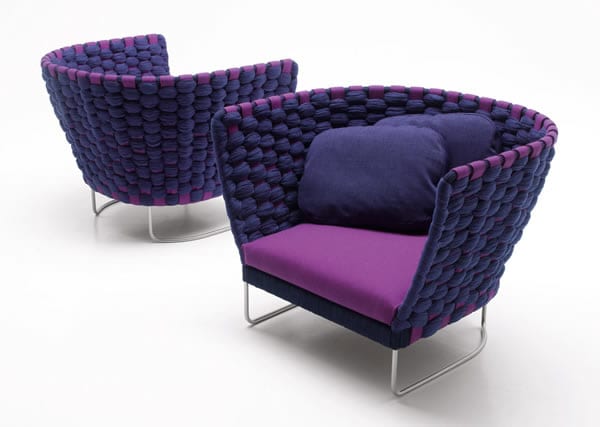 Heavy-duty elastic belts are built into the frame to create a comfortable seat foundation.  The small chair and armchair have fixed seats filled with cold inject, expanded polyurethane for a shape that is both long-lasting and soft.  The larger armchair and sofa feature removable seat cushions with removable covers for easy cleaning and stress-free care.  To make the Ami seating collection by Paola Lenti, look and feel completely comfortable, add loose scatter pillows around the back that you can arrange any way you like.
The Ami collection has a relaxed feel with a hint of an industrial edge that brings a new dimension to woven furniture.  The bucket-seat style features a flared edge and wraparound armrests.  The back and sides are woven together as a single piece, creating an uninterrupted geometric pattern from any angle.  Add to the bold outline by choosing your own color scheme for the seat cushions and tubular Chain knit.  Create a monochromatic grouping or create a seating space of similar textures and a palette of different colors.  Where will you use the Ami collection: a dining room, living room, or somewhere else?