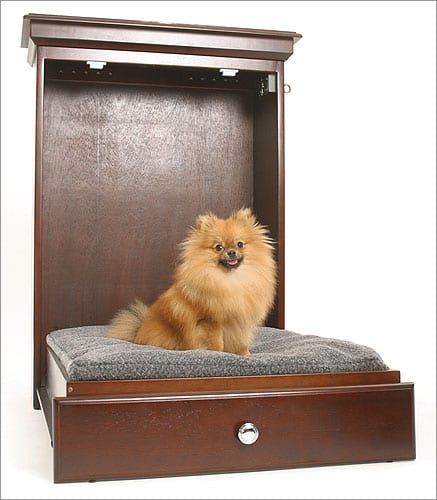 Pet Furniture and Dog Beds for Your Best Friend
Are you thinking about getting a comfortable dog bed for your pup? Find out about the importance of a bed so you can get a cozy den for your pet.
There is nothing more pleasant than having a good night's peaceful sleep. It applies for both humans and dogs. Dogs sleep more than humans between 12 to 18 hours a day depending on age and breed. So, pups need a cozy bed to snuggle and snooze to have their peaceful sleep. A great dog bed gives dogs their space, and it's comfortable, supportive, and soft.
May be you are thinking more towards an outside home for your dog. A small or large dog house for your garden. A dog house should always be well thought out before you actually buy one so you know exactly why you bought it and what for.
There are varieties of features and designs of dog beds you can get. Suppose you want to choose a comfortable bed with color choices and sizes. There are three recommendations for you to choose the right bed for your dog.
---
Furhaven Pet Plush Orthopedic Sofa
The plush orthopedic sofa is the bed that features a classic sofa design with three-sided bolsters. That way, this bed gives security and provides extra cushion support for the head and neck of your pet. It has soft to touch fabrics that your dog will snuggle in it.
The gel-infused memory foam shapes your pet's figure to keep the pet cool, and the fluffy booster helps the neck joint, back, and hips for a restful sleep. The Furhaven dog bed is soft and comes in different colors and sizes.
Pros
The cooling gel top can keep your dog cool in warmer climates.
Machine washable
Available in multiple size and colors
Recycled fluffy fill bolsters
A high-quality item that warrants the price
Cons
Not suitable for dogs that have excessive teething or chewing habits.
Inner water-resistant fabric may not be 100% effective.
---
Pets Deluxe Super Plush Pet Beds by Midwest Homes
The ultra-plush pet bed is great for big and heavy dogs. It creates a cozy space for your dog. It is an ultra-soft synthetic bed that gives your dog additional comfort and influences them to use this bed as their snuggle area. Its stylish look also goes with your home decor.
Its Ombré Swirl pattern & neutral gray color goes well with your home. The tufted plush poly-fiber cushion can hold up to years of usage. You do not need to wrestle while removing the cover when you want to clean that. It can fit all kinds of standard crates and works perfectly as a bed too.
Pros
Great for home and travel
Neutral color that can go with any home decor
Non-skid bottom prevents moving.
1-year warranty
Can take weight up to 6 pounds
Cons
Not ideal for excessive chewers with high separation anxiety.
Can slowly reduce its thickness over time of usage.
---
Calming Shag Donut Cuddler Dog Bed by Sheri Shag
Give your pet a luxurious and cozy experience with the donut cuddler dog bed. You may think this name sounds strange, but it will all make sense when you see this luxury shag fur sleeper. Looks are great, but it's not about that. For comfort, the round shape and the raised rim will make a comfortable sleeping area for your dog.
This dog bed will give plenty of support to your dog's head and neck. It is well equipped with Air Loft Fibers that can relieve muscle and joint pain. The fur of the bed is fake, and it's vegan. This bed is also water and dirt resistant, so there will be no harm to your carpet.
This dog mattress is safe to machine wash and dry. Follow the instructions on the label to be sure to take good care of the bed. This cuddle bed can hold all life stages for your dog.
One thing that lacks is that this bed does not have any warranty. There is no free trial for this dog bed, as we saw on the manufacturer's website.
Pros
Machine washable
Water and dirt resistant
Nylon
Pet safe material
Round design
Vegan material
Color options
Cons
No warrant and free trial
It May not fluff up and can be shaggy in looks.
The material can be fragile.
---
Why Does Your Dog Need a Bed?
Dogs are like people and a part of your family that needs a sound sleep quality to stay healthy. A good night's sleep improves your dog's memory, and your dog becomes smarter. When your dog learns new commands, then repeat those commands when they sleep well. Since dogs sleep far more than humans, we should give them a good bed to improve their quality of life.
A cozy dog bed is appropriate for dogs as they are den animals, so they have a suitable spot where they can relax. Sometimes it is comfortable to have a dog in bed with you, but often it can disturb your sleep. Dogs are a large breed as they can take the entire space of your bed.
A comfortable bed of their own will avoid them messing with the furniture and mattress in your room.
Importance of Toys for Dogs
Dogs need toys for their stable mental stimulation. It allows them to chew and improves their behavior. A dog's chewing habitat can ruin your clothes, shoes, toilet papers, furniture, etc. Even some dogs chew up their own bed. As a result, put more cost of buying a new one. Toys can help them improve these behaviors to keep them away from chewing their bed.
Toys help dogs to minimize their boredom and reduce seeking attention behavior. Ensuring you get a different size, colors, and shapes of toys that are as simple tricks with them will make them happier.
Like, give them treats, tricks, and fun activities to keep them extra comfortable. Let the dogs destroy their toys as it helps them to develop animal instincts and makes them sharp. If you are going out to work or something and you can not take your dog with you. For that, hide several treats all over the house and make him find that. It will make them active and do not feel bored.
Give your pup a beautiful collar once a month to make him feel the new texture, color, and weight. That way, your dog will be happier and more active.
---
The Murphy Style Dog Bed
If you have taken great care of the way your home looks, then don't stop short with the pet furniture. Treat your real best friend to an attractive Fold Out Murphy Dog Bed that gets you off the hook from having the typical basket-style dog bed.
In addition to good looking this beauty from Midnight Pass is space saving and works well in small areas like washrooms, RVs, condos, and any place you want to beautify your dwelling. The Pet Murphy Dog Bed is real solid wood furniture made from eco-friendly recycled rubber-wood trees in Thailand. $279
Available in Black, Mahogany, and Natural Finishes.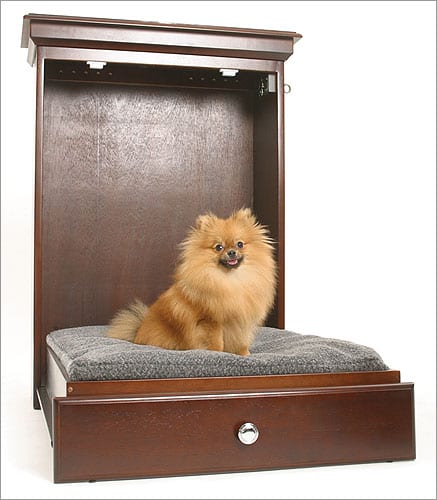 Alternatively, take a look at this Murphy Dog Bed sold from Amazon. A large dog bed that is big enough for almost all types of dogs. Put it out when you need it, and when not, fold it away out of sight. The jumbo version comes with a 10-year manufacturer's warranty. Well worth a look if you like the idea of a murphy dog bed rather than a dog mattress in the middle of the room.