All Clad Electric Griddles
Some meals were meant to be cooked on an electric griddle. Take breakfast for instance. Eggs, bacon, and pancakes are perfect candidates to cook on a griddle surface. Most stove cook tops do not come with a griddle surface since these are often installed in a home by the builder who usually selects standard appliances.
The all-clad electric griddle made by all-clad is a household name that most of us are familiar with. The biggest thing for me in electric cook top surfaces is their ability to be cleaned. I had owned a George Foreman grill many years ago and frankly it was a nightmare to clean.
The instruction video shows that there is a hole on top of the griddle where you push all of the drippings into which collects into a small tray. The tray is dishwasher safe. The cook top can be cleaned with a damp paper towel or cloth.
All Clad Electric Skittel
All-Clad SK492 Electric Skillet with Adjustable Temperature Dial, 7 Quart, Stainless Steel
Features adjustable controls that cook up to 7 quarts of food at the exact temperature it needs

Surface is covered with a safe, nonstick coating

Made from bonded metal for even heat distribution

Secured with riveted stainless-steel handles

Cooking insert (not including plugs or cords) is safe to use in an oven or broiler (up to 600°F) and a dishwas
Cuisinart Electric Griddle
Probably the most popular electric griddle on the planet. Take a look.
Cuisinart GR-5BP1 Electric Griddler, Stainless Steel
ENDLESS FUNCTIONS: The Griddler FIVE has a sleek contemporary design and used as a contact grill, panini press, full grill, full griddle and half grill/half griddle for endless options

EASY TO USE: LCD Display shows function, temperature, and timer with user-friendly digital controls, top cover and handlebar for easy use

MUST-HAVE FEATURES: Adjustable temperatures from 175 - 450 degrees with a sear function

INCLUDED: Removable and reversible dishwasher-safe nonstick cooking plates that store easily, dishwasher-safe scraping tool for easy cleanup, instruction manual and gourmet recipes for your enjoyment

LIMITED 3-YEAR WARRANTY: Refer to user manual for troubleshooting steps and questions surrounding warranty policies – this product is BPA f
The All-Clad Electric Griddle
Price: $299.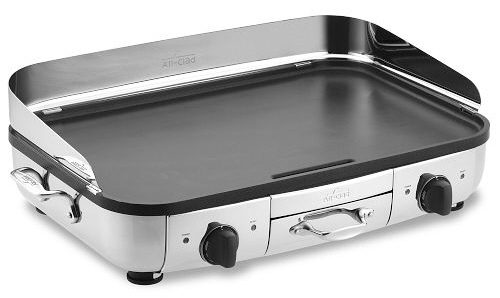 Related Posts