All Clad Electric Griddles
Some meals were meant to be cooked on an electric griddle. Take breakfast, for instance. Eggs, bacon, and pancakes are perfect for cooking on a griddle surface. Most stove cooktops do not come with a griddle surface since these are often installed in a home by the builder, who usually selects standard appliances.
The all-clad electric griddle made by all-clad is a household name that most of us are familiar with. The biggest thing for me in electric cooktop surfaces is their cleaning ability. I had owned a George Foreman grill many years ago; frankly, it was a nightmare to clean.
The instruction video shows a hole on top of the griddle where you push all of the drippings into which collect in a small tray. The tray is dishwasher safe. The cooktop can be cleaned with a damp paper towel or cloth.
All Clad Electric Skittel
✖

September 15, 2023 17:53
---
Cuisinart Electric Griddle
Probably the most popular electric griddle on the planet. Take a look.
✖

September 7, 2023 00:42
The All-Clad Electric Griddle
Price: $299.
No longer available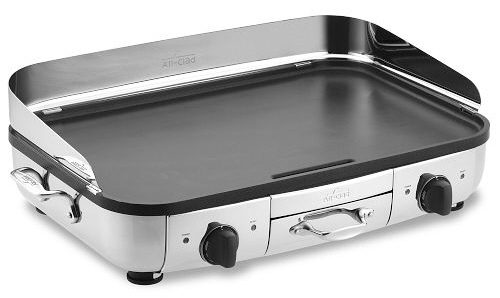 ✖

September 15, 2023 17:53