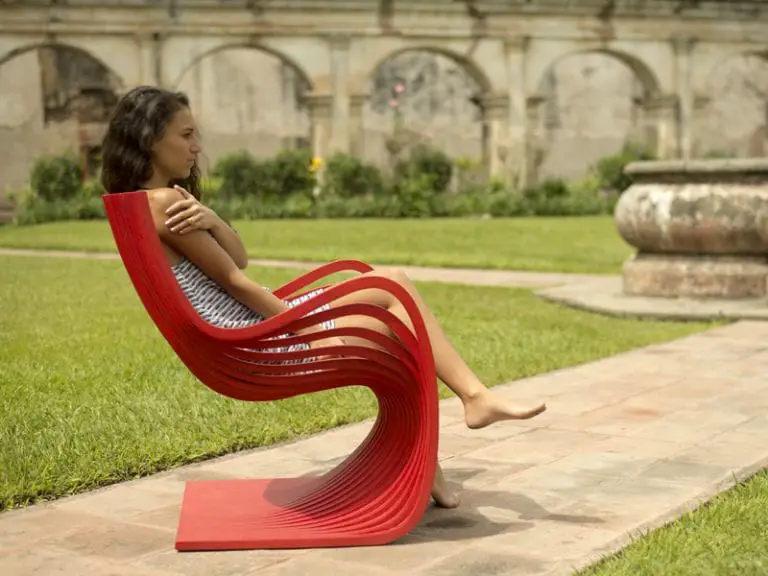 The Pipo accent chair, designed by Alejandro Estrada and produced by Piegatto, a renowned furniture manufacturer based in Guatemala, is in simple words, a masterpiece. We are usually tempted to think that only solid wood furnishings can offer us the maximum comfort and can fully satisfy the desire for beauty.
Image Rights – Piegatto
Often, when talking about furniture made of plywood, we believe that we have lower category products dedicated to those who can not afford solid wood furniture. But when these materials meet a designer and an exceptional producer, they are true masterpieces, like in the case of the Pipo accent chair.
The designer's idea was to create a piece from a single material "that opens in the outside and stretches in the center". This meticulously curving wooden chair design is manufactured from 29 piece of wooden strands cut from two pieces of plywood.
Three main ideas sat at the base of building the Pipo armcair. First the designer wanted to build the seat entirely from the same material. The second rule was that the chair to be built as a singular, monolithic piece that tightens the inside to form the seat and leg and at one point opens outward to form the arms.
Third and most important idea at the base of the chair, was to maximize the efficiency with the help of computerized technology.
This way the manufacturing of the Pipo accent chair is beautifully simple yet highly economical, transforming this piece into a road opener for other Piegatto models such as Uma, Double Section or Dining S.
Perfect for the outdoors as well as an eye catching interior piece, the chair's wood is treated in order to be water resistant. You can find it in eight colors among whom white, black and red are the most popular. All the colors come with a with a matte polyurethane finish. The gaps between the wood in the construction of the chair's arms lets light pass through, creating a sense of movement and attention.