The Perseo: A Contemporary Glass Dining Table by Tonelli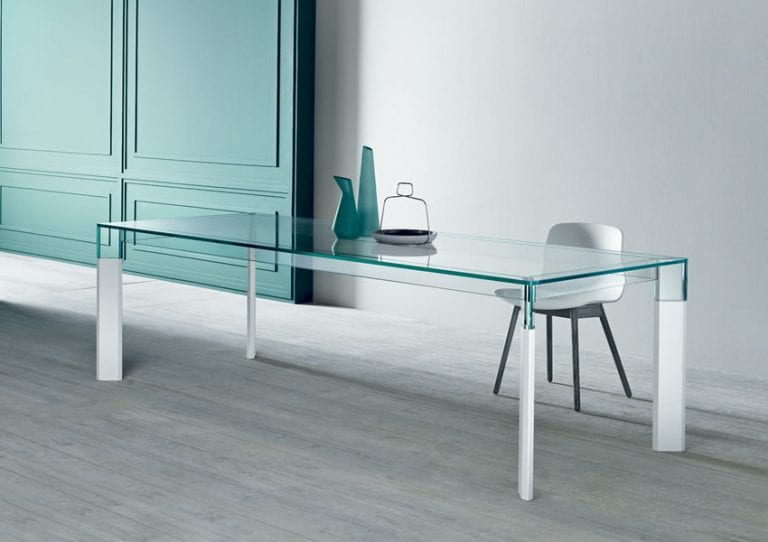 Welcome to the Perseo, a modern glass table designed for dining in style by Tonelli. This elegant piece is perfect for any contemporary home, and will surely become the center of attention in your dining room.
The Perseo features a beautiful glass top, supported by a sleek and sturdy metal base. With its clean lines and practical design, this table is both functional and visually stunning. Whether you're hosting a dinner party or enjoying a quiet meal with your family, the Perseo is the perfect choice for dining in style.
Perseo is a classical yet ultra modern table where glass and wood enhance each other in a perfect combination. Built form two of the most used materials in furniture manufacturing, the attractive design of the dining table combines modern and classic aspects in a beautiful way, bringing dining to a new level.
This is a prime example of combining great design with quality materials to produce a stunning piece of furniture able to create an illusion of a bigger and cleaner space in the dining room its placed in.
The minimal and elegant lines are made all more stylish by the transparent top that extends in the legs area and merges with the wooden legs in perfect harmony. Perseo modern glass table creates an air of stylishness, elegance and sophistication wherever it is.
Transparent glass top in combination with wood constructs a beautifully crafted dining tables collection that is very sought after. The two elements contrast yet complement one another in their grace, beauty, and sense of elemental opposition.
The modern glass table for dining is created by Paulo Graselli for Tonelli, and made in Italy. The various dimensions and the variety of materials make Paulo Graselli' s design versatile and suitable for many uses.
The pieces from the collection are available in four different lengths: 200cm, 220cm, 240cm and 260cm and the glass is an impressive 1.5cm thick. Legs that are measuring 3.8cm thickness, are available in solid Canaletto Walnut wood, solid bleached Oak, matte white lacquered or lacquered in any RAL color of your choice.
Tonelli is an Italian manufacturer that creates exceptionally high quality glass furniture, and is constantly pioneering new techniques and innovative designs. The company showcases the work of more than twenty-five masters of design offering stunning glass furniture pieces for every room in the contemporary home.
Conclusion
In conclusion, the Perseo is a truly unique and stylish choice for any modern dining room. Its sleek glass top and sturdy metal base make it both functional and visually appealing, and it is sure to become a beloved centerpiece in any home. So if you're looking to add a touch of sophistication to your dining experience, the Perseo from Tonelli is the perfect choice.
Related Articles: