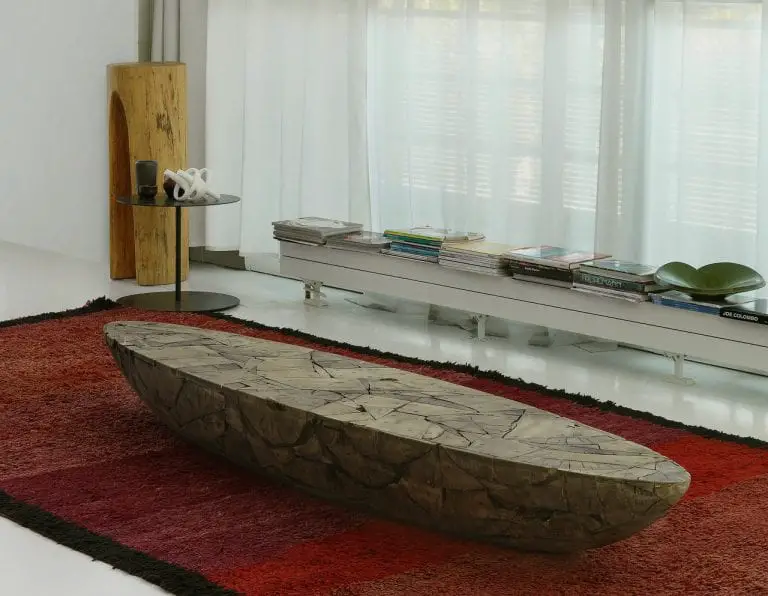 Oval Hemisphere Bench/Low Table by Cappellini
Nothing exemplifies multi-functionality better than the POH (Patchwork Oval Hemisphere), a bench/low table by Cappellini. It is the brainchild of Raphael Navot, a Paris based multidisciplinary designer who is a connoisseur of custom-based design and tailor-made interiors. POH resounds his ideology loud and clear. It is striking and draws every eye to itself.
It seems Raphael Navot was inspired by water travel when designing this unique furniture piece. Its design resembles that of a small rowing boat. Patchwork Oval Hemisphere Bench/Low Table by Cappellini is difficult to categorize because it fits the bill of a table and that of a bench. It is highly functional as it can transform into a coffee table for your evening gabfest and easily slip into the role of a bench when you need it to.
The furniture piece is made out of raw pieces of wood, both old and new. It is a product of computer-aided designing and has been manufactured using Cutting-edge technology. The entire manufacturing process is digitally controlled and robotic equipment is used in sculpting out its three dimensional form. The process imparts perfection to the finished products and also ensures that each piece has its own uniqueness.
Raphael Navot has succeeded in bringing forth a product that is truly multifunctional and utilitarian. Patchwork Oval Hemisphere not only exhibits astounding aesthetics but also scores well on strength and durability. It blends traditional materials with contemporary design and is a must-have for every home.
Ready to give your home a nautical theme with Patchwork Oval Hemisphere?