Whether they're found on a closet, in a loft, or on the breezeway leading to a back patio, an impressive set of sliding doors is always an arresting way to introduce a guest from one part of a space to another.  The sheer act of pulling a pair of them apart or sliding a singular pane aside to grant access to a new portion of a home is rather grand.
The sweeping motion it requires just lends a sense of elegance to an otherwise mundane moment. Today, we've pulled together a vast array of images on the subject, ranging from candy-colored, wave-edged acrylic notions to dark, sleek, grandiose walnut versions that wouldn't be out of place leading advisors from a professional foyer into a boardroom.
Whichever one strikes your fancy the most might be an indicator of just how whimsical you are, or perhaps of just how far your imagination can comfortably stretch for new ideas for the architectural elements of a home. Without further ado: let us get the door(s) for you.
Sliding doors are no less elegant now than they were in the long-ago Asian cultures in which they originated, but fresh materials have given them a sturdier, more pronounced presence than their predecessors of centuries past.
Today's roundup of modern sliding doors, also called "fusama," range from glass room dividers to metal sliding wardrobe doors, and a heavy slab of wood from Bartels acting as a privacy partition for a master bedroom in an urban loft.
They may not provide as much satisfaction as a slammed door during moments of frustration, but then again, it might be a moot point since they lend a sense of Zenlike calm to their surrounding spaces.  You could say it's in their genes.
[the_ad id="83444″]
Heavy Duty Sturdy Sliding Barn Door
WHY CHOOSE US: With 1/3 of the cost, you can get the same quality products here! They provide this hardware kit along with a turnkey experience.
SIMPLE AND EASY TO INSTALL: Professional instruction and customer service team help you solve all installation problems in time. Save the cost of finding a carpenter or decoration team.
PACKAGE INCLUDED: A Barn Door Hardware Kit (2x 3.3FT Rails, 5x Rail Spacers, 2x Rollers, 2x Door Stops,2x End Caps,1x Floor Guide,1x Hex Key; All other necessary hardware is included as you see in the pictures. For 16 inch stud.) DOOR NOT INCLUDED.
DOOR WEIGHT CAPACITY: 220 lb, Fit door panel width: 36″-40″, Fit door panel thickness: 1 3/8″ and 1 3/4″.
RIGHT CHOICE FOR YOUR HOUSE: This modern twist on the classic barn door not only saves space, it allows the ability to open up multiple rooms without the annoyance of a swinging door.
Genius Iron 6ft 6 Single Barn Door
Durable Material YOU CAN BELIEVE: At Elicit Hardware, all of our barn door hardware is made from quality materials and is handcrafted by skilled artisans. Our kits come complete with everything you need to hang your new bar door and are offered in a variety of style options to make sure you can find the right one for your space.
Hassle-Free Installation: Our barn door hardware comes complete and ready for you to install yourself. We provide simple instructions so you can quickly install your barn door hardware stress-free. Consult our FAQ to learn more about what you can expect during installation.
Kindly Reminder: Clearance needed above top of door: 6″. Weight limit is 220lbs. Fit door thickness is from 1-3/8″ to 1-3/4″.Thicker door need buy additional longer bolt, thinner door need cut extra bolt length. Rail is predrilled with 16″ hole apart. Additional headboard is needed if your studs do not line up with.
Package Included: All Hardware is Powder Coated; 2 Barn Door Hangers and Wheels; Track at length ordered; Lag Bolts and Spacers – 1 per 16inch of track ordered; 2 stops for the end of the track;1 guide to support the bottom of the door; All needed hardware and bolts to hang the barn door track.
WIDE APPLICABILITY – Rustic style suitable for indoor decoration in kitchen, bedroom, dressing room, club, pub and so on. And if there is any part missed or defectived during shipping, please let us know, We will solve the problem for you as soon as possible.
Heavy Duty Sturdy Sliding Barn Door 
DURABLE & STURDY – High strength industrial grade tracks and pulleys can easily hold 350 lbs loads;Great for doors 1 3/8 – 1 3/4″ thickness. selected material and excellent forging process provide a safe and guaranteed life for your family.
STABLE & QUIET – There are 2 anti-jump disks for keeping roller on rail and an up-side-down T shaped guide stabilizes the bottom to keep it from swinging as it's moved from side to side.this modern twist on the classic barn door not only saves space, it allows the ability to open up multiple rooms.
WIDE APPLICABILITY – Expansion screws are used for cement walls, ordinary screws are used for wood walls and cabinets, etc. Rustic style suitable for indoor decoration in kitchen, bedroom, dressing room, club, pub and so on; waterproof and rust resistant tract kit also a nice door accessory for barns, garages, stables, etc.
PACKAGE INCLUDED – Barn door hardware kit (2 x 5ft Rails, 4 x J-shape Hanger, 7 x Wall Spacer, 2 x T-Shaped Roller, 4 x Door Stop, 4 x End Cap, 1 x Hex Key) All assembly hardware is included as you see in the pictures. *door not included.
100% SELLER WARRANTY – If your item arrives defectived, please contact us first, we will send replacement at no charge for missing/defect parts.We always try our best to help you solve it.
Adjustable Sliding Panels Cut to Length Vertical Blinds
FABRIC: Natural Woven: 58% Paper + 42% Polyester. Spot Clean
CUSTOMIZABLE SIZE: Adjustable Rail 44" to 80" wide, Cut-to-length panels up to 96" tall
Modern upgrade to vertical blinds to add beauty and privacy to large windows, such as patio doors, french doors, or balcony doors
BEST FOR: French door, patio door, balcony door, Closet door, room divider, and large windows
QUICK INSTALL: All hardware and instructions included. If you need a little help, watch our tutorial videos on YouTube
FLEXIBLE MOUNT: Wall or ceiling, for inside or outside the frame
INSIDE MOUNT: minimum 1.5-inch depth needed; 2-inch for flush; OUTSIDE MOUNT: 2.125-inch bracket height needed
DESIGNED TO: Add beauty, create privacy, filter light, separate area, hide space
RECOMMENDED ROOMS: Living room, bedroom, office, kitchen, nursery
Embellished Domus and Domus Sliding Doors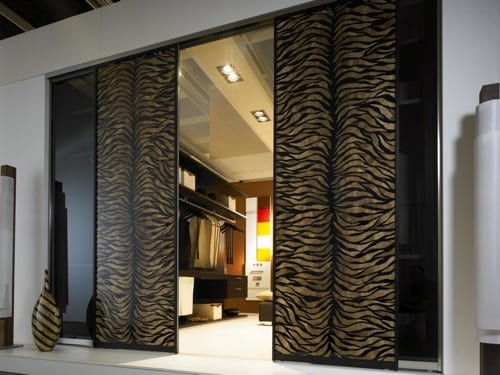 [the_ad id="83442″]
Glass Door from OTC Doors