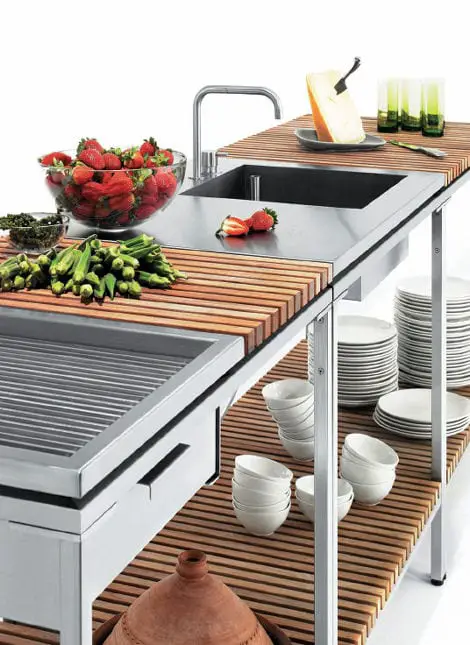 Today's homeowners are often looking for a way to extend their space, and have begun to expand their living areas to the outdoors via patios, sunrooms, and decks. These are common, accepted spaces for every home of every shape or type, but intriguing new trends have started to come about, taking the outdoors by storm. Outdoor kitchens and baths have made their way to being a spotlight trend. Outdoor kitchens are very popular, and are especially useful in summer to keep extra heat out of the house. Outdoor baths are a little slower taking off, especially in the US, as we tend to be a bit conservative. However, if you live in a more rural area (i.e. NOT in a neighborhood), these intimate retreats can be very sensual or relaxing escape.
Outdoor kitchens are wonderful for entertaining, and can add value to your home. Simple outdoor kitchens can consist of a counter top, sink, prep area, shelf storage, and a grill. High-end outdoor kitchens can consist of weather resistant cabinetry, stainless steel appliances (sometimes including wine storage), sinks, pizza ovens, steamers, fryers, the whole nine yards!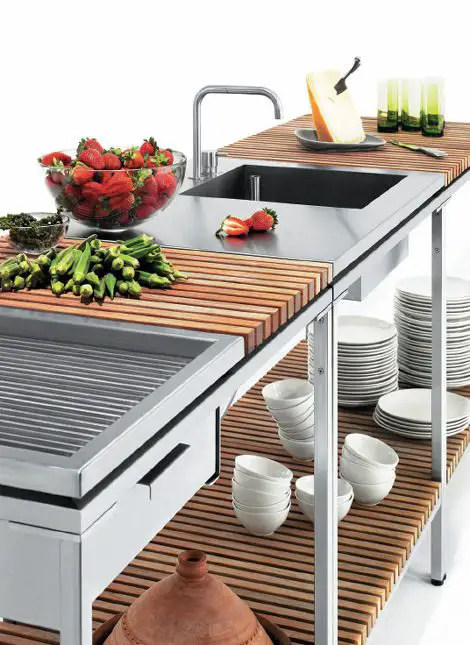 This simple kitchen requires minimum space and is easily placed on any size deck or patio that will accept its size. It comes with an integrated grill (in the forefront) and a sink and faucet that connect to your water hose to get water.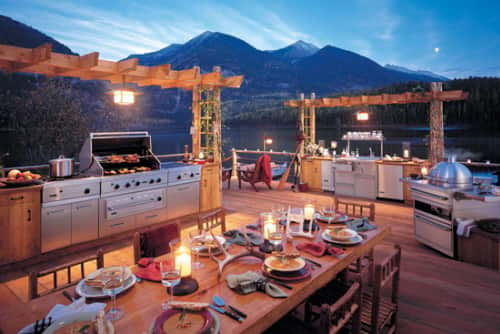 A gourmet outdoorsman's delight, this kitchen has all of the finest accessories: a grill, gas burners, a smoker (on the right side of the frame), under counter refrigerator, warming ovens, and icemaker. The wood cabinetry is treated to be weather resistant, as are the deck and furnishings. The drink station in the background has a sink and all the right equipment for making a summer cocktail.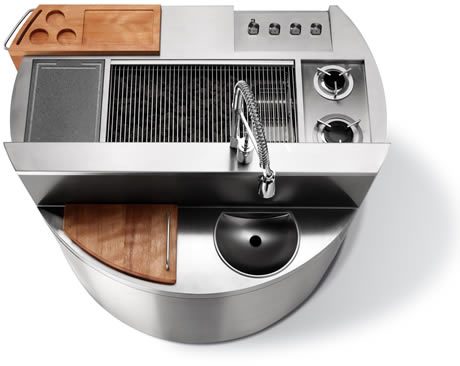 This kitchen falls into the mid-range as far as pricing goes, but has tons of counter space and a raised bar for seating a hungry crowd.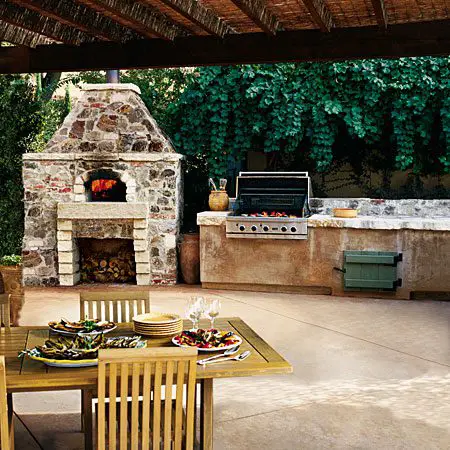 A simple kitchen that has a rustic appeal, which makes the space very welcoming. The wood burning pizza oven in the background is a family favorite.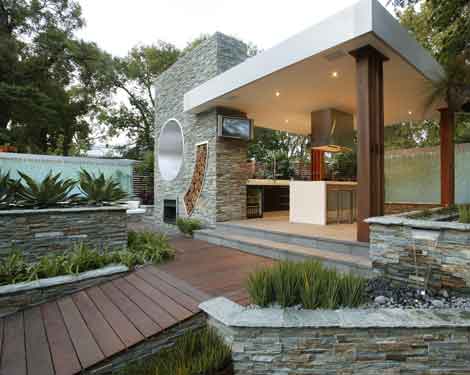 Contemporary landscaping surrounds this culinary oriented jewel. A vent hood focal point, bar seating, and wine storage makes this a place for impressing your guest.
Outdoor Baths are gaining popularity in the US, but have been in other parts of the world for centuries. Like their interior counterparts, these fixtures require access to drain lines, so take that into consideration before deciding to create your own retreat. They are called baths instead of bathrooms because a toilet is rarely ever included in an exterior space. The main focal point of these outdoor spaces is a tub and its fixtures, though some also include a shower as below: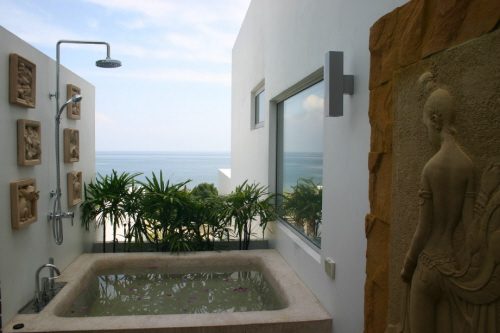 A private outdoor retreat…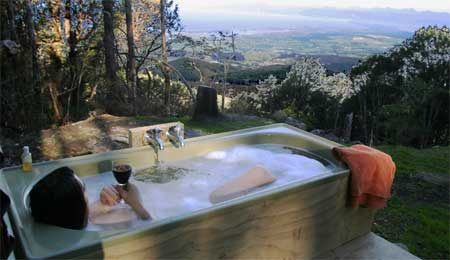 This simple soaking tub overlooks a gorgeous view of the countryside below.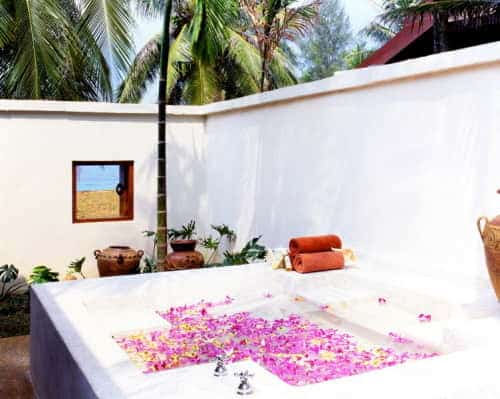 A tropical paradise and a soothing tub full of fragrant flowers can be intoxicating. This outdoor bath provides privacy as well as a view, but should there be any onlookers at the beach, the window can be closed with a solid panel.
Outdoor spaces are wonderful, but take care to contact a qualified contractor and designer before you start into your project. As mentioned above, drainage, ventilation, electrical, and plumbing issues must be addressed in order to make your dream space function the way you envision it to, and as city codes mandate it to.