Huey Lewis said it best: it's hip to be square.  In particular, today's roundup of square dining tables brings together just under a dozen perfectly symmetrical spots to tuck into for… well, a square meal.  A square table doesn't necessarily limit seating arrangements to parties of four, however; several of the elements in today's series offer comfortable seating for up to eight, with seats pulled together in couples.  Offering a slightly more democratic opportunity for conversation, there's no longer a "head of the table" in settings like this — everything is unilateral.  Now that's modern, and actually not very square at all.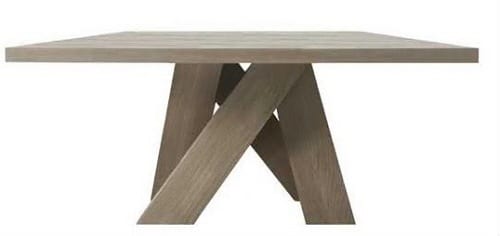 We're an affiliate
We hope you like our recommendations! Just so you know, we may collect a share of sales or other compensation from the links on this page. Thank you for using our links, it is much appreciated.
[the_ad id="83444″]
Espresso-colored dining set found at Bassett Furniture.