10 Sleek Curio Cabinet Designs
Curio cabinets rose to prominence several generations ago as a means through which to display trinkets, treasures, and family heirlooms.  Nearly every suburban home in the 1960s through the 1980s had at least a corner curio with five or six shelves housing vases, china or collectible, family figurines and ornaments.
The dated oak-and-glass designs of yesteryear have thankfully been replaced with much sleeker successors, some more ornate than others but all simpler and much more chic than those that came before them.
The background shouldn't compete with the objets d'art on display, and today's roundup gets the job done with dignity. I am a big fan of the curved and bent glass designs as they offer such an interesting look and classy touch to any room.
We hope you find one that works perfectly in your interior design plans.
Curved Cabinet from Tonin Casa Design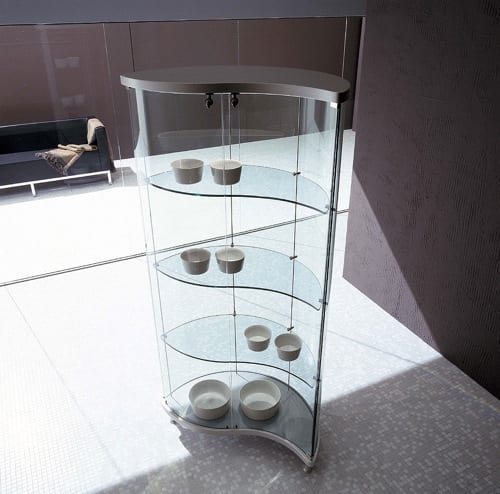 Modloft Amsterdam Modern Display Cabinet
Curio Cabinet from Sempra
[amalinkspro_table id="135022″ new-window="off" nofollow="on" addtocart="off" /]
Nottinghill Modern Curio Cabinet
Floating Curio Cabinet
Bellini Modern Catania Small Curio Cabinet in Espresso
Classic Display Cases by Luminati
Bellini Modern Living Celeste Small Curio Cabinet in Silver
Askew Curio Cabinet from Global Furniture
Lola Curio Cabinet from Ello
It's great that these 10 curio cabinet designs move beyond our traditional thought of a solid wood unit that is very formal.  These accents can be fun, whimsical and add flair to any room of the house.  Also, it's great that they offer storage and a way to showcase some important family heirlooms or items that you collect.