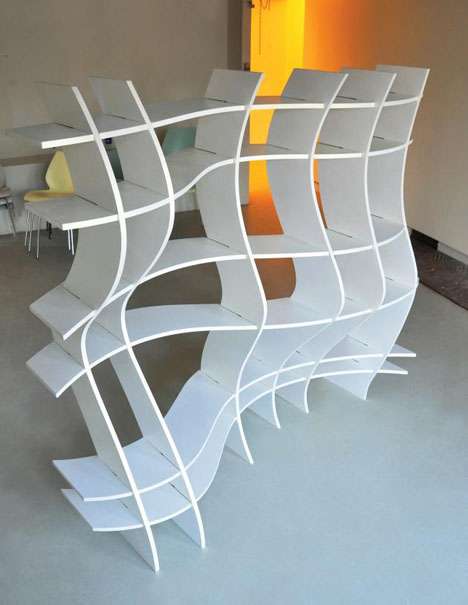 Here are some rather unusual book shelves and shelving units for the person who wants to make a statement with their furniture. We like to show the fun side of home furnishings that take everyday items and more than meets to eye in some cases. Hope you enjoy! Also see our 15 Super Cool Bookcases for the Modern Home and our 30 Outstanding Bookcases for Home or Office
Extending Bookcase by Reinier de Jong
REK is composed of five interlocking components that can be compressed or expanded as needed. Whether you want to store a dozen or a hundred books, you don't have to have any excess shelf space or take up a full wall of your house with an empty bookcase. It's an ingenious idea and might be worth owning for the sake of beauty and novelty alone, but ultimately efficiency of space clearly isn't the true goal here; the shelves and walls are so thick and numerous as to neutralize any real space-saving advantage.
Sang Hoon Kim Curved Bookcase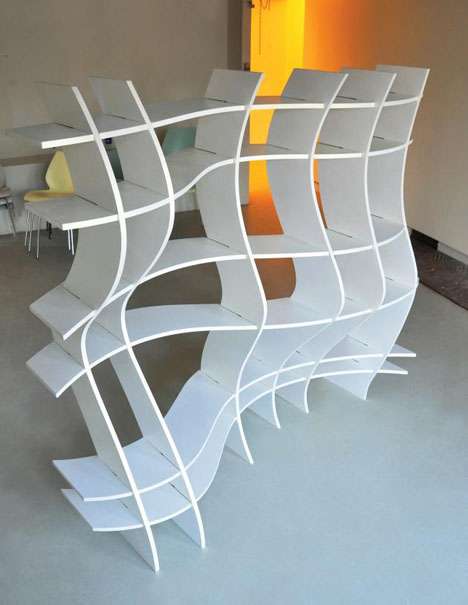 Empty, this bookcase looks like a diagram of curved space from a theoretical physics textbook. Very cool. Filling it with books might present a few problems though. It won't fit snugly against any wall and there is no back to push your books against, which could certainly lead to a few strays falling into the crevice next to the wall. Still, Kim's design is striking and playful— and this one seems pretty primitive alongside some of his other work.
Andreas Hegert Book Shelf
No one would accuse Andreas Hegert's design of being practical but a little "form over function" never hurt anyone. These shelving units pierce through empty white space beautifully, but due to the irregular angles of its shelves, the only way to store books on it is with large bands. This concept probably wasn't intended to be marketable, but it would be interesting to see an attempt to make it so.
Obo Shelving by Jeff Miller
Jeff Miller's Obo modular shelving units are a great way to commune with your inner Lego man. Modular storage has always been a forward idea— we very rarely buy storage for things (in this case books) that we're going to buy, just what we already have. Being able to reconfigure your bookshelf as new treasures are added to your collection each month is liberating from an interior design perspective. The modules come in seven color options and are sturdy enough to be stacked pretty much as high as you could want them.
United States Map Bookcase
This one-of-a-kind gallery piece titled "Oh the Farmer and the Cowman Should be Friends" (a reference to a number from Rogers and Hammerstein's Oklahoma!) is ideal storage for anyone who wishes to organize their library by each author's birth state. Each shelf is lined with mirrors which give an illusion of added depth. Many of artist Ron Arad's other works are equally eclectic furniture pieces worth checking out.
Moving Mondrian
Moving Mondrian is named after Piet Mondrian, an early 20th century Dutch De Stijl painter whose most famous style interspersed blocks of color among irregular black and white grids. Looking at the bookcase its clear which design aspects were appropriated from Mondrian. But what is also striking is the shape of the piece, which places the center of gravity as low as possible, a necessity if you plan on carting something as top-heavy as a bookcase around the house. Whether or not you find such a feature useful is up to you.
'Brick' by Ronan & Erwan Bouroullec
The "Brick" shelving panels were originally designed by Ronan & Erwan Bouroullec to be used as part of a display for an exhibition. Laser cut from polystyrene, these shelves can be easily transformed into different configurations as needed. Though probably ideal for the displaying small items like shoes or figurines, with the right set of bookends the Brick units would make a great bookcase in a minimal modernist design environment.
Achille Castiglioni Joy Rotating Shelf Unit
This classic design is an expansion on Castiglioni's two-tiered rotating coffee table, "Basello." It can stand flat against the wall or each layer of shelving can be teased to a different angle to provide three-dimensionality. Castiglioni died in 2002, leaving behind a lifetime of pieces that straddled the line between sculpture and furniture without losing sight of functionality.
Platzhalter Expandable Bookshelves
Some prefer the order of stacking and re-stacking modular blocks, or simply moving as many books out of their house each month as come in. Others are more inclined to the equivalent of stuffing sheets of loose leaf into a notebook once it becomes full. The Platzhalter expandable bookshelf is for the latter group— one look at it fully expanded and you'll know which you belong to.
Lago's Tangram Shelving
Lago's Tangram Shelves are simple and attractive, and can be manipulated into an endless number of forms. The idea is based on tangrams, a Chinese dissection puzzle involving the recombination of seven basic shapes to form figures. A quick internet search should give you an idea of just how surprisingly versatile these seven tiles can be and how many different directions you could take this.
Peter Marigold Split Box Shelves
Though it's unclear whether or not Peter Marigold's Split Box shelves are for sale, the concept is simple enough that pretty much anyone with an axe and a few spare wooden crates could construct their own. Marigold creates them by splitting a medium sized segment of branch laterally into four pieces. Since the sum of the angles created on these pieces will always add up to 360 degrees, you can use them as wedges to create individual shelves and then combine those shelves into whatever asymmetrical craziness you desire.
FlexiTube Modular Shelving
Another modular shelving product, this time in a form reminiscent of stacked bubbles. Perhaps the most fun aspect of this design is the illusion it creates— spheres won't stack like this unless they're constrained at the base. The "stopper" for this piece is so subtle the eye misses it until you realize that it must be there (additional support comes from the frictional tension provided by the spheres' fabric exteriors. Sure you could cover a wall in these, but they're also a great way to break up large narrow spaces.
Sean Yoo Opus Incertum Bookcase
This Sean Yoo bookcase comes in four colors and can function as a modular set or as a standalone piece. It's especially intriguing because its shelves tilt in different directions, forcing you to stuff your books into odd configurations. This disorderly stacking is pierced by the striking solid lines of the shelves, which take the pattern of grout between kitchen tiles. It's a little bit of left-brain and a bit of right.
Hello Block Shelving by Kenn Archibald
Kenn Archibald's bookcase design integrates the modularity fad with the colors, angles and textures of the mid-century aesthetic. Each segment can be used on its own as a freestanding table or stool, or combined to provide as much storage as you might need. Best of all, though the blocks come in four standard colors, they can be custom painted or stained to order.
Polar Bear Bookshelf by iBride
This cool piece of functional sculpture is a freestanding two-sided bookcase with plenty of storage space— and you can actually buy it though it's not cheap.