Glass Dining Tables from Gallotti & Radice
The Gallotti & Radice collection of modern glass dining tables is just what modern furniture should be, great looking, clean, and stylish. The "Air Table" from designer Pinuccio Borgonovo shown in all glass is also available with a bright or matte painted top and anodized aluminum or embossed white or black lacquered metal hardware.
Available in 260, 280, and 300 x90x74h sizes Table top 12mm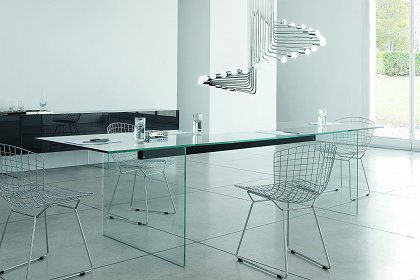 The "Lord" from designer Pierangelo Gallotti features a 15mm transparent glass top which is also available in black, white, dark grey, off-white, red, navy blue painted glass in bright or matte version.
The angled leg structure comes in bright stainless steel or matte stainless steel, white, or embossed black lacquered steel. Lord tables available in 140×140, 164×90, 186×90, 200×100, and 220x100x74h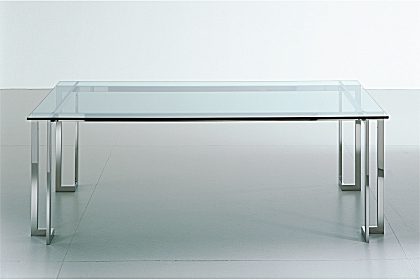 The "Monday" dining table from Italo Pertichini makes it easy to add additional dinner guests thanks to its expanding top. I really like the bowed structure in light grey metallic lacquered metal that gives this modern Italian table a rather Asian flair.
Also available in wood base with various stains 160x90x75h opens to 240x90x75h or 160x104x75h open to 240x104x75h
The "Supercalif" by Luigi Massoni has a distinct look thanks to a base made of 20mm mirrored glass staves which really dress up this really simple yet clean design. Bases can be positioned reversed of closer together for specific dining chair placement.
Available in15mm transparent beveled glass top. Ø 130×74 round 160×130, 180×130, 130×130, 186×96, 210×96, and 210x120x74h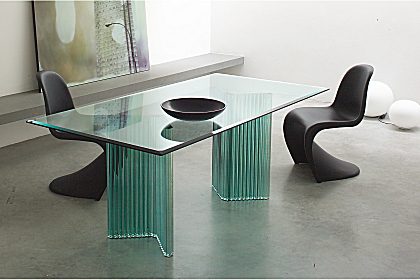 Related Articles: