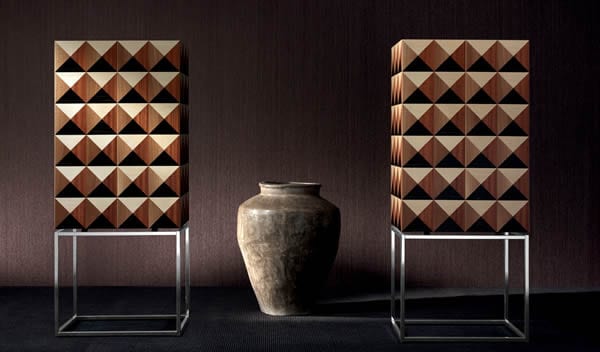 The Artex Sideboard from Besana
If you're looking for a truly unique modern sideboard, get a sideboard from Besana. It comes in a variety of compositions to fit the needs and tastes of modern homeowners. As two small cupboards with a similar appearance or as one large sideboard with different patterns on the facade.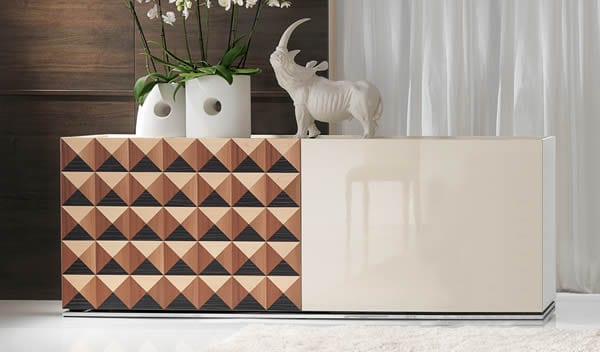 The two small cupboards come with stands which can storage space for basic items. The large piece has a symmetrical pattern on one half of its front section and the other half is lacquered.
The adaptability of the Artex cupboard from Besana cannot be overstated. It can store pantry items off the kitchen, store china in the dining room, or even store linens outside your bedroom or bathroom. The buffet has a wooden structure which gives it lasting style.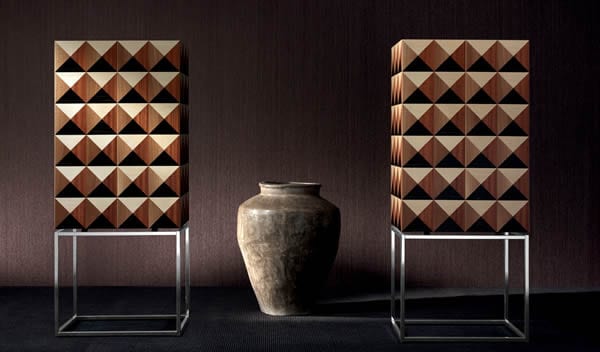 Built by expert furniture artisans and boasts a high standard of superiority that is unparalleled. It is made using the finest materials and is both long lasting and stylish. You can place the cupboard against the wall if you have limited space or leave it as a free-standing unit if you have ample space.
There is no better place to store your essential kitchen items than in the Artex. It offers fresh simplicity and enduring style and will impress everyone who walks into your home. Once you get this piece, you will be renowned for your amazing dinner parties. What place have you been eyeing in your home for the Artex cupboard?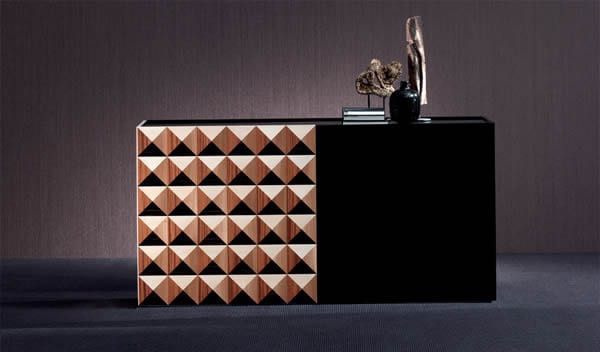 Prisma Cupboard by Besana
While many people prefer to organize their homes in spring, home organization is important any time of year. It makes your home look like the page of an interior design magazine and also makes you feel good about your space.
If you've been thinking of organizing your kitchen, get the Prisma Cupboard by Besana. It comes in different versions and fits your specific needs and preferences. You can get it with a flat base or with baroque-style legs.
The cupboard has a flat glossy top and a unique pattern on its entire body. The pattern comprises triangle-like shapes joined for continuity.
The flexibility of the Prisma Cupboard by Besana is simply unmatched. The furniture piece can store pantry items in the kitchen, china in the dining room, or linens outside the bathroom. You can also place it in the entryway to greet visitors as they come in. Prisma is built by expert craft workers and is both practical and durable. It will help you to tidy up one of your home's clutter hotspots: the kitchen.
Choosing the perfect cupboard doesn't have to be a hard task because Prisma makes your job easy. It offers perfect storage for your essential kitchen items and adorns your space with ease. It will draw the eyes of everyone who walks into your home. Once you get it, you'll be showing it off at every dinner party.
Modern Sideboard by Besana
Do you often wish you had more space in your home? Why don't you get the Square console by Besana? It will help you to maximize space and also style up the area. When limited for space, every square inch can make a difference.
You can adorn it by putting a vase of flowers or some of your collectibles on its top. If you have an open plan living room, place the console strategically to show off its beauty to everyone who walks into your home.
If you're tired of how your living room looks and have been dreaming of a new one, get the Square console and make that dream a reality. It will decrease the time you spend cleaning the area and offer additional storage for all your essentials. It perfectly marries style and function to offer you the best of both worlds. Where would you place the Square console in your home?
Luxury Sidebaord Alternative
Boboli Console by Besana
If your living room has a plain look, tie the room together with the Boboli console by Besana. A genuine work of art, it is a must-have for all modern homes. The multi-functional piece of furniture can a decorative element and a storage place for minor items.
If you have a habit of forgetting where you put your car keys, door keys, nail cutter, or phone charger, store them all in the Boboli console and make that a thing of the past. Thanks to its small size, it is ideal for large spaces and small spaces.
While incorporating modern devices into your home can be hard, the Boboli Console by Besana helps you to do it in style. Your essentials will have a lovely place to call home and you'll knowing they're safe. The console comes in a range of colors including red, silver and gold. The vibrant hues make it a focal design point in many homes.
Choose a color that matches the theme of your home and create a style that lasts. The Boboli console will make a lovely addition to your hallway or living room corner. It also makes a great complement to your living room's sofa. It has several drawers where you can store items separately.
This console will enhance the appearance of your interiors and offer additional storage space. It will keep all your daily essentials handy so you don't have to run late as you look for items in the morning. If you had to choose, which color would you pick for the Boboli console?
Chaise Lounge Ada by Besana
A chaise lounge performs many functions in our homes. It not only transforms our living rooms, studies, and spare rooms, it creates the perfect spot to read, think, take a nap, or sprawl. When looking for the perfect lounger, consider the Chaise Lounge Ada by Besana.
The chair is made in walnut wood and has a leather cover. It comes with a matching pouf to enhance your level of comfort. The leather cover is durable and easy to maintain so you can stay relaxed even if you spill a drink.
There are plenty of ways to adorn your home with Chaise Lounge Ada by Besana. Use it to balance your living room sofas and create a cozy spot where you can take a nap or make additional seating for your guests when entertaining.
You can also combine the chaise with a sofa and a chair to create a flexible and interesting furniture mix. In the study, place it in front of a bookcase and create a reading nook. By pairing the chaise lounge with a background of books, you can turn a bare corner into a showpiece you are proud of.
A chaise lounge is an unforgettable furniture piece. It has exceptional style and can become the focal point of any room. Chaise lounge Ada invites your visitors to sit and relax. It is designed to be roomy and provides total comfort. It cradles your body for complete comfort, allowing you to sit for long periods. Do you love chaise Lounges?
Luxury Chaise Lounge Alternative
✖

September 18, 2023 15:31
Office Four Desk by Besana
The Italian design house of Besana is nearly one hundred years old, but they still live by their philosophy to stay on the forefront of design trends and quality craftsmanship.  That philosophy is the reason why their luxurious office desk looks like anything but a century-old style.
Today, the designers at Besana innovate the latest ideas in simplicity and contemporary trends to bring you the cutting edge of interior fashion built with the experience of decades in the industry.
The Office Four Desk by Besana is a streamlined concept that rests on minimalism in form and elegance in appearance.  The basic "L"-shape balances its thick tabletop with an overall lightness of simplicity.  To support the other end of the desk and provide private storage, the matching chest of drawers balances the design and compliments the low-profile desk.
Various configurations on the basic shape are available to accommodate the space in your home.  The economical size works well even outside of a study as a writing surface in a bedroom or a secretary in a living room.  The gold finish is the final touch to bring elegance and class wherever you use it.
With the Office Four desk, you can res assured that you will be working in luxury at a contemporary desk built with the expert knowledge of a century of design at Besana.  Wherever you use the Office Four desk at home, the question won't be whether or not it has style.  The only thing you'll ask yourself when you sit down is, "What project will I finish next?"
Master Armchairs by Besana
An armchair is a great addition to any space. It can brighten up a dining room corner, complete a living room set, and even act as a desk chair. When looking for the perfect armchair for your home or office, look no further than the Master armchairs from Besana. Made using superior materials and the latest production techniques.
The leather armchairs can be upholstered for added comfort. They are equipped with a unique swivel mechanism and are ideal for people who multitask in their work environments. Also available with tufted seats and backs which give them added character and beauty.
If you have a small living room where it's impossible to place a sofa, consider a couple of Master armchairs by Besana. Some modern homes have small formal living rooms which can't accommodate large sofas. You can create a lovely living room with these inviting and functional armchairs which offer plenty of elbow room. Most visitors seem to prefer sitting in a single chair as opposed to a sofa.
A sofa can become cramped when occupied by many people and if you're in the middle you can feel downright uncomfortable as you're jostled from both sides. The Master Armchairs from Besana are made for relaxing and allow you to sit in absolute comfort. You need somewhere comfy to sit and relax when watching TV, reading a book, or chatting with friends.
The Master armchairs provide all the comfort you need. Decide on several pieces for your home and offer all your guests supreme comfort. Don't you agree that your living room could do with the Master?