For a bit of dramatic and power in the home design, think about adding a four-poster bed into the mix. If you're looking for a new furnishing or a way to create a more stylish and appealing master space, this may be your ticket to boldness and fashionable energy.
What Is a Four Poster Bed?
A four-poster bed is a bed with four posts instead of two. This type of bed is usually found in large houses, castles, and palaces. It is also called a canopy bed because it resembles a tent.
The name "four-poster" refers to the fact that there are four posts supporting the structure.
Four-post beds are often used for sleeping guests in large homes.
They can also be nice for children who feel more comfortable when they are closed in behind the curtains to keep them secure.
We suggest you have the right kind of room to put it in, an area with enough height and space that won't swallow it whole. But, other than that, a four-poster bed can easily transform your master suite into something incredible special and indulgent. Let's take a look at 10 contemporary options that will knock your socks off!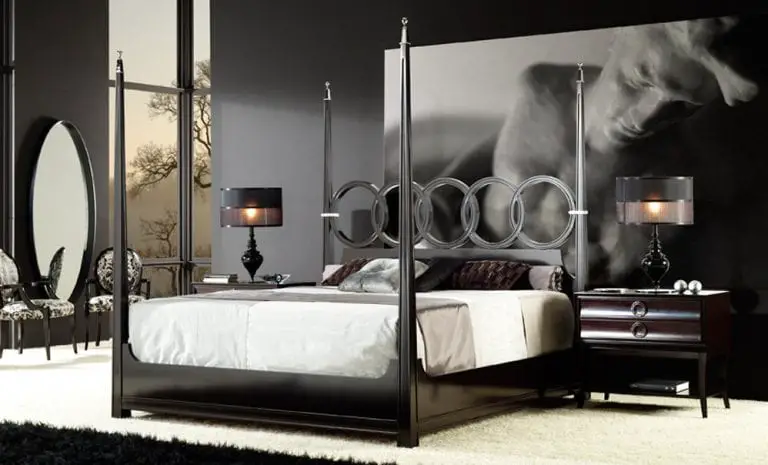 This modern example fits this particular room perfectly but can also fit easily into a variety of contemporary looks and styles. The black is always a good neutral to play with and the circular detail adds a pinch of femininity within all the masculine, sharp drama. Accent the frame with bedding that matching your vision for the right type of blending and meshing.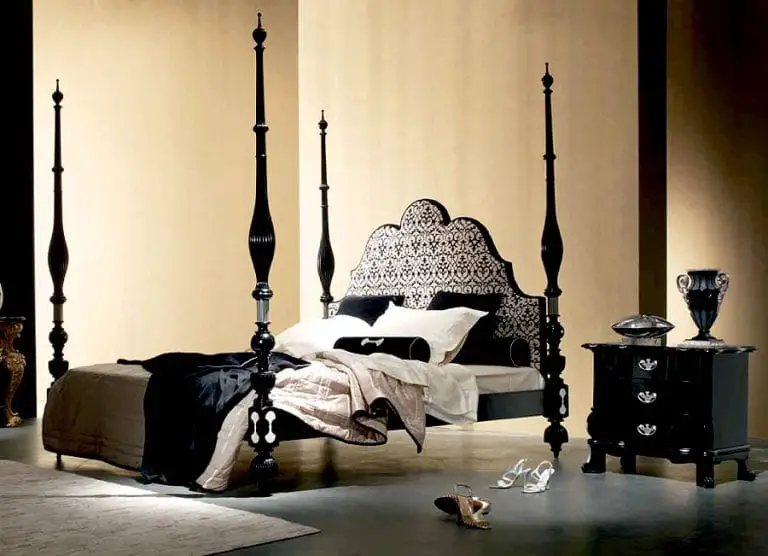 A piece with a more worldly style, this example can be seen in a mix of decorative styles from super modern to eclectic to Asian inspired. Again, we love the black foundation as its a perfect neutral for a contemporary vision. We also love how this particular piece has a beautiful, detailed headboard full of life and interest, bringing an artistic appeal into the space.
How can you not fall in love with this golden beauty? It may be dipped in a delicate color but the contrast between its dressing and bulkier, sturdy bones makes for a fun and interesting style. Of course, a piece this chunky deserves enough space to call home. Notice the the golden, silver and grey combination makes such a beautiful and relaxing atmosphere.
Add a bit of contemporary girlish charm into your house by finding a chic frame dipped in a creamy white. This entire room has a modern edge but it's made with a less dramatic and masculine edge than its predecessors. We love the mustard and almond combination that runs across the bedroom but we love even more how this idea acts as the focus to the space.
Similar to the one right above, this white theme has a feminine infusion and a wonderful energy swirling around. The bit of drama that the posters add make it even more special space, because it's not too big and fits this slender room a lot better than a bulkier design would. And like we said above, the bedding of choice helps to dress the foundation to blend with its surroundings.
Did you just fall in love? Because at first glance we fell right to the floor. This beautiful mirrored product has the pop, power and taste to truly create a magical master that you've been dreaming of. It will go with any color combination and textures that strike your fancy and will definitely fit inside a more modern vision.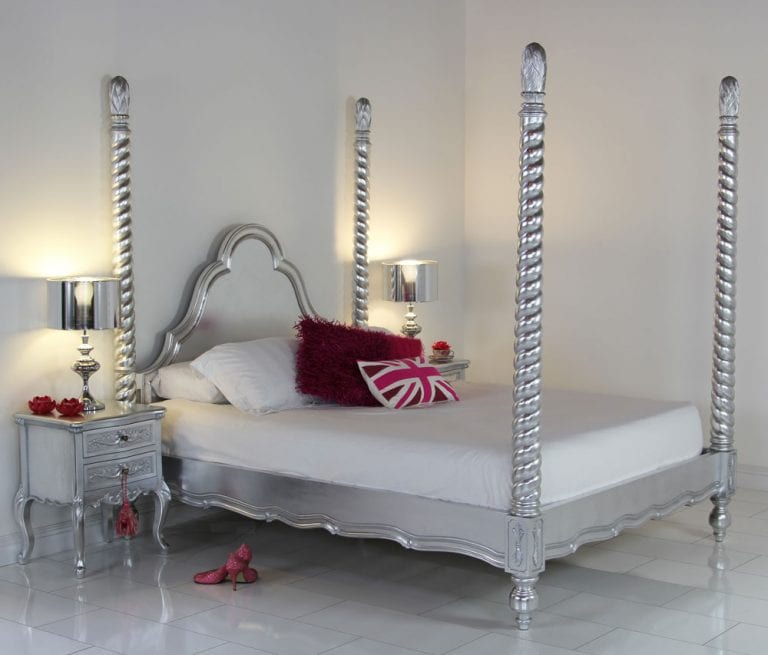 Here's a beautiful design that's tons of fun and has tones to notice and talk about. From the swirling risers to the scalloped edging, this furnishing will no doubt because the focal center point, no matter what colors you decide to choose or overall theme to follow. Silver helps create a contemporary flair, but the delicate details add a welcoming bout of girlishness into the space.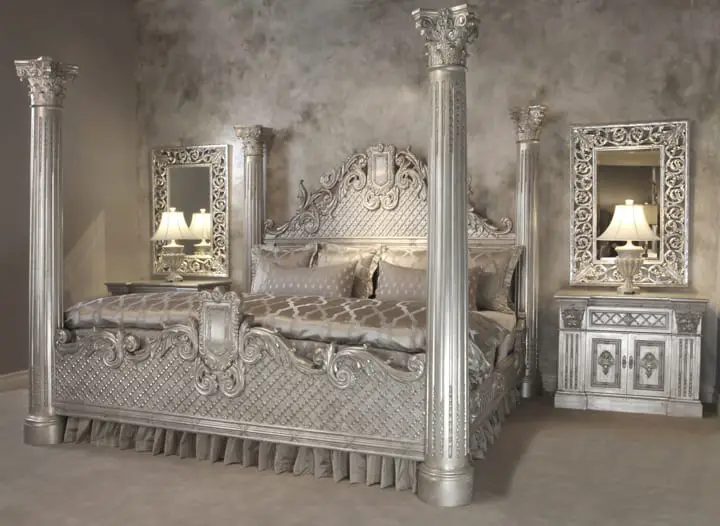 This piece is a stunner but it definitely needs the room to shine. It would swallow a normal sized bedroom right up and it wouldn't be appreciated as it should be. Instead, create a sleek and clean room and then place a piece such as this instead so you can truly see all the details it holds. It bodes well within a monochromatic theme though, don't you think?
Although the overall design of this example is quite sleek it has a more traditional and warm appeal than others on the list. If you're looking for something to blend in with your family home and not adding too much overwhelming style, this may be the pick for you. It'll still give you a bout of stylish ease but without the fuss!
Wouldn't this quiant and charming suggestion look great in your studio apartment or hipster house? This piece will fit inside small layouts, which is nice because not everyone has a huge and spacious area to play with.  
That being said we love it as it still give the bits of drama that make a design statement. The neutral, white foundation also helps to make it a very versatile piece for a variety of different interior design styles.