We're an affiliate
We hope you like our recommendations! Just so you know, we may collect a share of sales or other compensation from the links on this page. Thank you for using our links, it is much appreciated.
Table of Contents
Brick Accent Wall Ideas For Your New Home
At first thought, brick may not be completely connected to a fashionable, contemporary style. But, in fact, the interest and texture behind this rough and tough accessory can make for a very hip and modern bit of design. If you think about old buildings and homes often the brick is saved, because it's antique and cannot be replaced.  It's use can change the vibe and feel of a living space by providing a touch of history and incorporating it into the overall design.  When combined with modern era furnishings it creates a blended interior design look that is fresh and new. Let's take a look at some modern brick accent wall ideas for your very own home.
In a Hurry?
A Quick View of "THE" Most Popular Accent Wall Accessories
Product prices and availability are accurate as of the date/time indicated and are subject to change. Any price and availability information displayed on [relevant Amazon Site(s), as applicable] at the time of purchase will apply to the purchase of this product.
Prices pulled from the Amazon Product Advertising API on:
Brick Accent NO Wall Paper
The soft, subtly of this living room is warm and welcoming. But, it's chic, posh appeal makes for a very stylish and rich space. Pair the scheme with this subdued, brick, accent wall and you've got an interesting and equally artistic vibe happening in this meeting room.
Photo by Justin Schüler on Unsplash
Stunning Brick Accent Wall Cafe
If you're in the mood for a revamp or restore of your home, you may want to create lots of interest and wow-worthy appeal by adding style of sorts. Create a reading nook, place of rest or just a more textural, eye-catching way of walking to the back patio with a bout of brick! This cafe catches the whole theme of natural bricks.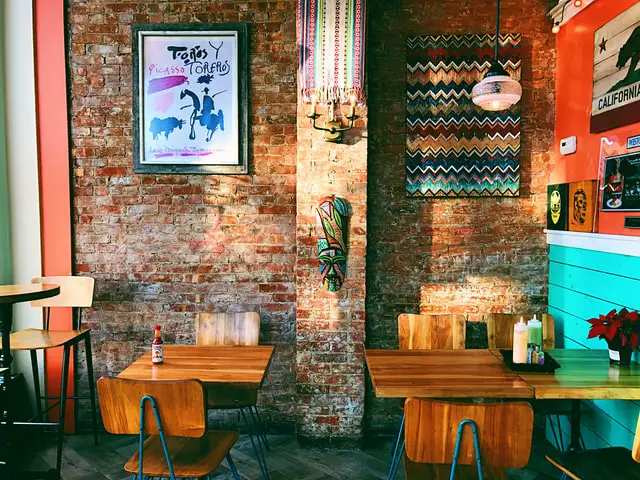 Photo by Katlyn Giberson on Unsplash
Low Light Brick Kitchen
A tad darker in tone, this smooth and clean accent wall certainly brightens up this home office. Conservative in overall style, it's okay to go with a more comfortable decor scheme instead of going with accessories that are too over-the-top. And that's especially true when your layout of the room includes an amazing focal point such as this.
Photo by Drew Coffman on Unsplash
Stunning Windows and Brick
Even a cottage-flavored home can have a contemporary appeal. We love mixed materials, even ones that evoke a rustic or organic feel. But the trick is, to decorate with sharp, clean edges in mind. Like this stunning open room, it has a very slick and interesting style.
Photo by Angela Bailey on Unsplash
Just Play It Cool
Photo by Evelyn Semenyuk on Unsplash