Ever wonder how photographers get such beautiful shots of their rooms or patios? The best images of the perfect bedroom or home office are often shown with huge bursts of light shining in and highlighting equally stunning décor.  The secret to all of these beautiful images is a plentiful light source.  So why not aspire to have a room with a large skylight?  Let the light in and create the illusion of added space and endless views.  There are many rooms to feature a skylight.  There are also many designs of skylights to choose from.  Sunlight is proven to put you in a better mood and it can save you a lot of money on electricity by simply harnessing all of the natural light.  Get inspired with these 10 interior design examples using skylights in a home.
Living Rooms with Skylights
Not only do these stunning rooms feature skylights on the ceiling, but also big wide windows to let the light shine in all around you.  It really makes your décor pop.  The sliding curtains in the first picture are a great idea for when you are wanting to keep the light out during the day.
Kitchen with Skylights
A nice clean kitchen is a great place for a skylight.  It can even be a great place to grow indoor herbs and small vegetables.  They are sure to get enough light to grow with multiple skylights like the one in this image.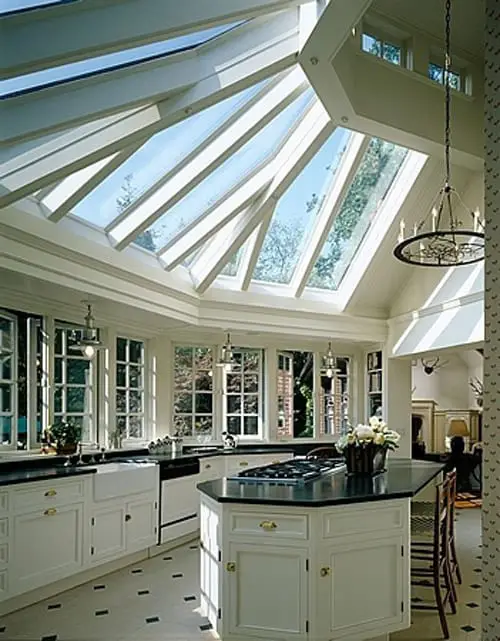 Home Office with Skylights
Be more productive when working from home with enough light to keep you awake from all angles.  These skylights are the perfect mix of shade and illumination; especially when more privacy is needed.
Bathroom with a Skylight
What could be more relaxing than taking a hot bath in a beautiful bright bathroom?  Or maybe you'd like to bathe under the moonlight?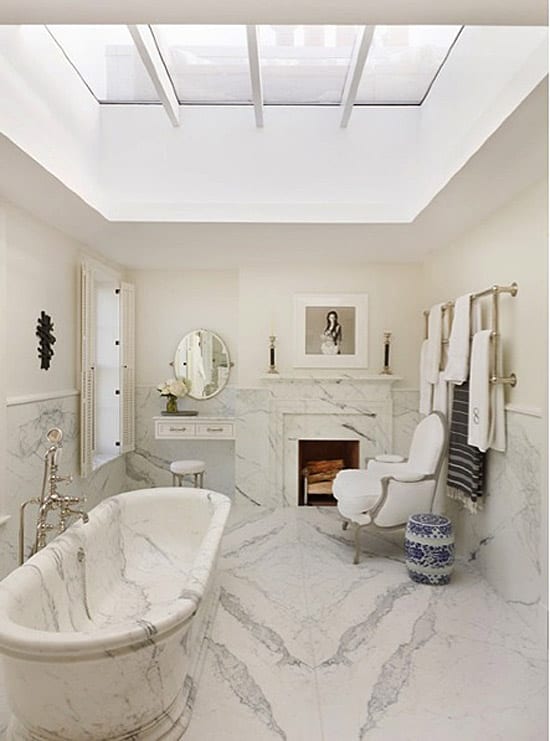 Dining Rooms with Skylights
Enjoying breakfast or lunch with a beautiful view is an invigorating way to start your day. Or enjoy a romantic evening under the stars.  The first image is a unique skylight because above the glass is another room.
Bedrooms with Skylights
No need for an alarm clock when you can wake up with the sun.
Relaxing Nooks with Skylight
Enjoy a cozy nap or curl up with a book in a chair besides a natural light source. Wouldn't you love to read in this serene and relaxing space?
Image Sources: Source