Canopy Bed Pictures for Home Project Ideas
Strong with a very contemporary and a bit of a masculine feel, iron canopy beds mix the best of the both worlds: romantic and bold styles. With or without fabric, in neutral rooms or bright colored spaces, these pieces can pop with edge and add a trending, sleek statement.
Canopy bed frames are made for sleepers who enjoy the feeling of waking up to a fresh canvas. These types of beds are designed to give an open air feel while providing ample support. This type of bed is ideal for those who prefer a more relaxed sleeping environment.
The canopy bed frame is a great option for anyone who wants to create a relaxing bedroom atmosphere. The design allows for plenty of space for storage underneath the mattress.
A canopy bed is a bed with an overhead structure that provides support for the mattress. Canopy beds are usually made out of wood, metal, plastic, or fabric and may come in various styles.
The most common type of canopy bed is called a daybed because it is used for sleeping during the day. Some daybeds are convertible between a daybed and a full-size bed. Daybeds also provide more space for storage of clothing and other items.
A canopy bed is often found in children's bedrooms, where its design allows the child to sleep comfortably while remaining protected from the elements.
Check out the 10 iron canopy beds we've compiled showcasing lovely ideas, designs and photos that can bring the ultra chic to your bedroom decor.
Perfect for a young couple or a bachelor creating his very first home. We love the simplicity surrounding the room but the very fashion-forward, easy essence flowing through the open and brightly-lit space. The iron gives a gorgeous contrast to the light walls and the no-fuss bedding keeps within the confines of a simple vision and a futuristic energy.
This is a more traditional choice but it's still a beautiful one. Decorating the frame with whatever linens inspire you from super eclectic to homey and quaint.
But the bones of this piece are strong and bold, making the living space of the house much more sophisticated and in-style than without the romantic, canopy aspect. And don't forget the tufted headboard, giving it a more feminine and free quality.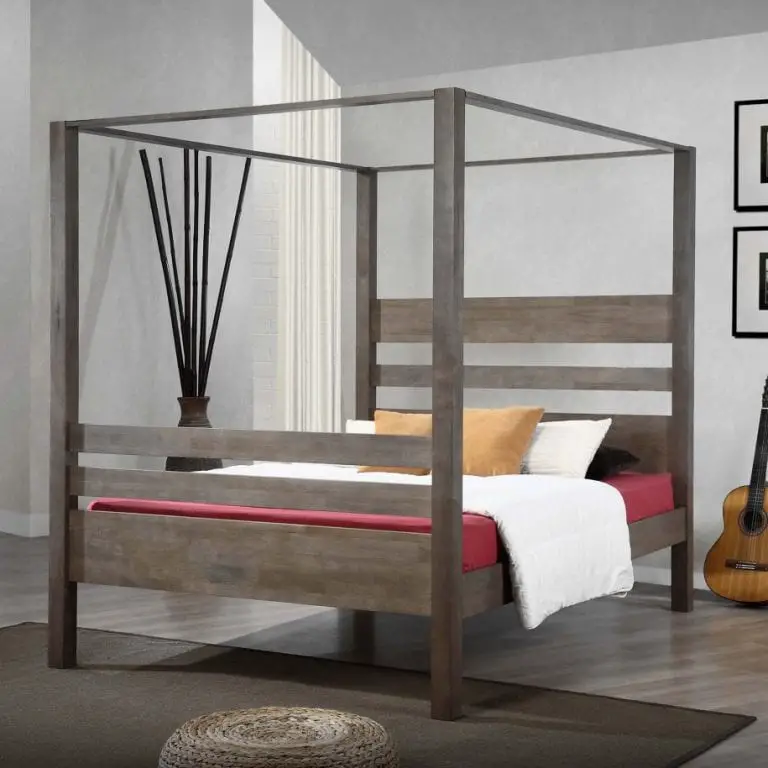 A thicker foundation and a color that will blend with both brown and charcoal tones, this example has a more masculine tone. It works within a ultra chic and modern setting but it also works within a more trendy and youthful arena as well. We'd love to see this piece with a contrast of femininity by adding pastel linens with bountiful texture and prints.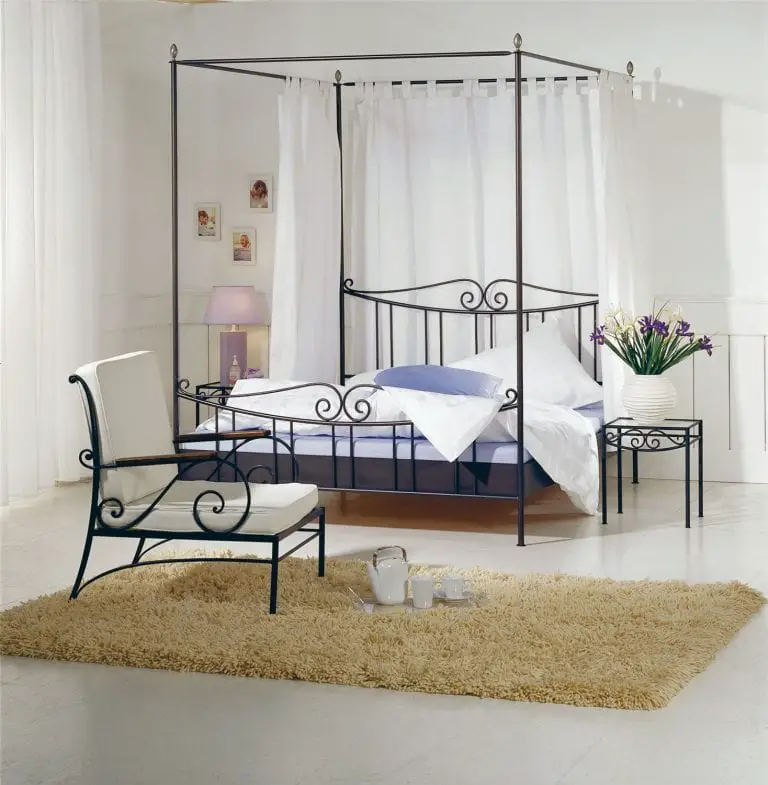 Delicate lines and a very feminine quality, this product sets the scene for a vintage-inspired space mixed with modern undertones. We love the contrast of antiquity and contemporary style within this room and all of the focus comes from the addition of this bed.
There's a romantic vibe and a unique setting that all come from this choice and we love the fabric addition giving a little extra privacy when night falls.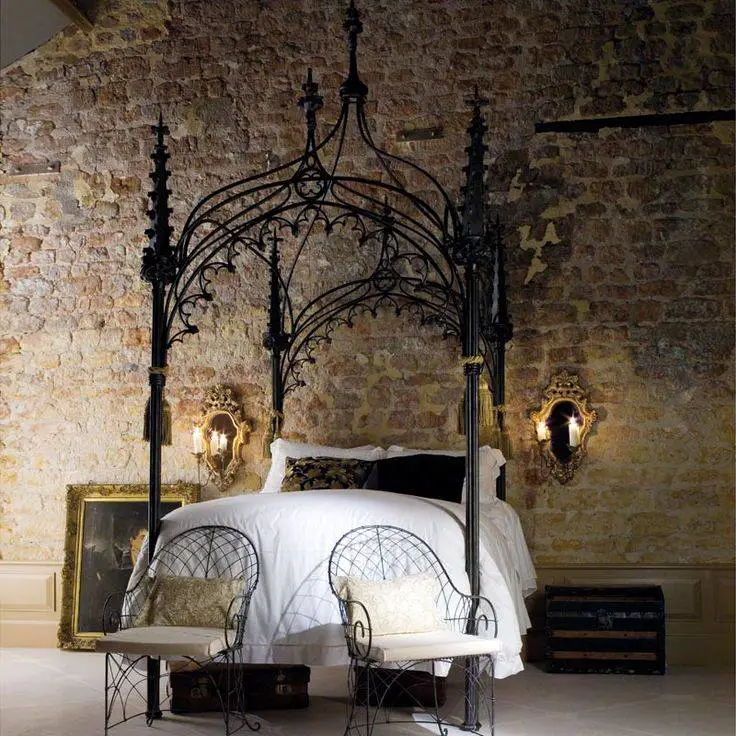 For something really unique and outside-the-box, check out this gorgeous design. Vintage appeal and royal-like qualities are infused and made to create this stunner. Covered in more traditional linens, this iron canopy sets the tone for a beautiful mix of old and new in a very different and eclectic setting. Accenting with neutrals will always work but we'd also love to see it surrounded by rich, jewel tones.
Here's another chic and traditionally modern choice. Black is a great foundation for contrasting and accenting. It's also a timeless, always-in-style option you will never go wrong in. It's perfect in this space with the purple pick and the crisp white walls, but it would also do well in a posh studio apartment surrounding by cherry reds and even a bit of silvery tones.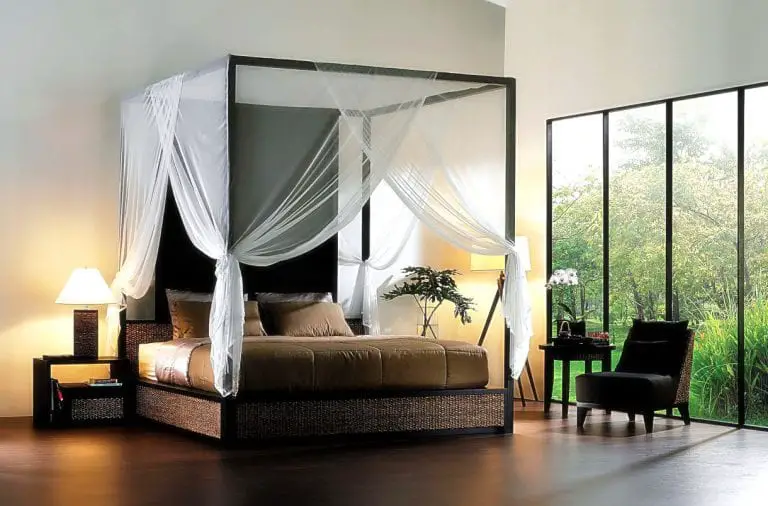 What makes this design so special is the added fabric. It brings a whimsy appeal, it brights a romantic charm and it definitely adds a bout of femininity making the room, as a whole, more welcoming, inviting and relaxing. We love the textural foundation, giving a more casual style to the stark room but we also love the height of this frame and the drama that adds to the spacious area. Its chic, inspired by the natural personality of the outdoors but still very energy focused.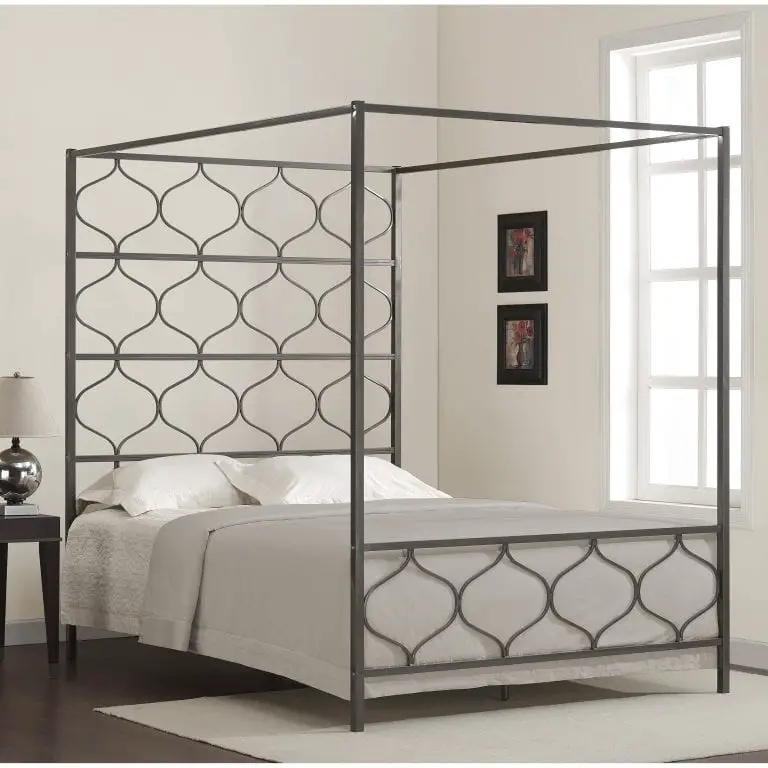 We love the detailing of this design! It has it's very own built-in pattern making it a more artistic and contemporary choice among the masses. It's still strong in its bones but delicate in its appeal. Mix with more girly decorative pieces or go for a more bold choice with richer, passionate tones making it a much more dramatic focus and finish throughout the space.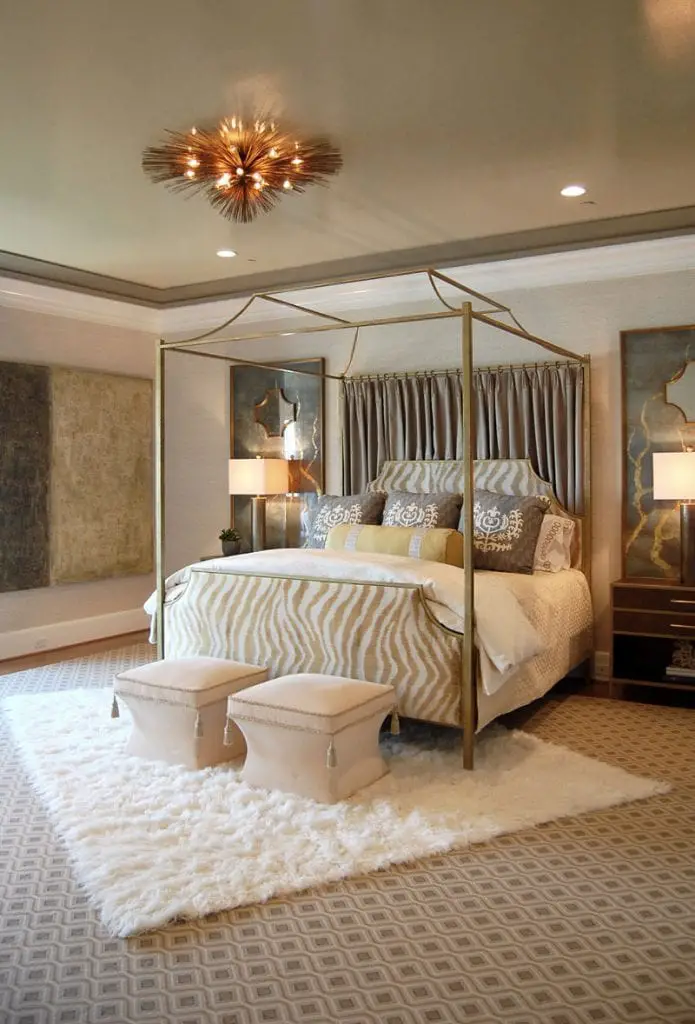 Golden and glowing, this is a personal favorite among the list. It's much more charming and fairy-tale like than the rest of the piece but it's also got a unique shape and structure. The room itself is full of fun textures and this piece only adds to that interest and incredible mix of liveliness and style. Gold will always be a classic combination when paired with cream, so this room knocks the entire look out of the park.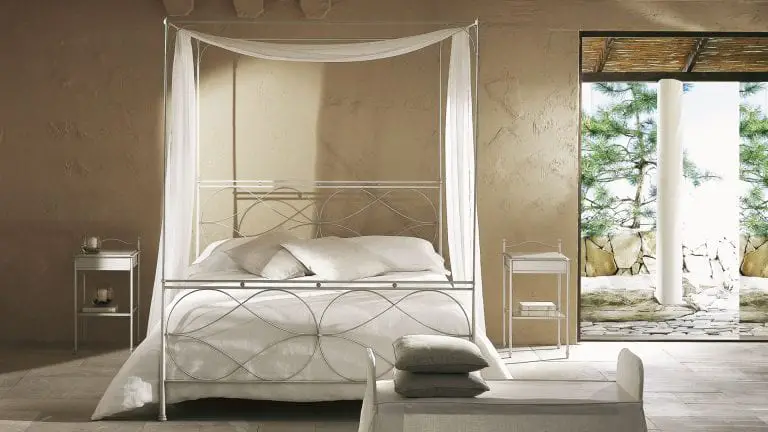 Light and refreshing, this design may be the most feminine and romantic bed of the bunch. The foundation is a bit more delicate than the thicker, chunkier iron bones but we love the delicacy and detailed lines of this bed. It can mix well within a variety of bedroom themes while still giving off a sophisticated and beautiful tone.