Whether you work in an office, from your home, are a stay at home parent, or are a retiree, most people need a place in their home to get organized and collect their thoughts. Home offices are usually considered what designers call "private areas", meaning that they are not some place where people would come when they visit your home. Libraries, while once reserved for only the extremely wealthy, are becoming a popular luxury and are showing up in many custom built homes. The privacy rating for a library can depend on the size of the library and the worth of its contents, but generally a library is a "public area" where family and friends can be invited to read a book or share good conversation on the current authors they're into.
Like any other room, the interior design of the spaces can range from Olde World Traditional, to Modern or Funky Contemporary. No matter which style you choose, some basic components are required (or at least highly recommended) to make the space complete and functional.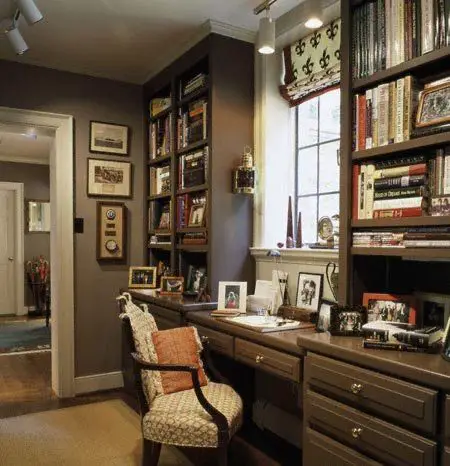 Home Offices should be the grand central station of planning and organization for the heads of the household and will need most of the following:
Desk and supportive rolling chair (preferably ergonomic)
Computer or Laptop
Printer, Scanner, and Fax machine
Writing station with pens, pencils, paper, and containers to organize them
Bill paying station (may be same as writing)
Shelving or cabinetry above the counter top surface
Bulletin stations (can be cork on the backsplash, hanging white board, etc.)
Storage drawers for everything from office supplies to integrated file cabinets
Specialty Equipment for a specific profession or hobby
This gorgeous office is a work of art in and of itself, and displays most of the required items while showing off glamorous decor. The large glass and dark wood desk in the foreground provide a sleek writing surface without weighing down the spacious feel of the room. Task lighting is provided away from the computer's flat screen to prevent glare and provide the light where it is needed. The guest chair in the foreground helps to ground the desk, and matches the embroidered rug perfectly. The shelving in the photo is mostly for display purposes, but there is likely storage for reference books, printer/scanner/fax machine behind the desk. The multiple screens fall into the special equipment category, and are mostly used by stockbrokers and the like to display stock charts, and allow them to watch multiple charts throughout the day. In the back corner is a very useful rest station, something that is even becoming a trend in progressive commercial offices. Though this station is far more plush than any you will find at a large firm, it serves the same purpose; it gives workers with stressful or strenuous professions a place to recharge, even if only for 15 minutes. It is surprising how much your health can be affected by taking a few moments to rest. This station even has a curtain to allow you to block out the rest of the room (or world for that matter) and the worries that it holds. The padded back of the nook is similar to a headboard, and creates a very inviting feel that blends perfectly with the faux painted walls. The dark trim and woodwork creates a contrast that defines the edges of the space and highlights the architectural details like the ceiling. This design is extremely impressive.
The way you organize your office is just as important as the way you run your business, if things are kept neat and orderly your business affairs will also be kept in better order.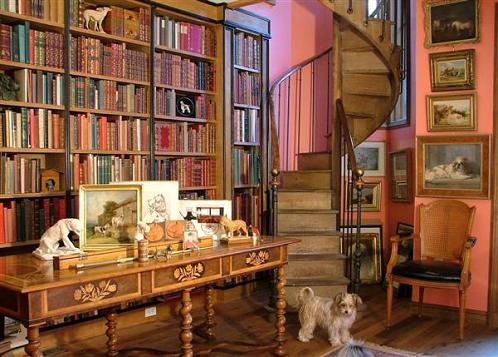 Home libraries are first and foremost a place of learning and can include just a few books on shelves and a comfortable chair, or a multitude of items like:
Books, manuscripts, and maps
Tall shelving
Library ladders to reach the top shelf (can be sliding ladders)
Staircases to reach the second floor for large libraries
Cataloging equipment (computerized or an antique card catalog system)
Art pieces (hung, displayed, or cataloged)
Computer or Laptop
In humid or extreme climates, consider installing a climate controlling system for the room, especially if the works you own are valuable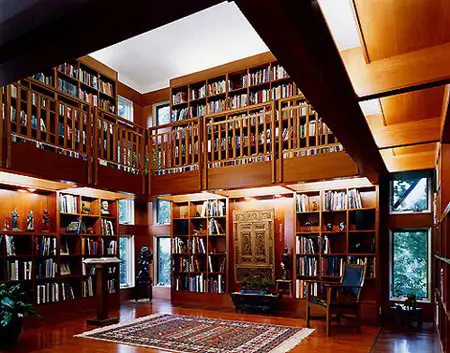 This very large home library is a travelers/book worm's dream. Architecturally, it has a very Mission style feel to it, but it is adorned with treasures from all over the globe. The windows are limited, which is best for the books, but they allow you to see out into the natural surroundings which is very calming. A colorful rug placed in the center of the room works very well because it helps to unify all of the colors of the artwork and books surrounding it. The cherry woodwork envelops you and provides a feeling that makes this space seem cozy and warm, despite its huge size. Library step stools or ladders (not shown in this photo) are most certainly provided to help reach the top shelves. What makes this space unique is the variety of books, artwork, distribution of color and the contrasting openness of the space.
This article separates the home office and the library, but the two may of course occupy the same room or be connected to each other to provide their users easy access to the adjoining space. However, some clients take it a step further and really personalize the room to reflect their personal style by throwing in some unexpected touches.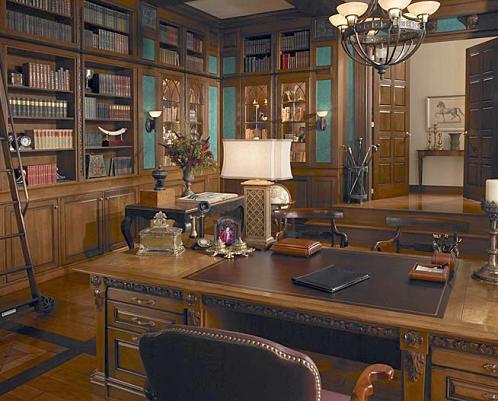 WoodMode has an excellent example of the combination in one room, as seen above. This room has it all, a sliding library ladder, tall shelving, well placed accessories, display cases for more valuable pieces, an organized desk with writing utensils in organized containers, a rolling executive chair, task lighting, and tons of storage.
Many people find reading to be a relaxing hobby all by itself, but these homeowners found a way to combine two beloved hobbies into one room. The wine storage and display makes this room so unique and personal, the owners must find this space blissful. It looks like they are keeping some of their older books in the bottom of the glass display, possibly to safeguard them from humidity.
A more fun, approach to the library might result in an innovation like this. No need to leave the shelf to find a seat, just crawl into this cushioned cut out, which comes complete with a reading lamp.
There are a million ways to design a home library, which can become as personal a space as you would like for it to. Whether you choose a small, funky shelving system, or a grand library, the options for personalization of the space should never be overlooked.