Placing Gold Accents At Home
Gold is a great color to decorate with.  It really makes a room shine, not only because of its metallic properties, but because it seems to go great with any color scheme.  In moderation, gold accents can take a room from dull to a literal shining oasis of a room.  It goes great with white, black, and colors.  It's fast becoming one of the hottest color choices, especially for fall.  Check out some gold accent inspiration for the home below.
Accent Mirrors
These three mirrors wall decor are perfect for decorating any corner of your house. The combination of the three mirrors allows a number of options: you can put them vertically, horizontally, diagonally, or you can even distribute and decorate three completely different areas. Their golden color allows you to combine them with any color. Take risks with the colors of your house and create a unique space!
The outer part of the mirror is made of plastic, which provides greater resistance to impact, humidity or heat. This makes them ideal for any room, in the bathroom or on the terrace.
Wall Paper

Here, we have a simply decorated room that features a gold painted wall.  This design could be done by hand or with decals as is the case here.  The traditional chandelier helps pull the look together.  This gold accented wall effortlessly gives appeal to the room by adding a design to only one wall so as not to overwhelm the room.  It's a simple upgrade to the room that makes a lot of difference.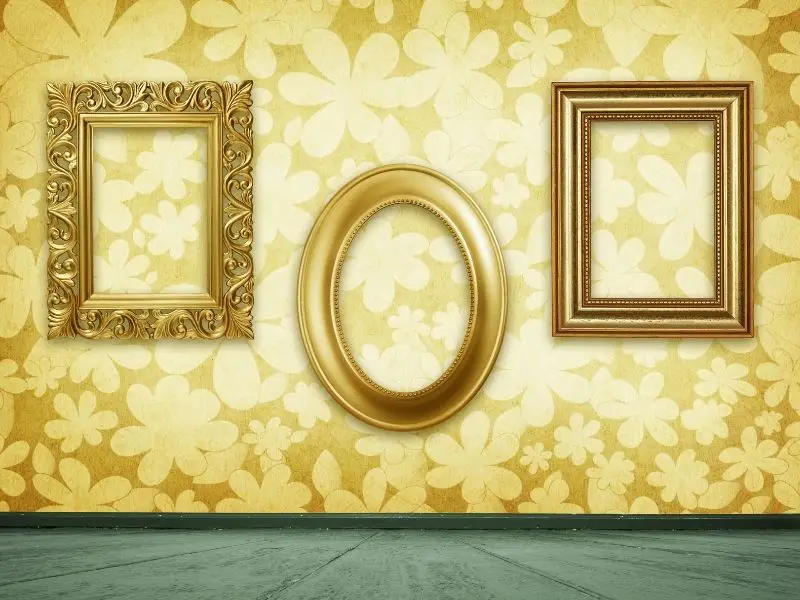 Lime Gold Pearl Interior Film
Beautiful looking wallpaper for those who want to open their imagination.
Living Room Accents

This stunning living room uses only a gold clock to really make it shine. The large clock is great for making a smaller room look bigger as it creates the illusion of space.  The Blue background also adds to the effect. A comfy settee with throw pillows also adds to the looks.
Key Features
Handmade metal triangle shape round wall clock

Made of durable metal with high temperature lacquer

48 pieces crystal and aluminum

Great art works

Silent Movement

10 year warranty for movement
Dazzling Kitchen Faucet
This faucet is beautiful, if you can say that. It marries the perfect balance of white with gold accents and turns a dull kitchen into a modern wonder.  From the faucet to the cabinet fixtures and lighting, you can make a kitchen look very chic! These contrasting colors have proven to be a great color scheme.
Key Features
Three function spray head

High-arch Spout Design

360-degree Rotation

Lead-free Brass construction

Copper Metal single-handle

Brushed gold finish
Golden Bathrooms
Glittering and luxurious.  Gold is an easy choice for a bathroom.  Most go for a plain silver and white suite in the bathroom. Why not add a little falre with a bathroom faucet in gold. How different will that look.
Key Features
Creates a touch of sophistication to any bathroom

Wear resistant finish will not fade or tarnish over time

Lead-free solid brass

Heavy duty material construction
Adding a few gold colored accents through your home can add a little touch that other bland materials just do not provide. Keeping the materials to a minimum will help to keep the tone respectable and not make it look too bling.