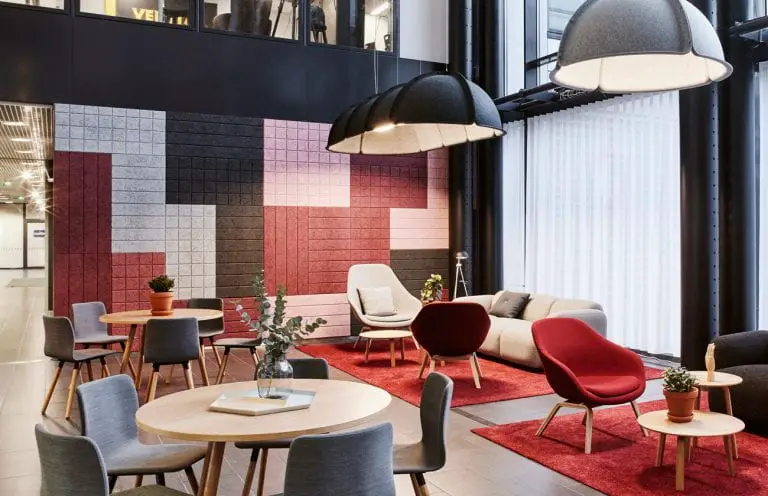 The Innovative Baux Acoustic Tiles and Wall Panels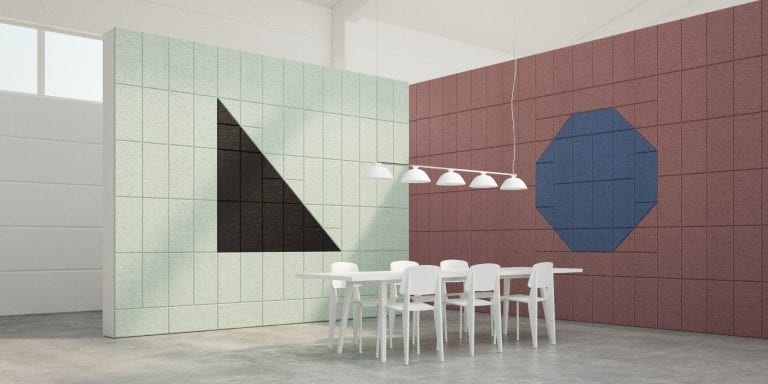 Baux Acoustic tiles and wall panels are new and innovative products made form an environment-friendly, recyclable material obtained from a combination of wood wool, cement and water.
The natural components together provide many functional characteristics. The range of sound absorbing tiles and panels offer a host of architectural functions.
Baux Acoustic tiles come in six shapes and a wide range of normal colors, plus the option of custom printing colors if wanted. Each piece of the collection is made to mix and match to create any pattern.
The patterns of the wall panels include check, horizontal, vertical, diagonal and quilt, available in a selection of 22 colors and chosen to echo Scandinavian landscapes.
Wood wool used in the manufacturing process of these acoustic tiles and panels is created with zero waste in Sweden's local forests, where local spruce trees supply the timber.
Baux is a Swedish company that designs, produces and markets functional construction materials whom meet the contemporary expectations without compromising safety and environmental standards.
Waterproof Portable Bluetooth Speaker
JBL Clip 3, Black - Waterproof, Durable & Portable Bluetooth Speaker -...
SOUND TO GO - Never leave awesome sound at home again. This ultra-portable, waterproof Bluetooth speaker is small in size but with surprisingly big sound. Clip...
UP TO 10 HOURS OF PLAYTIME - The JBL Clip 3 features a built-in rechargeable Li-ion battery with up to 10 hours of battery life, plus a metal carabiner so you...
NOISE CANCELLING & WIRELESS STREAMING - Wirelessly stream high-quality sound from your smartphone or tablet. Plus, take crystal-clear calls from your speaker...
WATERPROOF & DURABLE - No more worrying about rain or spills: JBL Clip 3 is completely waterproof—you can even immerse it in water. Plus, the improved,...
Last update on 2023-03-07 / Affiliate links / Images from Amazon Product Advertising API
The international success obtained by Baux in such a short period is because they offer outstanding products that are not only sustainable and look great but also have fantastic noise reduction qualities and contribute to restful acoustics in residential buildings, industrial premises and public spaces.
In association with the Swedish architect studio Forstberg Arkitektur och Formgivning the tiles have been transformed into Baux Acoustic Panels that can easily be used for larger implementations.
Room acoustics in a typical home leave a lot to be desired. Acoustic problems are not easy to detect when people are only talking, but music and movies can excite echoes and harshness that wreak havoc on sound quality, this is where Baux products come in handy.
Not only soundproof, but by combining colors and patterns one can create stunning interior wall decorations suited for public areas or privare interior decoration projects.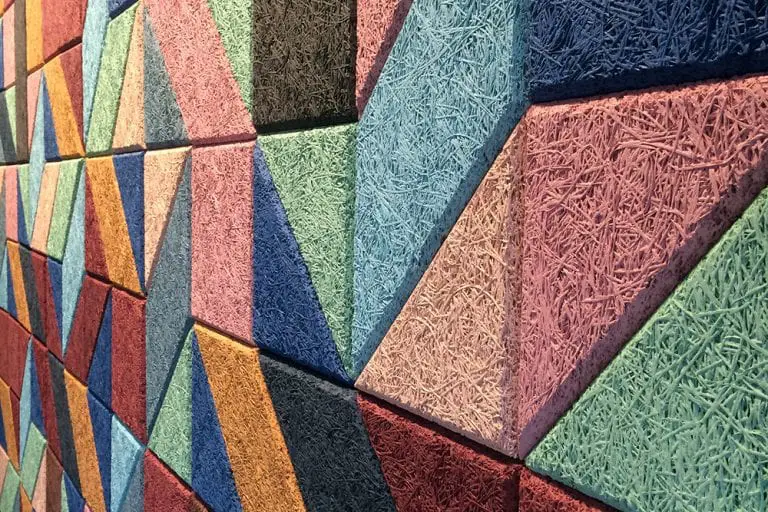 This product was presentation was made with AAWP plugin.