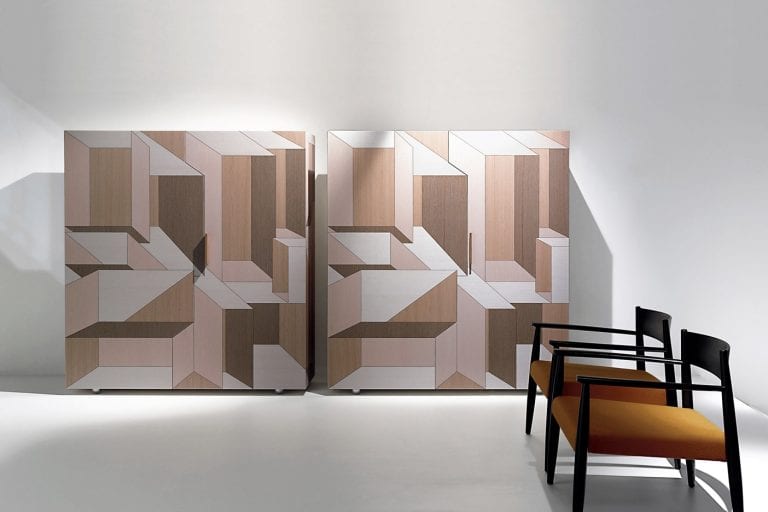 The Inlay Porro Chest of Drawers
Marquetry, also referred to as Inlay, doesn't often elicit a good response among people who are into modern design. However, it can create amazing designs far better than modern ones. The process involves using inlaid materials to create decorative designs.
This time around, it has been used by Front to make the spectacular Inlay Porro Chest of Drawers. The piece is beautiful and maximizes storage space.
Inlay is a practical, eye-catching piece. It is covered with a pattern that recalls parallelepipeds intersecting to form a lovely 3D effect. It is made with an accurate processing technique that utilizes four oak colors and a black profile.
Rectangles, squares, and trapezes are carefully cut with sharp objects to form a geometric pattern. The black outline separates the wood sections while redefining the design. Inlay comes in two versions: as a chest with two drawers and as a sideboard for the living room.
The Inlay Chest of Drawers by Porro has an internal tray in each drawer and a single front. The sideboard has an asymmetrical opening and is internally fitted with separators and shelves. Each of the furniture pieces has handles made in solid oak and interiors made in natural oak.
The furniture pieces you own tell a lot about your style and personality. They can make spaces feel warm and inviting or dull and unappealing. If you want to show off your good taste, get the Inlay Chest of Drawers by Porro. Would you choose both the Inlay Chest of Drawers and Sideboard?