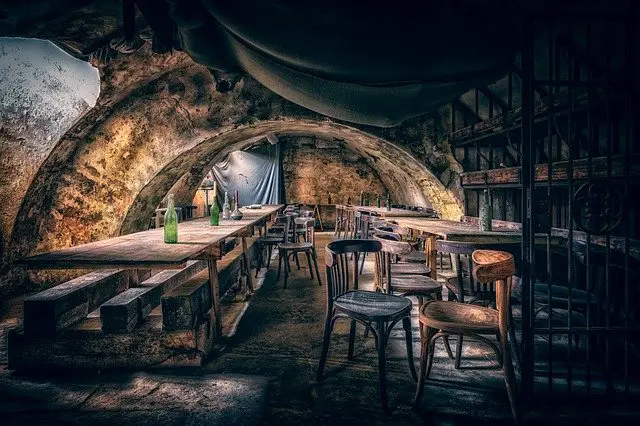 Description: Do you need to set up lighting for your cellar but don't know how? Then, this article is for you. Here you will find eight tips that will help you do this alone, with no professional help.
8 Tips on How to Set up Lighting for Your Cellar
Lighting always requires some specific knowledge. Apart from safety rules, you need to study the basics of electricity and get accustomed to an electrical wire colors guide. Knowing this, you can try to set up the living room or wine rack lighting all by yourself.
Remember the wine cellar, and any other basement, is a very special place in the house that requires a specific approach. Usually, we store ingredients or things that should be preserved under strict rules there. For example, wine should be placed in a room where the temperature ranges from 7 to 18 degrees Celsius. The ideal, however, is 13 degrees. Beer is usually stored at 4 degrees Celsius, while the conditions for whiskey range only between 15 and 20 degrees.
Another important element to take into account is light. You probably wonder, what is the connection between the temperature and ceiling lights for the wine cellar? The thing is that the wrong lights can lead to a substantial increase in the temperature, which will inevitably affect the composition of the stored products and lead to an irreversible change in their taste and smell. Therefore, the valuable liquid may lose its quality and have a shorter expiration date than one would expect. Luckily, modern LED lamps won't let this happen.
After reading the article, you will know exactly how to set up lighting for your cellar that will not only preserve your belongings well (including the wine) but will also have a modern look suitable for any taste.
Tip №1: Choose Low-heat Lights
This is, basically, the king of all the tips as it directly impacts the state of your belongings. Those who have experienced the sorrow of spoiled products can't keep highlighting the significance of low-heat lighting.
In order not to overheat your cellar, we recommend you to choose cooler light sources. The best example is the LED lamps. Although they are slightly more expensive than halogen, their life cycle is longer, while energy consumption is significantly lower, and they can be used on virtually all surfaces: archways, rafters, ceiling, and shelves.
For instance, residential LED lamps use at least 75% less energy and last 25 times longer than any other lighting. The cheapest LED bulb will last you about 5,000 hours, which is 4,000 hours longer than the average bulb. A more expensive option, though, could serve for 25,000 hours and more. Therefore, it's a win-win situation.
A small disclaimer: we advise using LED lamps for all the cellar lighting ideas in the article. They produce no UV radiation and are considered a safe form of lighting, operating equally well in colder and warmer temperatures.
LED Light Bulbs, 50W Halogen Equivalent
Tip №2: Illuminate Your Ceiling
Cellars are typically used as a storage room. This implies floor-to-ceiling shelving and many cabinets. In order to save more space for storage, it seems logical to implement ceiling lighting.
Besides the mentioned advantage, such lighting is easy-to-install and relatively cheap. You won't need to deal much with wiring and pendants. It will make your cellar visually attractive, as it will highlight the shelving from all angles.
Consider having a suspended ceiling design. Suspended ceilings are often viewed as the most popular cellar ceilings because of its simplicity and lightweight. It also allows fairly easy access in case of repairs, leakages, and potential damage.
Ultra-Thin LED Recessed Ceiling Light 
💡【3 Temperature Selectable】Adopted new design, the light can be set as either 3000K(warm white) or 4000K(cool white) or 5000K(daylight) at a time to meet your need. Just a click on the side of the box and you will choose the most-desired color that best fit in your house.

💡【Trustworthiness】This canless LED recessed light is IC rated, ETL & Energy Star certified and wire terminal is UL-certified. It is permitted to be in contact with insulations in ceilings, meaning the junction box is thermally protected.

💡【High Brightness】The 6-inch slim lights use the new generation of LED chips with higher lumens and lower power. 1050LM consumes 12 Watts, which equals to 110W incandescent lamp, saving you up to 88% in energy costs. Frosted LED lens for anti-glare and scratch-resistant.

💡【Easy Install】The low profile recessed lighting is suitable for retrofit and new decoration: Cut a hole in ceiling with 1:1 hole template; Connect the Jbox to the cable; Use spring clip to fix it on the ceiling. Hassle-free, the installation can be completed in minutes.It only requires as small as 2 inches ceiling spaces, fits various ceilings, and joists. Recessed can is no longer a limitation for your choice.

💡【Wide Application】Ultra-thin body, 5%-100% smooth dimming, compatible with most dimmers, suitable damp location, meets kinds of needs in applications such as kitchen, living room, bedroom, bathroom, workplace, common areas, outside soffits and other hard to reach spaces.
Tip №3: Try Display Lights
Display lighting is pretty similar to the previous one. However, it looks more interesting, adding some more vibrancy to your cellar. This is the best basement lighting design if your shelves don't reach the ceiling. Another advantage of the display lights is their high flexibility, they can be installed throughout any surface around the entire perimeter of your cellar.
Keep in mind that this idea requires more effort to implement that ceiling lighting. It is more time-consuming to install and demands a better knowledge of safety regulations. It's not very difficult. If you add a dimmable feature, you can control your lighting even better and create the atmosphere according to your mood.
Tip №4: Set Some Accents
Yes, here we are talking about accent lighting. If you track lighting ideas, you probably have seen many interesting layouts. You can add some accents over or behind the shelves, highlight the bottles from the bottom, or put the beautiful architecture in the spotlight. Another idea is to use fluorescent lighting to illuminate the space and create a gallery-like effect. The primary rule here is to get creative and don't let your imagination stagnate.
Tip №5: Decorate the Shelves
It's hardly possible to find a cellar without shelves. However, they all look pretty primitive. Why not make the shelves the pearl of your basement? You can let the lights run around them.
Tape lighting, light stripes, and rope lights are going to help you with this. Sure, they will hardly be sufficient as general lighting but can become an ideal last touch.
Experience various shades of light to complement the wooden surfaces of your shelves. Warmer lights are perfect for darker types such as cedar, walnut, or gum. Darker lights would go well with cherry, yellow birch, and basswood.
Tip №6: Backlighting for Vibrancy
Backlighting looks really amazing with wine racks. The pool of soft lights that strives to shine through the bottles magnifies anyone and everyone. However, the idea is working for any cellar that features interesting silhouettes. It will make your interior look more stylish and vibrant.
If you want to enhance the effect, try multi-color bulbs or dimmable lighting. This will allow setting up the atmosphere and impress your guests if needed.
Tip №7: Decorate Your Walls
If your cellar isn't designed as a storage room only, add some dramatism to the design. Chandeliers, and any other wine wall lighting, will look great. The benefits of wall lighting include the possibility to adjust the height, to be draped across a large space, or clustered down the levels of shelves or cabinets. You can decorate the path with antique lamps, which will take you several ages back, and complement this design with exquisite artwork, etched mirrors, stained glass, or even mosaics. It's a sure way to set up the mood and design the space without costly purchases.
Tip №8: Hanging Lights for a Multilayer Effect
Hanging pendants is cool basement lighting. Imagine transforming your favorite empty wine bottles into pendant lights? That will surely add originality to your cellar design and bring an authentic, personal touch.
However, hanging lights are applicable only for rooms with high ceilings. Otherwise, they may make your room visually smaller. Note that this doesn't apply to one decorative pendant hanging above the table.
How to Protect Your Wine Collection from Light Exposure?
If you are a wine lover, for you that light affects wine's chemical compounds and can create wine faults. The lighter the wine, the more affected it is by the light exposure. To keep your collection safe, take into account the following steps.
First, the darker the bottle, the more protection it will offer for both still and sparkling wines. Second, when possible, use dimmable LED lighting. Third, think about wrapping the most valuable items in cellophane or keep them in cardboards or wooden barrels. A more expensive solution would be to invest in wine bottles with advanced light-filtering properties.
Installation Guide
Before you install lighting for your cellar, do not forget to
Prepare all the equipment in advance, such as hammer drill, tape measure, hacksaw, circuit cutters, wire strippers, multimeter, and others.
Check the state and local codes to avoid any damage.
Make sure the box was not previously opened, and all the parts are included and sealed.
Keep the fragile parts in a safe place away from children and pets.
Always check your junction box to make sure it can withhold the weight.
Ceiling lights must be supported by well-adjusted joists.
Safety Tips
In case you experience any problems, contact a licensed electrician or some other professional personnel.
Do not forget to shut off the power to the circuit before you add or remove an installation.
Make sure not to touch a wire while it is still "hot".
Use a circuit voltage tester.
Check the maximum wattage on every device.
If you need to mount a fixture or an installation, ask someone to hold it while you wire
Read the package instructions carefully.
Consider using a motion-sensor or a timer to prevent the waste of electricity and avert the danger of accidentally leaving the lights on for the night.
As you can see, there are many lighting ideas to consider. Ceiling lights, display lights, floor lights, or backlighting, these options can help you create a unique and sophisticated design that will not leave visitors indifferent. While choosing, primarily rely on your needs and space, and the sense of taste and personal preferences. Which idea do you like most of all?