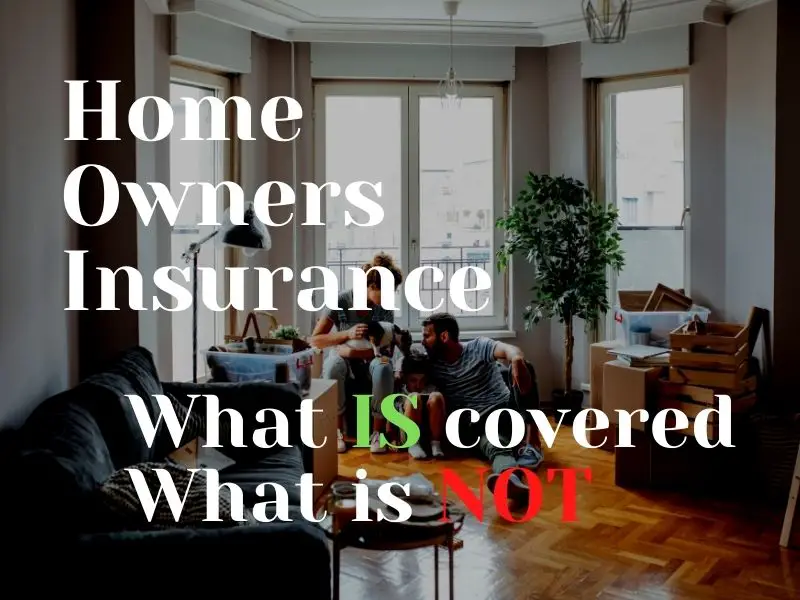 Home Insurance – What's Covered and What Isn't
Things can happen at home. Whether it's weather or water damage and everything in between, you want to make sure you can be able to repair and replace everything. Even your furniture might risk getting damaged in more ways than one.
You could have a furniture set that you have had for a while, only to be damaged in a fire. Or it can be damaged by accident after some roughhousing. Either way, it's important to know whether or not it's protected from damage or loss.
The question you're probably asking yourself right now is: does homeowners insurance cover water damage? What about fire damage? What isn't covered? You might have some worries and concerns about your furniture (and rightfully so). We will address them right now in this article. Let's get right to it.
What Homeowner's Insurance Covers for Furniture
To begin, most homeowner insurance policies will cover personal items including your furniture. It can be protected from damage due to fires (if the furniture is badly burned or damaged). As for water damage, this is where things can get confusing.
Let's take a look at floods for a moment. Because you live in a flood zone, this means you will need to get separate insurance for floods. This may or may not cover personal items that may have been damaged by water in this way.
As for different types of water damage such as leakage from an upstairs bathroom (for example), the leakage can cause considerable water damage to the point where after the furniture dries off, mold and mildew can be present if the conditions are right. This can render the furniture useless as mold and mildew can cause health issues.
Lastly, let's take a look at rain damage. This is more of a grey area since it crosses a line between water and flood damage. If it rains outside and your roof is leaking, that could be covered under your homeowner's insurance – if, however, you leave a window or door open, it stands to reason that it is far less likely your costs will be covered by insurance.
What Your Insurance Won't Cover
Granted, accidents can happen to your furniture. Even if it's your fault or someone else's, furniture can be replaced and covered under your insurance policy. But what if the damage was intentional? That's where the insurers draw the line. If the furniture was damaged on purpose, you won't be able to file a claim. Also, your furniture will not be covered for general wear and tear.
Age is just a natural process for most furniture types. There will come a time when it will need to be replaced. Unfortunately, the insurance won't pay for replacement furniture that is old and worn down. Therefore, you will need to pay for the replacement furniture out of pocket.
When someone else damages your furniture?
But what if the furniture is damaged by other people (unintentional or otherwise)? Could it fall under someone else's liability insurance claim? The answer: it would depend on the value of the furniture and how badly it is damaged. It may not get to a point where it could be contested in court, so liability claims on their part may not be needed. So this could mean the replacement expenses can come out of the pocket of the person who damaged it.
How to Prevent Damage to Your Furniture
Your furniture is just as valuable as any other item in your house. That's why you want to protect it at all costs. And preventing any disasters from happening must also be your first step, in order to put you a step ahead of disaster. If you want to protect your property from damage or even loss, it's important to follow these measures so you can lessen the potential of filing an insurance claim:
● Inspect your home regularly: You should consider inspecting your house regularly for any damage both inside and out. This includes checking the pipes and roof for leaks. Also, check if there are any faulty or damaged wires that can cause fires.
● Secure your home with locks/security systems: Furniture may not be something that burglars can steal. But sometimes, it happens. That's why it is important to secure your home by installing strong locks and security systems.
● Prevent floods from entering your home: If you live in a flood zone, you may want to consider preventative measures that will keep your home flood free. If the potential for floods in your area is great, then take precautionary measures to protect your home.
Image
Title
Price
Prime
Buy
Floor Lamp with Shelves - Shelf Floor Lamps by Real Solid Wood with 2 USB Ports & 1 Power Outlet, Floor Lamps for Bedrooms, Lamps for Living Room ( Matt Black )…

Prime

Eligible

Check Me Out On Amazon
TaoTronics LED Floor Lamp, 4 Brightness Levels & 4 Colors Dimmable Floor Lamp Modern Standing Light Adjustable Gooseneck Task Lighting for Reading Living Room Bedroom Office Piano

Prime

Eligible

Check Me Out On Amazon

Top

Addlon Floor Lamp for Living Room with Lamp Shade and 9W LED Bulb Modern Standing Lamp Floor Lamps for Bedrooms Black

Prime

Eligible

Check Me Out On Amazon
Henn&Hart Mid-Century Modern Metal Arc Floor Lamp with Glass Shade in Blackened Bronze/Seeded

Prime

Eligible

Check Me Out On Amazon
NXONE Led Floor Lamp,Modern Reading Adjustable Standing Height 4 Colors and Stepless Brightness Work Lamp for Living Room Bedroom Reading,Black

Prime

Eligible

Check Me Out On Amazon
Simple Designs Home LF1014-WHT Etagere Organizer Storage Shelf Linen Shade Floor Lamp, White

Prime

Eligible

Check Me Out On Amazon
Simple Designs Home LF2000-WHT Floor Lamp with Reading Light, White

Prime

Eligible

Check Me Out On Amazon
Product prices and availability are accurate as of the date/time indicated and are subject to change. Any price and availability information displayed on [relevant Amazon Site(s), as applicable] at the time of purchase will apply to the purchase of this product.
Prices pulled from the Amazon Product Advertising API on: