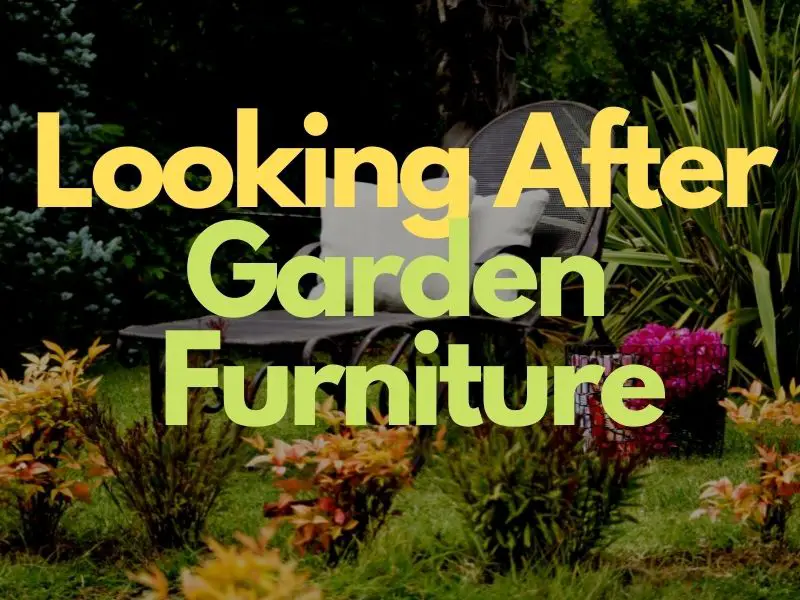 Here's how to care for your garden furniture
If you invest in quality furniture for the garden, you want it to last as long as possible. That means protecting it from moisture, dust, and other elements that can damage it. Longevity is also why you need to pay attention to the maintenance of your furniture.
The good news is that whether you have a wooden or metal garden bench, the same steps can help you get the most out of them. Here are some tips that you'll find really useful.
Wooden Garden Furniture
Here's what you need to do to care for wooden furniture
Cleaning Wooden Garden Furniture
Cleaning wood garden furniture is quite easy and you can perform cleaning with basic items around the house. The good thing is that wood produces natural oils so it protects itself up to an extent. It's your duty to do the rest.
Sale
Wood Chevron Patio Furniture Set
Set includes 1 loveseat, 2 chairs, and 1 coffee table
Made with solid acacia wood, perfect for outdoor use
Each chair supports up to 250 lbs. Loveseat supports up to 400 lbs.
Resistant to a variety of outdoor elements
Last update on 2023-03-13 / Affiliate links / Images from Amazon Product Advertising API
For general care, you can use hardwood cleaning fluid to wipe down the furniture, including the edges. If that's not available, use warm soapy water. If you find that the wood is particularly dusty (this is common in summer), some light brushing should do the trick.
Use advanced cleaning for longer life
If you want your wooden furniture for the garden to last longer, you'll have to apply some oil coat. This will preserve the furniture for about a year. You may also need to sand the surface and brush away any dust before beginning the application.
Wood Polish & Conditioner
Polishes all wood surfaces to a soft luster with a protective coating of Carnauba Wax and Beeswax
Introduces conditioning oils that "feed" the wood and helps keep it from drying and fading
Enhances the natural beauty and depth of grain in finished and unfinished wood
For use on antiques, dining tables, kitchen cabinets, wood doors and trim, etc.
Last update on 2023-03-13 / Affiliate links / Images from Amazon Product Advertising API
You'll need a can of wood oil for best results. These are available in most hardware stores. Before application, store the oil to avoid any color variations; you want a smooth, even coat. Apply your first coat with a long-haired natural-bristle brush along the grain.
Sometimes, you need to apply a second coat of oil to the wood. In this case, it helps to let the first coat dry. That will usually take about an hour. After applying the second coat, let it dry for 48 hours, and voila! Your furniture is protected for another year.
Metal Garden Furniture
Metal garden furniture usually doesn't require a lot of attention. However, here are some basic maintenance you can do to prevent rust and extend the longevity
Cleaning Metal Garden Furniture
Basic cleaning with metal furniture is as simple as using hot soapy water with a non-abrasive cloth. Then, be sure to dry the moisture to prevent rusting.
Sale
Steel Garden Bench for Outdoor
VERSATILE OUTDOOR SEATING: Lightweight and durable construction makes this bench an easy addition to your porch, patio, deck, or poolside
DURABLE CONSTRUCTION: Crafted with a sturdy, all-steel design and a weather-resistant finish to remain on your porch or in the backyard for years to come
3-PERSON SEATING: Comfortably seats up to 3 people with a weight capacity of 400 pounds
ERGONOMIC OUTDOOR FURNITURE: Beautifully detailed with a floral accented backrest to promote airflow and a set of armrests to relieve tension and enhance your...
Last update on 2023-03-13 / Affiliate links / Images from Amazon Product Advertising API
If you have steel furniture, you want to make sure that all scratches are treated to prevent oxidation and rust. In cases where rust has already set in, don't worry because removing it is quite easy.
Use steel wool to polish the area and then apply some metal paint of the same color to blend everything together.
If you own any aluminum furniture, you're in luck because aluminum doesn't rust. However, it can undergo oxidation which will change its color gradually without affecting its strength or durability.
Unfortunately, this color change isn't appealing to most people since the furniture's color is a huge part of its appeal. You can prevent aluminum oxidation by cleaning the furniture regularly. Like other metal furniture, it should also be covered or stored away in the winter.
This product was presentation was made with AAWP plugin.