Updating Your Bathroom With New Ideas
If you want to give your bathroom lasting style, get the Hilton Royal Bathroom collection. It is comprised of beautiful pieces made to stand out in any space. It provides excellent storage for modern bathrooms and has a look that is sure to be noticed.
Gold trimmings set it apart from other bathroom collections. Hilton Royal is comprised of wall fixtures which don't use up valuable bathroom space. It adds contemporary lines with sophistication.
The Hilton Royal Bathroom Collection by Bucalossi features a series of mirrors and consoles with gold finishing. The mirrors are large and have gold edges. The bathroom's floor is made of marble and also features gold elements. It has beautiful artwork which adorns some parts of the walls.
Hilton Royal provides ample storage for all your bathroom essentials. It has a large glass cabinet, closed shelves, and drawers. The shelves and drawers are located under the bathroom vanity for easy access. A bathtub is placed in the corner leaving plenty of floor space. You can also opt for a rectangular bathtub without the gold finish.
Who doesn't love to unwind in the bathroom after a long day? If you are like most people, chances are that you do. Consequently, you need a functional, stylish bathroom to make you forget about your hectic day. Hilton Royal has everything you need. It is the essence of lavishness and is the stuff dreams are made of.
Is the Hilton Royal Bathroom Collection a good match for your contemporary home?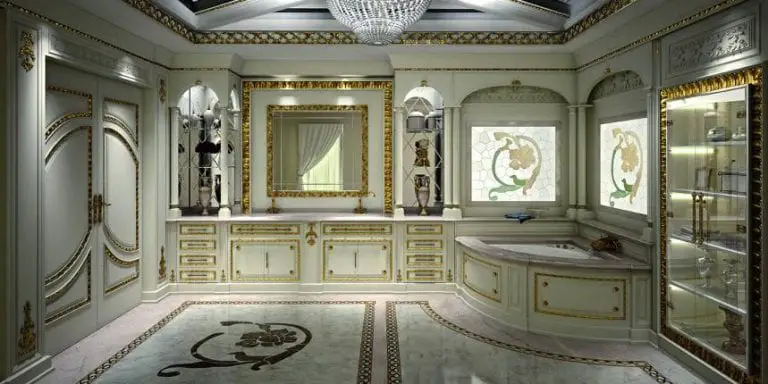 Other Bathroom Ideas For Your New Home Decor Project
Just because there aren't thousands of dollars available for decorating doesn't mean that a bath can't be unique, dramatic and thoroughly satisfying. Here are a half dozen frugal ways to spice up any bathroom.
Collections of inexpensive mirrors add both light and space to any bathroom. They reflect colors, faces and other decorations and add character and interest. Mirrors are much more effective when grouped together rather than being a scattered mass simply hanging on a wall.
Pictures or prints can be massed on a wall. For maximum impact hang them closely together rather than separated. Pictures can be striking if they have a 'theme', such as:
Make sure you check that your painting that goes into the bathroom is capable of sustaining moisture as your bathroom gives off quite a lot of this. This decorating tactic works best in a powder room, rather than a full bathroom, because of the high moisture.
Needlework makes a striking wall accent. For instance, sampler patterns from Colonial America are easily available and a few samplers grouped on a wall create a totally unique bathroom.
For color and charm, throw a rug on the floor. In a dull or drab bathroom, a rag rug or oriental carpet will add charm and beauty. Just be certain to use a non-skid pad underneath, especially if anyone will be stepping out of a tub or shower.
Collections can spark interest and admiration. Pottery or glass jars are an unusual accent piece for any bathroom. Or you might consider old bottles, perfume atomizers, shaving mugs or other flea market collectibles.
Color is the quickest, cheapest and easiest ways to change any bathroom. Unusual colors on a bathroom wall, like melon, chocolate brown or peach, will add drama. Accents like brightly colored towels in a monochromatic bathroom will provide an outstanding accent. Add living color with plants or freshly cut flowers.
Lighted Bathroom Vanity Mirror Anti-Fog
DIMMABLE LED MIRROR: This LED mirror light is dimmable, controlled with a round touch button. Simply touch the round button for 3 seconds to change light intensity from normal to brightest.The mirror has a memory function. When the power is turned off and then restarted, it will return to the previous state of use.
UNIQUE DESIGN: The mirror power switch and anti-fog switch are separate control, anti-fog according to need to open and close, safe and more energy-efficient. This built in anti-fogging function means no need to constantly treat your mirrors with fog free spray, or rinse them multiple times per shower.
HIGH QUALITY & LONG ENDURANCE: LED lifetime: over 20,000 hours (Using the mirror 3 hours a day means it will last 18 YEARS), copper free Environmentally friendly materials are used with silvered reflection layer.
PACKAGING&& EASY INSTALLATION: Newly improved packaging protects both the mirror corners and both front and back side of the mirror much better. It has passed all tests including dropping test, impact test, heavy pressure test etc. Screw mount included, easy to install.
WATERPROOF DESIGN: The LED mirrors feature waterproof and moisture-proof backing, IP54 rate to ensure safe lighting in wet bathroom environments.
Industrial Pipe Shelf Rustic Wood Wall Shelf with Towel Bar
RUSTIC SHELVES STYLE–Rustic industrial pipe shelf with towel bar,durable black brushed silver piping brackets with stained, solid wood shelving units,offers a touch of industrial design to your space.

IDEAL FOR STORAGE ORGANIZERS–Take your storage space to new heights with this accent wall shelf set.This wall mounted shelf arrives in a set with towel rack,offering stylish and versatile storage.Great storage solution for your kitchen,bar,living room,bedroom,bathroom,coffee house…It can stably hold your almost household items:wine,books,bowls,dishes,cups…

HIGH QUALITY,STRONG & STURDY–All frame is made of quality iron pipe.Each piece is certified to standard size and weight.All connections come without any welding, so you don't worry about it will be broken off and bent over.High-quality materials provide you a sturdy, durable and stable wall floating shelf that'll last for years.

STURDY SOLID WOOD BOARD–Shelves are made of solid wood. Waterproof and wear-resistant. Splendid ,classical and antique wood grain perfectly gives your place with a sense of luxury. Each shelf is strong enough to hold up 50lbs.
Shower Only In Small Room
AmazonBasics 6-Piece Fade-Resistant Bath Towel Set – Black
6-piece towel set includes (2) 54 x 30 inch bath towels, (2) 26 x 16 inch hand towels, and (2) 12 x 12 inch washcloths

Made of 100% cotton for softness and tear-resistant strength

Lightweight towels quickly absorbs moisture

Designed with a classic and simple pique border

Fade-resistant black color

Made in OEKO-TEX Standard 100 factory, an independent certification system that ensures textiles meet high safety and environmental standards.
Heated Towel Rack with 8 Square Tube Bars
Modern German-style square lines, a wonderful ideal for creating a stylish bathroom, the body totally made of 304 stainless steel which easy to clean and has excellent rust & corrosion resistance.

Energy-efficient: Rated power 120W, it warms up within 15 minutes and reaches the optimal working temperature 130 °F (based on room temperature 68 °F) in an hour, 8 maintains constant temperature square hanging bars evenly distributed to increase heat density for a larger heated area to meet the needs of the whole family, you can enjoy your warm towel at any time.

Easy installation: This space-saving wall-mounted towel warmer offers two ways of wiring (hardwired/plug-in). Whether you have a new bathroom or are retrofitting one, our warmers combine practicality & decoration, you should not miss out.

Reliable quality: An ETL-certified towel warmer with a constant temperature of 130 °F, which provides warm towels all times. Overheat protection ensures safety from excessive temperature.

2-year manufacturer's warranty. Please feel free to contact us with any issues.