Furniture Fashion reviewed some outstanding home furnishings and accessories over the past year, and here are a few of the items our readers loved the most. I have included products from several categories from beds, sofas and storage, to tubs, kitchens and home office. Our "Small Space Decorating" products were a big hit among the city dwellers and showed some of the most creative designs, many of which were multi-functional and hide-away. Also, "Wellness" products like saunas and steam showers have come a long way and the demand for health related products is definitely on the rise. Of course my favorite, "Patio Furniture" is one area that constantly amazes me in just how elaborate the ultimate in leisure products have become, and I love nothing more than good times in the backyard. We hope you like what you see as we look for more outstanding home furnishings and accessories that hopefully provide ideas and inspiration.
Patio/Outdoor
Designer Richard Frinier teamed up with Dedon, one of the world leaders in high end woven patio and spa furniture to create a simply luxurious place to spend some real quality time. The round "Orbit Chair" shown here with its trademark canopy also features a fine assortment of cushy throw pillows as does the entire collection. As you would expect with high end living room furniture, Dedon makes matching coffee and end tables for a complete exterior design without compromise. I really like their stylish lounge chairs that remind me of a swanky spa, the kind you see in the most exotic vacation spots.

Small Space Decorating
The OneLessDesk from Heckler is the perfect computer workstation for those who want to keep it clean and compact. This little modern desk can be reduced to one foot of floor space when the lower deck is pushed under the upper deck yet capable of holding the weight of anything that will fit thanks to a powder coated, welded, and laser cut steel construction.


Bathroom
Dornbracht celebrates "the spirit of water" with one of the most stunning modern bathroom concepts that features the WaterSheet wall mounted cascade bath spout that acts as your own personal water fall. When combined with the bathroom Light Modules from Dornbracht"s cooperation with SIEGER DESIGN the right mood can be set for a bathroom unlike any other.


Home Gym/Wellness
BainUltra specializes in progressive products for wellness and a belief that your next bathroom doesn't have to be a bathroom. Their "quest for your wellness" includes the Vedana spa shower system that features chromatherapy, aromatherapy, thermotherapy, as well as light and sound therapies or any combination you choose.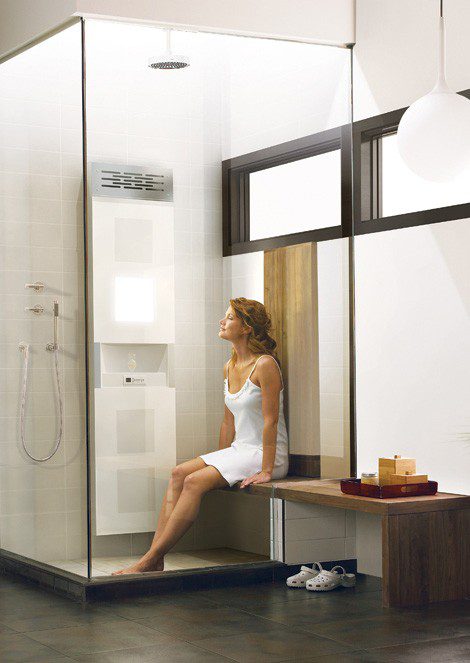 Architecture
This ultra modern home is my idea of heaven on earth, or in this case Germany, just outside of Ludwigsburg. This total rebuild by the architect firm of J.Mayer H is the prefect setting for the minimal amounts of mid-century modern furniture used to enhance the stunning architecture and expansive open rooms. The "Dupli Casa" features a multilevel floor plan that literally moulds into the landscape.


Kitchen
What would a complete home furnishings review be without the proverbial kitchen sink, and in this case a very accommodating one from Elkay. The "Avado" line of stainless steel kitchen sinks provide features to help with the daily ritual of dish washing and drying, and fruit and vegetable washing with segmented compartments with proper drainage. I hope the features of the Avado sink are one day standard features of all kitchen sinks.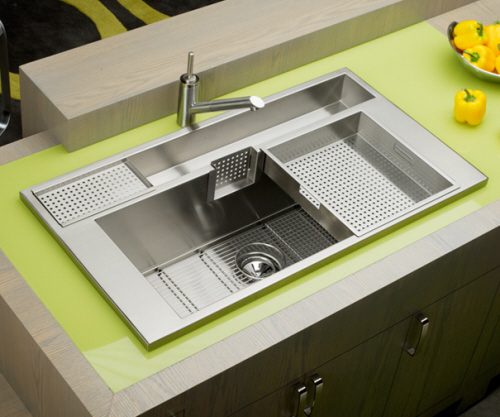 Bedroom
Sure the "Doc" convertible sleeper sofa / bunk bed could have gone into the sofa section, but it is just such an innovative bunk bed that would be prefect for a space bedroom. Not to mention it is only one sofa, but easily transform into two twin size sleeping surfaces for guests who need a sleep over. Then again the Doc from Bonbon Trading may just as well fit into Small Space Decorating as it is nice and vertical, and multi-functional. One of our favorites!!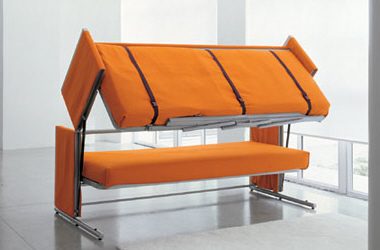 TV Stands/Home Theater

Tonin Casa
has my vote for the best collection of super sleek glass TV stands that conveniently swivel and house a few audio or visual components. Tonin Casa is well known for furniture made from shaped and bent glass with combinations of wood and vibrant colors. These
TV stands
were featured in a three part series featuring
coffee tables
, and dining tables.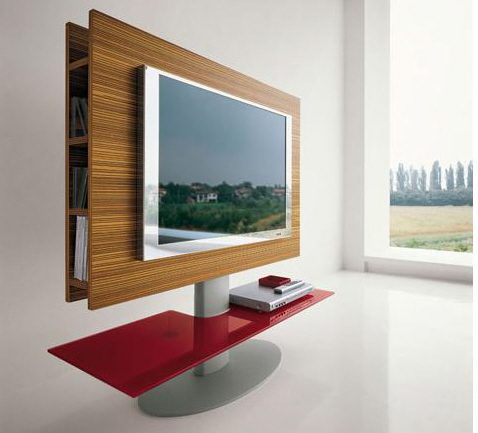 Recliners
W Schillig
has the heart or a serious lounger in mind here with the
Revelation
double wide reclining chaise lounge. On a recent trip to the High Point Furniture Market, I came in full body contact with this ultimate recliner that has ample room for two. By pulling a rip cord style release the back slips nicely into a reclined position that is comfortable to say the least.
Dining Room
The "
Kure
" futuristic pod style
dining table
and chairs by designer
Fatih Can Sarioz
may be the cure for the quality time families don't spend at the dinner table. The Kure will no doubt bring people closer together with its cozy round design and even provide ambiance lighting for the perfect mood. Sarioz talents have been revealed in some outstanding industrial, interior and exhibition designs, and I have a good feeling we will be seeing a lot more brilliant furniture concepts in the future.