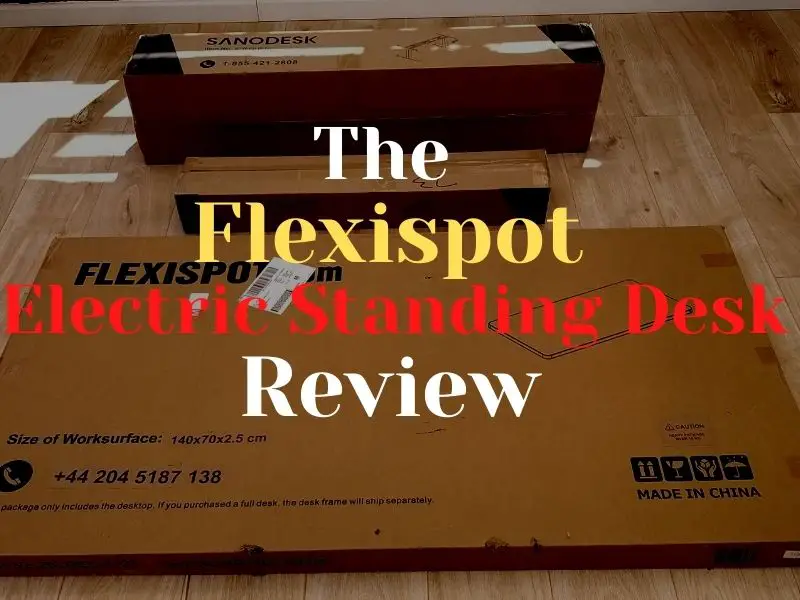 Flexispot Standing Desk Review
Flexispot Standing Desk Review Updated January 2022
My flexispot standing desk (Sano version) has now been in its new bigger form for around 3 months now. It has worked flawlessly since I replaced the smaller desktop with my own much bigger home office desktop. This has allowed me to use two 34″ plus size screens together. See the makeover below.
The desk itself works perfect. To date I have not had any issues with the electrics of the desk. It is rock solid stable and does the job perfectly. The powerful dual motor has no problems with the size of the new desk surface.
The simple "Sanodesk" panel allows for a lot of control over how high you want your desk. Simply pressing one of the set buttons that you can make to your preferred heights, or allowing a manual adjustment with the up or down buttons.
Even with a bigger and longer desktop the desk still feels as solid as a rock and at its maximum height for standing, has no issues with stability or weight.
My only niggle is during the dark the buttons on the control panel that control the desk are not backlit. So unless you have a light on you cannot see which of the buttons you want to press. It is a guessing game. A backlit panel would be an improvement there.
Flexispot EC1 Electric White Standing Desk
Spacious 48" x 30" eco-friendly whole-piece desktop offers a roomy setup for 2 monitors and a laptop so you can spread out and calmly take on the challenges of the work day

The motor lift mechanism offers smoother height adjustments, from 28 to 47.6

An industrial-grade steel frame combined with a solid desktop allows for a 154 lbs weight capacity to support your ideal workspace setup

The perfect standing desk to allow independent and remote workers to stay active, healthy, and productive while working from home

Product will be shipped in two separate packages which may be delivered separately from each other.
Prices pulled from the Amazon Product Advertising API on:
Product prices and availability are accurate as of the date/time indicated and are subject to change. Any price and availability information displayed on [relevant Amazon Site(s), as applicable] at the time of purchase will apply to the purchase of this product.
Sit To Stand Adjustable Desk
I have heard a lot of people talking about the latest desks that allow you to work in a standing or sitting position at your desk. For me working from home, I spend a lot of hours sitting at a desk, and break this up by going out walking with our dog, or going for a bike ride sometime during the day, weather permitting.
A Flexispot Standing Desk allows you to adjust your body position and move around much more than a normal desk. This style of desk is now fashionable in many offices with aesthetic appeal.
At just the push of a single button you can go from sitting to standing, to stretch the legs and adjust the body to allow the blood to flow more. The desk looks great and works perfect for any home or office setup.
The center of gravity for the desk has to be just right. The flexispot desks all come with large and wide stable feet made of metal at both ends. These are also adjustable when you set up your desk to allow for a wide or small desktop.
The maximum load is around 275lbs. This should be more than enough for most users with two monitors. For me personally my deskop windows computer sits on the floor beneath the desk.
Due to the desk being electrically adjustable, I can raise and lower the desk to swith the computer on in the morning when I start work. With a normal desk you would be rummaging around on hands and knees to do this job.
It also keeps my desktop clean and useable as I do not need to have the bulk of the computer on there.
There is also a very hand anti collision feature on the desk that does work. When I have moved the desk too close to the back wall I have a frame that sits quite high and stands out.
The desktop has nudged this a couple of times and immediately come back down an inch or two when it does this. A very handy feature that will stop you from either destroying the electric motors, or pushing something off your wall that could be expensive.
The sedentary lifestyle that a normal desk gives you can place you at risk for many conditions due to the fact you are not moving around much most days of your life if you only work at your desk, eat and sleep. This is likely to give you a much shorter life span.
A standing or sitting desk helps to achieve something by allowing workers to have a choice during the day, and being able to stand at your desk and still work allows the blood to flow through the body, and gives you movement and something different at the same time, rather than just sitting at your desk all day.
Personally, having owned and used the desk for over 6 months now, I prefer to stand when I feel like it. Others who have bought an electric desk seem to try and make it something they do every hour. You can make your own choice.
Flexispot Standing Desk Makeover October 2021
I had a normal desk in my home that I used most of the time as it could hold two 32″ computer screens side by side without any issues. It was a great desk but had no movement at all. One of the desk legs had broken, so movement was limit as not to cause that to fail completely.
After looking at the desk sizes that flexispot offered online I could see that they had a max size desktop that was similar to what I had here in my static desk.
This was connected to my current flexispot standing desk metal frame which I knew was adjustable for stability if I decided to change the desk top.
So after looking at it for a while I decided to go for it and change my old er smaller flexispot desktop, for the much longer and slightly wider desktop of my manual desk.
I wanted something that could hold two large monitors, giving me space to work with up to 4 screens at a time. My new flexispot standing desk is now perfect.
My initial idea was to put my new desktop directly onto the old desktop and just screw it on. Fortunately the old desktop was very easy to remove, and due to its thickness, I could use the same screws to put my much longer new desktop straight into its place.
This has now given me a much larger working space on a desk frame that I could also extane to its full capacity simply by adjusting the adjustable legs to their full extent.
This was a very simple job to do, which took me around 4 hours from start to finish and now gives me a lot more desk space to work with. I still have the full functionality of the desk, and still use it both standing and sitting during the day.
Standing and Sitting at Your Desk
Whilst this is a great feature I do not use it all of the time. With any normal desk your sitting height is just the length of the legs on your desk. With an electric desk your sitting height can be adjusted accordingly to what you like it to be.
With the flexispot electric desk that is simply a case of pushing one of the buttons in and holding it so until you reach the desired position.
NOTE: For clarity, I have not paid for this flexispot standing desk. I was sent this desk by flexispot UK to test it out around 6 months ago.
Once the test is completed the desk will be used for the foreseeable future and updates to the article will be made approximately every 6 months to see just how the flexispot electric desk continues to work.
The Flexispot standing desk comes in three packages to distribute the weight of the items, and to keep damage down to a minimum.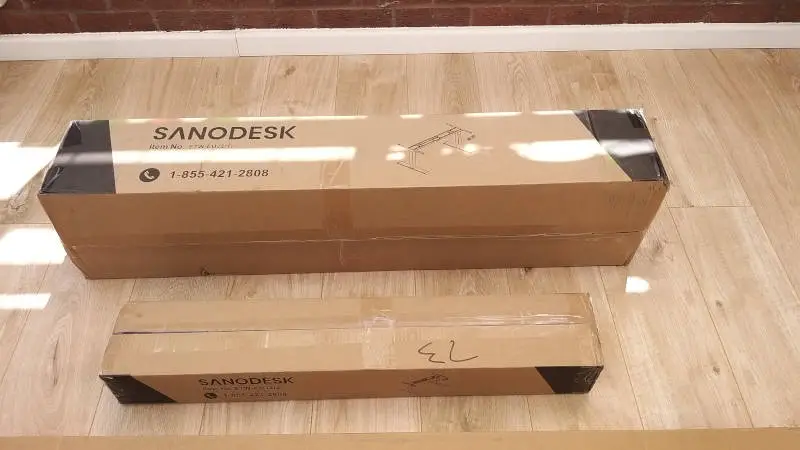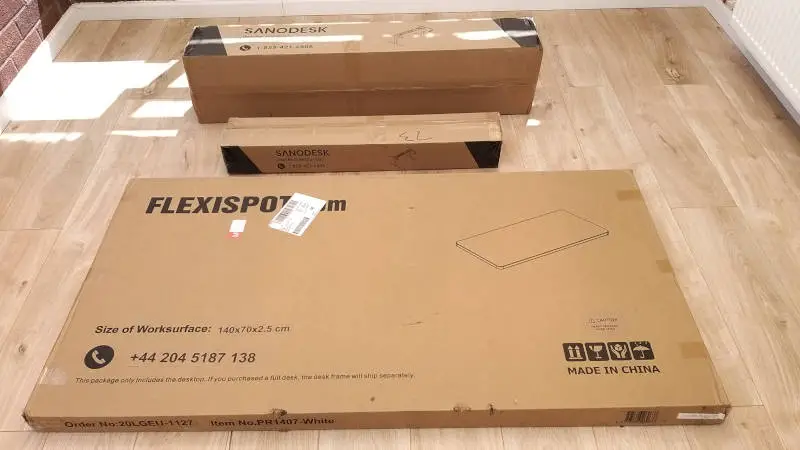 Installation of the Desk
Due to the current pandemic this flexispot desk has been with me since around the middle of March 2021. It duly arrived in two boxes as due to the weight of the items it would have been far to heavy for the driver of the vehicle to be able to carry the box on his own.
This also ensures that the items within the boxes should arrive to you unmarked and unscathed and be ready for assembly. Both boxes are quite heavy, but easy enough for one man to move around and prepare to put together.
Once the boxes had been stripped down and all the parts put together I took a quick look at the instructions for the installation. This was much easier than I anticipated and it actually went together far quicker than I thought. In around 40 minutes the whole desk was together and standing ready to use.
The instructions from flexispot were very straight forward and easy to read and assembly was quick and simple. The only point of note is the desk surface itself.
Make sure that you are either working on a carpet or some type of soft surface or you will scratch the desk as it is directly on the floor when you are screwing the parts together as you are working mostly on the underside of the desk fitting motors and cables most of the time.
The flexispot standing desk instructions are as simple as you can get. They do exactly what you need them to do.
The desk top comes in its own packaging. This is obviously one of the most important items about the desk and you should check to make sure there is no damage to the box. The desk itself is well protected, and each corner is in twin polythene and cardboard to keep it protected.
The rest of the components come in two seperate boxes to keep the weight down so that they can be managed by the courier, and so that you can move them around when you receive them. Both boxes should be checked to see if there is any damage.
Most of the components here are made of steel, so should stand up well to a little abuse from delivery.
Once they are all unboxed there is not actually that much to do. As you can see from the image above, the flexispot components are very minimalistic, and the whole build process is very easy for anyone to do.
The main legs of the flexispot electric desk come with their main components already in place. This saves you time trying to figure out what goes where. Look at the size of those main legs in the image below. They are rock solid in construction being made of metal.
This image is all of the components of the desk except the desktop.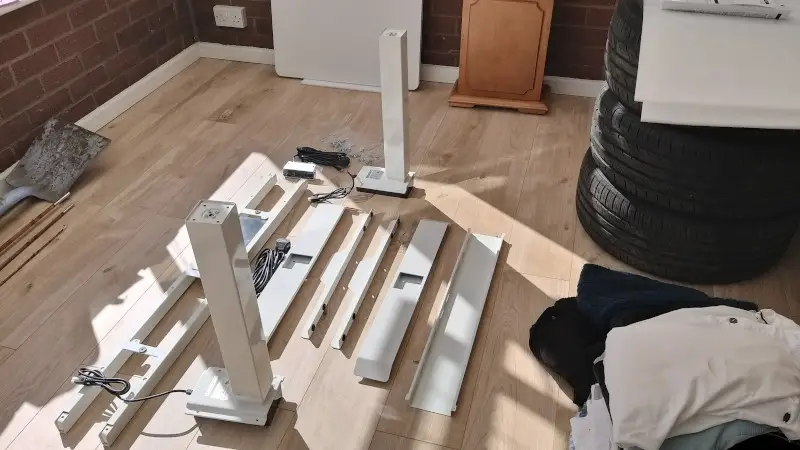 Motorized Control Panel and Memory Buttons
The desk comes with a small control panel that you can fit either side of the desk to the left or the right. The screw heads (two) are already there for you to just screw it into place.
This control panel has 4 memory settings that you can choose to set as your default settings. This is great for your standing and sitting positions, plus a setting for putting your chair under when you have finished for the day and one extra setting. Simple and very easy to use.
I have fitted the motorised control panel in the right hand side as you look here. However there are holes in place to fit it on the left side if you so wish. This is a very easy panel to use with some great features.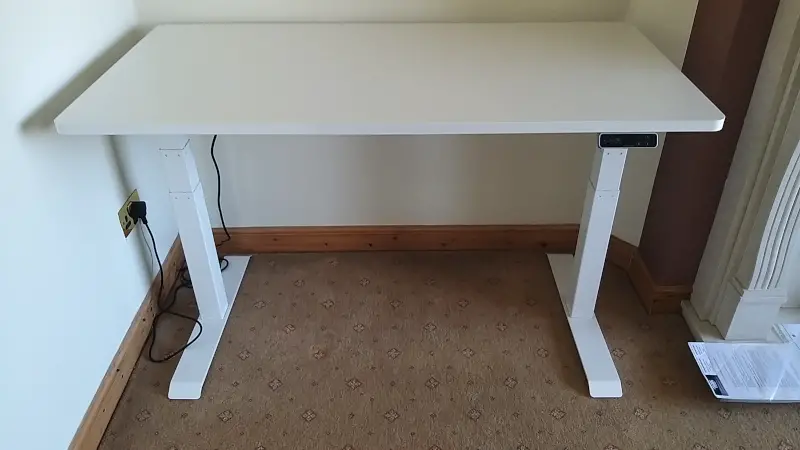 What Is The Flexispot Stand Up Desk
The Flexispot Stand Up Electric Desk is the ultimate in height adjustable desks. Flexispot offers a range of desk heights, from 27″ to 48″. It's perfect for those who want to stand up while working and have the option to sit down when they need a break. The best part? You can adjust your work surface with just one touch!
The Flexispot is a stable solution for your workstation needs. It features a cable management system and legs with adjustable levelers to ensure that it meets the stability standards that you need in order to get your job done comfortably.
As you can see from the image below, the flexispot Electric Desk can hold two small monitors and a 15.6″ laptop without any issues. Both of my monitors are around 52 centimetres wide and there is plenty of space for a soundbar, keyboard and mouse.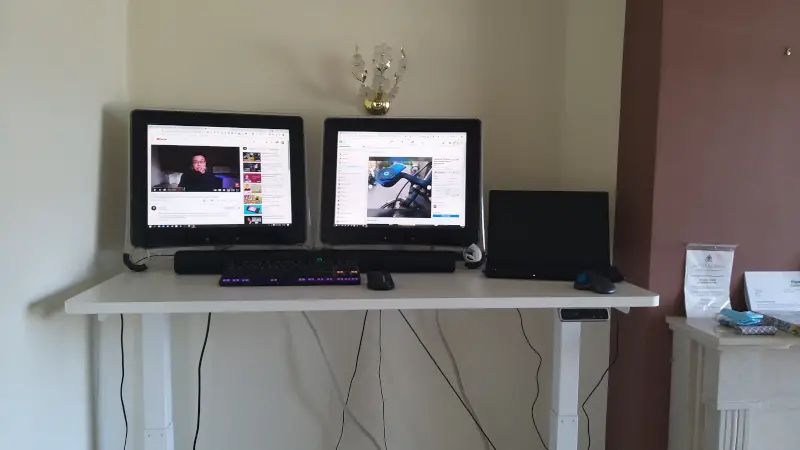 Desk Size Height and Strength
The size of the one I have is 140cms x 70 cms. Not bad but well short of what some electric desks are capable of these days. Flexispot have a range of desks available up to 80 inches. This size would have been my choice due to the nature of what I actually need a desk for. ( See my update above)
Personally I prefer twin dual large monitors so that I can have two desktop screens and 4 work zones running at any one time. That would mean a much bigger desk than a 48" desk that they sent to me. My current desk is 180 cms which is 70 inches.
There is also a 2 and 3 stage height offer. The two stage runs from 27.2 inches to 46.5 inches in height. The three stage runs from 22.8 inches to 48.4 inches.
This means that the three stage offer would be capable of getting lower and slightly higher than the two stage version.
The difference in price for the 3 stage is around $40. The top of the range desk can hold up to 275 lbs. That should be strong enough for most desk systems.
Build Quality
The quality of the metal design is excellent. All of the parts that I used were solid metal and very easy to put together. In fact when you need to strip the desk down you can just turn it upside down and remove both legs from the main frame. Everything else can stay in place.
The work surface is another ball game. Mine came in white. It is of adequate quality and will mark fairly quickly. It is not real wood of any type.
Stability
Both front and rear, and side to side stability of the desk is excellent. I have found no issues for either of these so far with the desk.
Accessories
There are a large number of desk accessories for you to choose from either when you are purchasing your desk, or at a later time. Due to the width of the desk being 70 cms or 28 inches, I would seriously look at the monitor stands for a start. My own personal desk is a full 20 cms wider than the electric desk.
For the cables that are hanging when you are in the fully extended position, consider the options mentioned in in the Uplift Desk bu badasstech below. This seems like a great idea for a neat and tidy way of getting rid of cable clutter.
For me I just simply taped most of the cables to the bottom of the desk. I did not bother with the plate that came to cover the cables as I did not see a need for it.
Choosing A Standing Desk For Your Computer
Why Have A Stand Up Desk
Good for your health
Burns more energy when you are standing
Allows more blood flow when standing
The Positives and Negatives Of The Desk
Positives
The motors are very quiet
It is great to have an electric desk rather than a static desk
They can actually carry quite a lot of equipment
Negatives
My only real negative so far is the screws that attach the metal frame to the desk top. These should have been better thought out for long term use. The only saving grace is that you do not need to remove the desk top even when you take it all apart as it is easier just to remove the whole legs.
Flexispot Electric Sit Stand Up Desk Conclusion
A sit standing desk is a great addition to any home where you are constantly working from home or spend a great deal of time on your computer. Just to be able to get the exact height that you want to work at is a big bonus.
Find a desk that is big enough and strong enough for your needs. For me this should be a desk as big as possible so that it accommodates all of my computer stuff and is capable of holding it with ease.
The eclectic desk should also be reliable and work without error for many years. I would suggest a minimum of a dual motor desk with one motor for each leg.
Do not consider a single motor as this seems to have problems. Also make sure that you choose a motorized control panel with a good choice of memory buttons.
Other Reviews of the Flexispot Electric Stand Up Desks
I have done some research online about the Flexispot Stand Up Desk as I wanted to get the feel of what others thought about the desk itself. My review is my own personal thoughts on how the desk has performed and still performs to date.
Badseed Tech
Flexispot Desk – NOTE – In this video he is talking about a single motor design. That is a very basic design that I would not recommend. The one that I received is a dual motor design and is far easier to build with the advantage of 2 motors, one for each side.
Uplift Desk – A great desk but at a premium price. Looking at what Flexispot has to offer in their bigger choice of desks I personally would still go for the flexispot 80" desk as it costs a fraction of what the Uplift desk costs and seems to be capable of doing the same job.
This is an excellent review and sadly the desk in the review gets ripped up for bog roll. I would not recommend a single motor desk after watching this review. This is a NEGATIVE review.
NOTE: I have had my flexispot standing/sitting desk in use now for over 6 months and not had a single issue with it. My desk is a longterm use and will be working all the time as it is my MAIN desk for my business. For the price paid I think the flexispot desk is far better value than the uplift desk.
David Zhang
Probably the most viewed with almost 2 million views regarding stand up desks. Although I do not agree with some of his statements regarding health benefits, as standing will certainly burn more calories than sitting on your arse all day. This is an excellent review on why you should consider an electric stand up desk.
Suzi Belli
Suzi shows the basic details of assembling the flexispot desk herself. She takes almost 2 hours to build it. She has had the desk for just over a year now and has recently posted an update stating that the desk is still working fine. This is also a POSITIVE review.
Tim Fraticelli
In this video Tim has bought s flexispot desk FROM HIS OWN MONEY. He liked it so much that he UPGRADED it later in time. This upgrade looks like a single motor desk. I personally would give this model a miss as this is the one that was hated so much by badseed tech.
Gary Cruz Dot Com
Gary gets the top of the range flexispot pro and shows building it from scratch. This apparently takes less than 5 minutes to build. That is unbelievably quick.
Assembly is simply the two legs and the control panel. This is the same way that I took my desk apart when I moved it from one house to another recently. It took around 10 minutes to put it back together and have it running again. Gary shows a wobble test with a glass of water and shows both standing and sitting positions.
The Stand Up Desk Competition
A couple of years ago, the standing adjustable electric desk market was heating up with a slew of new entrants hoping to capture some of the considerable momentum building behind sit-stand workstations.
We hope you enjoyed the flexispot standing desk review. Personally for the money I believe it is the best standing desk out there. I believe you can buy just the frame. If that is so, you may want to consider buying just the frame and taking your old desktop and fitting that onto the frame if money is your only issue.