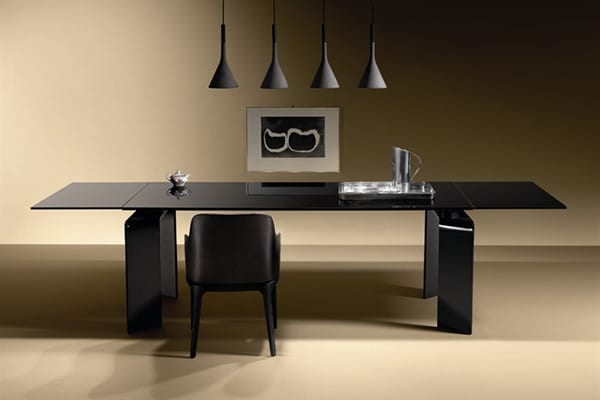 Is your formal dining room lacking interest? Does it need a modern facelift? The Extensible Table by Fiam may be just the contemporary element your drab dining space needs.  Designed by Bartoli Design, the Ray Plus Black is an extensible table that is sleek and elegant.  It is large enough to entertain several guests, yet not overpowering in its form.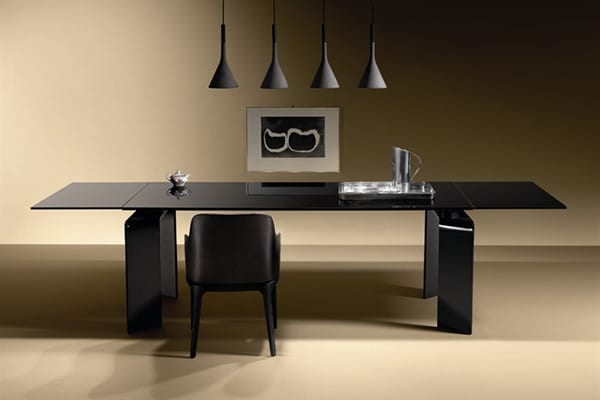 Finite in its design, featuring straight lines and exact angles, the Extensible Table is simple and extremely modern.  Constructed of a beautifully crafted black glass top, the Ray Plus Black dining table includes glass extensions to make it even larger. Its legs are geometric in design and add definite interest to the piece. They are detachable and are constructed of curved glass with a black lacquer finish. As black is considered a neutral color, the Extensible Table would coordinated fabulously with any interior color scheme. Adding pops of vibrant colors in the form of table décor, place settings and the like would bring life to the piece. Yet the Ray Plus Black table is so architecturally beautiful, it would look elegant standing all alone as well.
When it comes time to freshen up your contemporary dining space and bring new life to its design and décor, consider the look and feel of this dining table. With a reflective and sleek glass top, and unique, geometric legs, the Ray Plus Black by Fiam will be the perfect focal point your dining space deserves.
Wouldn't it be wonderful to entertain your guests at the Ray Plus Black dining table?