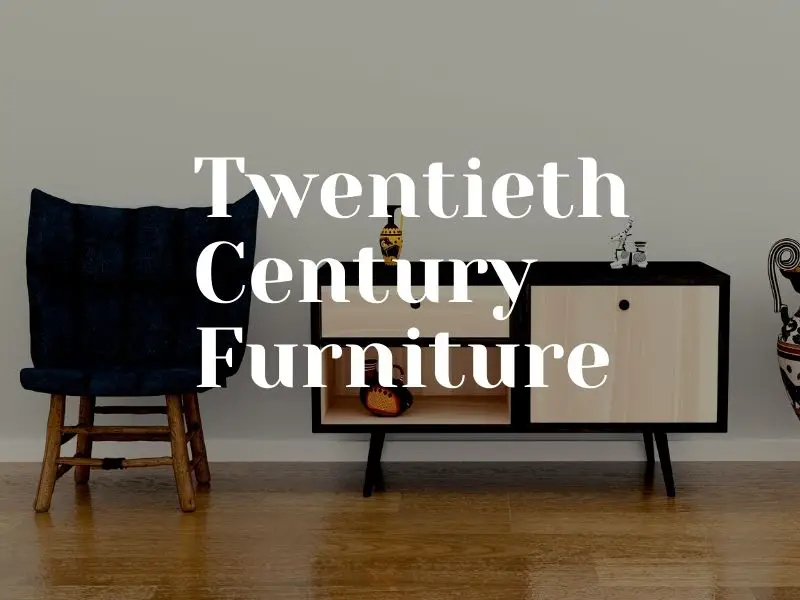 Furniture Styling From The Twentieth Century
Every generation wants to leave its mark. They want people in the future to understand what they were about and what was important to them. This is the reason fashion, architecture, and even furniture changed. The following are some popular changes in furniture styles during the 20th century.
Mission
The Mission style is a good example of an early 20th-century furniture style. It was a part of the early arts and crafts movement that swept England for some time. One thing that made this style special was that it was clean.
Nothing was elaborate; every corner and line was simple and easy to follow and understand. Sure, there were some decorations here and there, but most furniture designers at the time wanted to keep things simple.
If there was some ornamentation, it was minimal. The adornment usually featured Native American themes. What may have seemed strange is that this style was developed in England. The artists there must have loved Native American art. The furniture was usually made from oak, mahogany, or cherry.
Art Deco
The Art déco period also started during the early part of the century. It's a period of great art and beautiful Art Deco furniture designs. It started in one of the most magical and artistic locations of the world: Paris.
Well, it didn't really start there, but the name was started there in 1925 during an exposition filled with designers from all over the world, including the United States.
The Art déco period was known for its fearlessness. Something about this design period allowed people to be bold and abstract. It freed up designers to take chances they wouldn't have taken otherwise.
You'll see a lot of metal when you look at furniture for this period, such as stainless steel or aluminum. Sure, wood was still used, but there were some inlaid metals here and there.
Furniture designers at the time used bold or symmetrical geometric shapes to be abstract, especially shapes that people wouldn't normally find in furniture. For example, some furniture designers would add things like trapezoids to their furniture designs, creating something exceptional but also something you wouldn't expect.
The Art déco period definitely left its mark on the world of furniture design, and it still influences artists to this day.
20th Century Modern
20th Century Modernism started before WWII. Most people would say that it was a response to the Art déco period, and it took place as the industrialism era took hold of the world.
The Modernist movement was mostly influenced by artists in Italy, Japan, and Scandinavia. The movement was still bold, but it wasn't about ornamentation, like in the Art déco period.
Designers who fell in love with this period wanted to create something people wanted to use. The industrial spirit that was peppered throughout society could have made these folks value function above other things.
Designers at the time loved using industrial materials, like steel and plastic, to create some of their pieces.
Besides that, the goal of these pieces was the universal appeal. Even if the designs were bold, they were also acceptable. This was the start of mainstream furniture designs because this was the beginning of mass-produced furniture.
Having something unique wasn't too popular. People wanted something normal that you might see in another household, just in a different color.
Art Nouveau
The Art nouveau movement actually existed for two centuries. The reality is you can trace it back to the late 19th century, but it continued into the next century. It enjoyed about 20 years of the 20th century, which is the reason you're learning about it now.
The movement, like many other movements, developed in many regions around the world, but the focus was on the US and Europe.
The movement is a direct response, or maybe a direct rebellion against the Victorian era. The Victorian era was all about rules, very strict rules that artists didn't want to follow.
Designers wanted to feel alive again. They wanted to be exciting and talked about it, which gave birth to the Art nouveau movement.
The designers at the time wanted to mirror nature. They wanted to add curves or images you'd find in nature, and that's exactly what they did. The furniture at the time might contain stylized curves, and sometimes, you'll see images of grass, flowers, insects, or even animals.
The designs were quite intricate. Every piece was admired, which is part of the reason people fall in love with this furniture style.
Bauhaus Style
The Bauhaus style began because there was a school established with the same name. This style mainly took over the early part of the century, and those who fell in love with the style were quite experimental.
For one, the designers weren't afraid to use things like steel, wood, leather, plywood, or even woven materials to create some of their pieces.
Now, the colors stayed pretty simple. You'll find that most Bauhaus designers kept things rather neutral for colors, so they used colors like black, white, brown, and maybe grey, but nothing too bold.
The Bauhaus-style designers wanted something clean and unpretentious. They wanted to create uncluttered designs and wanted to create furniture that got back to the basics.
Think of the Bauhaus style designers as Haiku poets. These folks wanted to strip the furniture down to its essence. One designer at the time wanted to figure out a way to create a chair using only lines, nothing else. The Bauhaus artists followed that mentality.
De Stijl Style
The De Stijl style is just another modern art movement. This movement began during the early part of the century, and it stayed in Europe for a long time. It was developed by artists in the Netherlands who were in vertical and horizontal shapes.
Yes, geometry plays a big role in this art period, and it played a big role in the furniture of this time.
The De Stijl movement focused on creating furniture pieces with strong geometric shapes, like squares and rectangles. These were sometimes combined with asymmetrical shapes to give each piece a bit of contrast, but that didn't happen all the time.
You'll notice that much of the furniture created during this art period only used primary colors along with black and white.
The contrast was a big deal for designers who focused on this type of furniture design, and this was because they wanted to highlight the strange connection between negative and positive elements.
It's something people recognize when they see it; it works well together, and the De Stijl style capitalized on that strange relationship, creating furniture pieces that still astonish even to this day.
Conclusion
These are some of the most exciting furniture styles of the 20th century, and it's easy to see why they became so popular. Folks who love vintage and antique furniture should be able to find treasures in any of these styles. What's even more exciting is that you get to think about what else the world of artistic furniture design has in store for everyone in the future.