We're an affiliate
We hope you like our recommendations! Just so you know, we may collect a share of sales or other compensation from the links on this page. Thank you for using our links, it is much appreciated.
Whether it's the back door or in the foyer, creating comfort as well as style in your entryways in a must. Your guests will get their first impression of your home with these glances and it's important to transform these spaces into cozy, welcoming and "uniquely yours" type of nooks. And that comfy feeling cannot be complete without a bench to help within the decorating scheme. Let's take a peek at some entryway bench ideas that will help to inspire your rearranging, decorating and transforming!
This one doesn't even look like a bench at first glance, and that's why we love it. It's unique and contemporary but with the functionality  to do its job: for example, stacking guests' shoes and coats, using it as a seat while you take off your rain boots after an evening outside or using it as focal piece.
For a more bohemian feel, why not add a bench inspired by traditional Indian furniture with a "World Market" style? This is the perfect fit for a casual backdoor entrance. All you need is a throw pillow and blanket or two to create a more cozy feel.
We love the functionality and versatility behind this design. It has great space for organizing and keeping the family from creating chaos, but it also has a comfortable spot to sit and slip on and off the sneakers for morning runs or afternoon ball practice. You can even personalize the space a bit with your choice of colorful canvas totes.
For a sleek and chic look, try searching for a bench with contemporary style and an artistic touch. This piece has amazing lines, focal point pizzazz and even a shoe rack for easy organization and function! How could you not love this pick?
A more traditional take on an entryway bench, but still a fabulous option, this storage piece has baskets to fill with anything that needs to be organizing or kept on easy hand and a plush seat for when "sitting" starts to call. It will also easily blend in with a variety of homey, cozy style themes.
If you have a larger entryway, you may want to look for a larger piece, especially if you have a larger family! This has a traditional bench, storage underneath, hooks for your coats and more shelves to keep organized for an on-the-go crowd.
A more modern and masculine piece of furniture, this solid pine style helps to  create a warm and inviting settings. We also really love the mixed medium, a combination of wood and iron, because of its easy interest and personal appeal. Of course, the ease of show storage and drawer space helps too.
Another choice with a more masculine take, the vinyl cushion creates an interesting and touchable look with a bit of refinement and edginess. Basket storage is available underneath, small drawers for organizing, it's a perfectly quaint bench that will fit in a variety of different spaces.
Just like the caption reads, this bench from the Bermuda Collection is inspired by the fusion of British traditional and old world tropical design, which is apparent as first-glance. It definitely has a sophisticated, vintage spirit with a bit of luxurious, "vacation" style blended right inside.
A classic and chic design with a bold, black shine, this Kensington piece is a beautiful addition to any home with suave style and traditional value. All it needs are some throw pillows to jazz up the nook and add some color!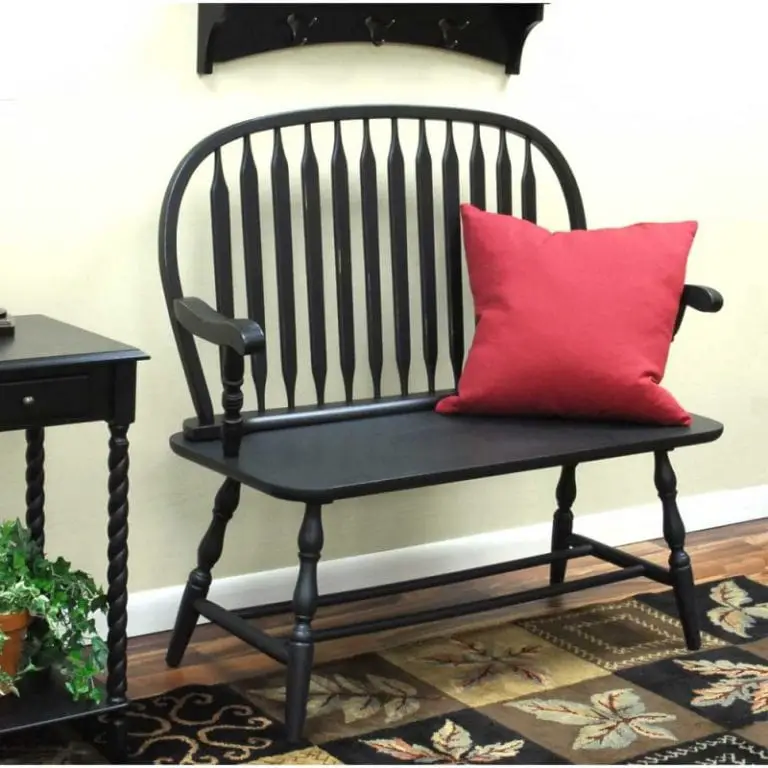 Similar to its predecessor with more of a delicate and dainty design, this Madison Windsor design is not only available in this midnight black tone but also American oak for those that needs something even more traditional and softer in style. Again, this piece can fit into a variety of spaces and a throw pillow or two can jazz it right up.
This Wallis entryway bench has everything you need to make your comings and goings that much smoother and easier for the entire family. There's storage, sitting space and it's small enough to fit in lots of different corners and walls of the house.
Modern and easy, we love this smooth and sleek bench. It's clean lines and easy nature are perfect for homes with a more modern and contemporary flow and you have the option of using the cubicle holes for a variety of things, and even adding a canvas or woven basket right inside.
We love the subtle, two-tone look of this more masculine choice. Again, cubbies are so versatile and functional for organizing, especially in high-traffic entryways and this piece holds a traditional value that will fit perfectly in a variety of different homes.
 This piece is incredibly unique and artistic in style, but its dressed in traditional ways as to not be too overwhelming or bold in small spaces. It has everything you need to spruce up the foyer or mud room while being made of quality materials and neutral colors.