Entryway Benches With and Without Storage
Whether it's the back door or in the foyer, creating comfort as well as style in your entryways in a must. Your guests will get their first impression of your home with these glances and it's important to transform these spaces into cozy, welcoming and "uniquely yours" type of nooks.
And that comfy feeling cannot be complete without a bench to help within the decorating scheme. Let's take a peek at some entryway bench ideas that will help to inspire your rearranging, decorating and transforming!
In a Hurry? A Quick View of "THE" Most Popular Entryway Benches
Title
Coat & Shoe Style
OIAHOMY Entryway Coat Rack with Storage
Nice Hallway Bench
HOOBRO Storage Chest
Popular Bench
E&D FURNITURE Entryway Bench
Thumbnail
Frame Material
Metal, Engineered Wood & Wood
Coat & Shoe Style
Title
OIAHOMY Entryway Coat Rack with Storage
Thumbnail
Frame Material
Metal, Engineered Wood & Wood
Nice Hallway Bench
Thumbnail
Last update on 2023-03-07 / Affiliate links / Images from Amazon Product Advertising API
Shoe and Coat Hanger Bench Ideas
A shoe bench can make a big difference to a hallway allowing you to keep all of the things that you use on a daily basis in a neat and tidy place that is easy to look after and keep clean. Here are 15 great entryway bench ideas for the home for you to browse through
Shoe Bench Boot Organizer
A stunning shoe storage bench with a hidden compartment to boot. In a rustic brown with a black soft seat cushion..
Storage Bench with Flip-Open Storage Box and Adjustable Shelf
Space-Saving: The shoe storage bench with the size of 32.3"L x 12.4"W x 17.3"H takes up very little space, but it can perfectly organize your messy...
High Comfort: HOOBRO is always caring about the user experience. The seat cushion is made of soft leather and makes it a relaxing time for you to change shoes....
Comfortable and Cool: With a black soft seat cushion and a panel frame in rustic brown, this shoe bench is stylish. It can catch your eye no matter where it is...
Multifunctional Properties: The seat cushion can be opened and store items: gloves, hats, etc. The adjustable shelf of the storage bench can be adjusted...
Last update on 2023-03-07 / Affiliate links / Images from Amazon Product Advertising API
Bamboo 3 Tier Shoe Rack Bench
This bamboo shoe rack has a good following and has become quite a popular choice for those looking for something that looks good, is very sturdy when built correctly, and easy to keep clean and wipe down. It can also hold a good number of shoes to keep the hallway tidy.
Sale
Shoe Organizer or Entryway Bench
Sturdy, durable and built to last - Heavy-duty bench top is made of 100% natural bamboo and can hold up to an impressive 300lbs. It can be used both indoors and...
Shoe bench and storage - Each shoe rack shelf accommodates up to 4 pairs of shoes being due to its an ideal size: of 28.5" long x 12.5" deep x 17.7" tall
Easy to assemble - The bamboo shoe rack bench is easy to assemble, sturdy, and durable. It comes with all parts and tools necessary for assembly. Please refer...
Beautiful look - Water-resistant bamboo that wipes down easily with a damp cloth. This entryway shoe rack bench makes everything look beautiful and it will...
Last update on 2023-03-07 / Affiliate links / Images from Amazon Product Advertising API
This is the perfect fit for a casual backdoor entrance. All you need is a throw pillow and blanket or two to create a more cozy feel.
 Storage Entry Bench with Mesh Shelves
We love the functionality and versatility behind this design. It has great space for organizing and keeping the family from creating chaos, but it also has a comfortable spot to sit and slip on and off the sneakers for morning runs or afternoon ball practice. You can even personalize the space a bit with your choice of colorful canvas totes.
Sale
Rustic Foyer Bench for Hallway Front Door
【Dimension】 28.7" L x 11.8" W x 17.7" H; Load capacity:198 lbs
【Space Saving & Large Capacity】 Each storage mesh shelf accommodates up to 4 pairs of shoes; This shoe storage rack fits for your entryway, front door,...
【Rustic Style & Durable Design】 The Rolanstar shoe bench is made of rustic raw materials, which meets the EPA TSCA Title VI and Carb Certification and...
【Entry Shoe Rack & Bench】 The shoes rack for closet with smooth finish, which is wear-resistant and easy to clean. The shoe racks organizers for shoes is a...
Last update on 2023-03-07 / Affiliate links / Images from Amazon Product Advertising API
Shoe Rack & Shoe Bench & Shoe Cabinet
For a sleek and chic look, try searching for a bench with contemporary style and an artistic touch. This piece has amazing lines, focal point pizzazz and even an internal shoe rack and top cupboard for easy organization and function! How could you not love this pick?
Sale
K KELBEL Shoe Rack
ღ The top cushion with soft texture will give you a comfortable seating whilst to change shoes,it can hold multiple pairs of shoes and it's suitable for...
ღ High grade material: Made of High Grade 100% Natural Bamboo , after careful polishing,not easy to deformation and cracking.High density sponge cushion, good...
ღ Storage hidden compartment: good storage space for shoe polish, brushes, towels, socks, keys and other sundries;Ventilation through shuttered doors to...
ღ Overall Dimension:38.5(L) x 14.4(W) x 19.7(H) inches
Last update on 2023-03-07 / Affiliate links / Images from Amazon Product Advertising API
Entryway Shoe Rack with Cushioned Seat
A more basic take on an entryway bench, but still a fabulous option, this storage piece has shelves to fill with shoes that needs to be organized or kept on easy hand and a plush seat for when "sitting" starts to call. It will also easily blend in with a variety of homey, cozy style themes.
2 Shelves Storage Bench w/Faux Leather Top
MULTI FUNCTIONAL & EASY TO INSTALL - Perfect height to sit on and change your shoes, put it at your entryway for shoes or your bed end for pillow and blanket....
HIGH QUALITY MATERIAL - Low profile black metal frame and racks, rust & scratch proof. The legs have plastic pads on bottom so it will not damage your floor.
STURDY & COMFORTABLE FOR SITTING - Cushioned faux leather top and strong frame hold up to 400 lbs static load. Easy to clean simply wipe with a towel.
PROPER DIMENSIONS - 32 x 12 1/2 x 19 3/4 inches (cushion top included).
Last update on 2023-03-07 / Affiliate links / Images from Amazon Product Advertising API
Hall Tree Entryway Storage Bench
If you have a larger entryway, you may want to look for a larger piece, especially if you have a larger family! This has a traditional bench, storage underneath, hooks for your coats and more shelves to keep organized for an on-the-go crowd.
Sale
Coat Rack Shoe Bench
[ 3 in 1 Design ] Our hall tree offers numerous hooks for hanging jackets, coats or bags. The high with low mesh shoe storage rack is capable to hold shoes,...
[ Movable Hooks ] Our hall tree with bench and shoe storage includes 9 hanging hooks and 2 shelves. All the hooks on our hall tree is movable, and you could...
[ Dimension ] After assembly, the size our hall tree is 33"L x 12"W x 72"H (84 x 30 x 180 cm). Double check your measurement before purchase.
[ Sturdy & Stylish ] Adjustable foot pads are equipped at the bottom for fitting your unique floor condition. Designed with two safety belts on both top...
Last update on 2023-03-07 / Affiliate links / Images from Amazon Product Advertising API
Entryway Coat Rack Hall Tree Shoe Bench
A more modern and masculine piece of furniture, this solid wood and metal style helps to  create a warm and inviting setting, with a nice addition of a hanger style for jackets and shirts.
We also really love the mixed medium, a combination of wood and iron, because of its easy interest and personal appeal. Of course, the ease of show storage and drawer space helps too.
Metal Storage Rack with Bag Coat Hat Umbrella Shoe Rack
Sturdy and Durable Structure: LENTIA multifunctional hanging clothes racks is made up of high quality and rust-resistant metal, which is really durable. No...
3-IN-1 Designed: Perfectly combined with coat rack、storage shelf and shoes bench for your daily storage needs. The top rod provides space to hang your...
Modern Style: Simple and elegant design make a relaxed and comfortable aesthetic, absolutely suitable for your hallway, front door, living room, bedroom and...
Easy to Assemble: You can easily complete the assembly and disassembly under the clear instructions.
Last update on 2023-03-07 / Affiliate links / Images from Amazon Product Advertising API
Multifunctional Hallway Organizer
Another choice with a more basic take, the metal style creates an interesting and touchable look with a bit of refinement and edginess. Storage is available underneath, small spaces for organizing, it's a perfectly bench that will fit in a variety of different spaces.
Multifunctional Hallway Organizer
【STABLE & DURABLE】Made of high quality iron metal, more sturdy and load-bearing better and stable to hold up to 66 lbs, each bottom shelf can load 22 lbs
【3-IN-1 ORGANIZER】A perfect combo of shelf, coat rack and shoe storage bench; so you can hang your clothes, bags, umbrellas, and store your shoes, storage...
【REMOVABLE HOOKS】Hall Tree with 16 Hooks and can be removed as needed, each can load 2.2 lbs, all hooks have a rounded edges to prevent damaging your...
【EASY ASSEMBLY & DISASSEMBLY】This free standing Coat Rack Shoe Bench is simply constructed. With the help of instruction manual and tool(an allen wrench is...
Last update on 2023-03-07 / Affiliate links / Images from Amazon Product Advertising API
Entryway Coat Rack with Storage Shoes Bench
Just like the caption reads, this bench is inspired by the fusion of British traditional and old world design, which is apparent as first-glance. It definitely has a sophisticated spirit with a bit of luxurious, "vacation" style blended right inside.
Industrial Hall Tree with 5 Tier Storage Shelf
【Perfect Hall Tree】Coincidence: You are looking for a coat rack with industrial design elements, stylish and rustic accents, and strong storage function. We...
【Structure Upgrade】A perfect combo of storage shelf, coat rack, bench and shoe rack.The new upgraded version has 4 fixed hooks and4 movable hooks to meet...
【Solid Construction】The clothes rack is designed with a ladder structure, which is much stable than regular style, the thicken steel frame and board...
【Safe materials】OIAHOMY hall tree use MDF board that meets P2 United States formaldehyde emission standards, which means it is safe for your family's...
Last update on 2023-03-07 / Affiliate links / Images from Amazon Product Advertising API
Industrial Hall Tree Shoe Bench
A classic and chic design with a bold, dark style, this piece is a beautiful addition to any home with suave style and traditional value. All it needs are some throw pillows to jazz up the nook and add some color!
Bench and Storage Shelf Organizer
【Multipurpose Coat Rack】Featuring a hanging rail, several hooks and 2-shelves shoe bench, which allow person to sit on(holds up to 250 pounds), and the...
【Unique Design】The middle grid panel give you a personal free-zone, use it for clamping photos, memos or postcards; it also comes with 4 extra movable hooks...
【Elegant Style】Crafted by metal frame and wood grain, the mixed materials create a concise and casually style, suit for almost all style' home decor....
【Secure-safe Hall Tree】Our board shelves are made of premium P2 MDF Board, which is more hearth and durable; 2 anti-toppling brackets are provided to...
Last update on 2023-03-07 / Affiliate links / Images from Amazon Product Advertising API
Madison Windsor Bench
Similar to its predecessor with more of a delicate and dainty design, this Madison Windsor design is not only available in this midnight black tone but also American oak for those that needs something even more traditional and softer in style.
Again, this piece can fit into a variety of spaces and a throw pillow or two can jazz it right up.
Wallis Entry Bench
This Wallis entryway bench has everything you need to make your comings and goings that much smoother and easier for the entire family. There's storage, sitting space and it's small enough to fit in lots of different corners and walls of the house.
Cala Storage Bench
Modern and easy, we love this smooth and sleek bench. It's clean lines and easy nature are perfect for homes with a more modern and contemporary flow and you have the option of using the cubicle holes for a variety of things, and even adding a canvas or woven basket right inside.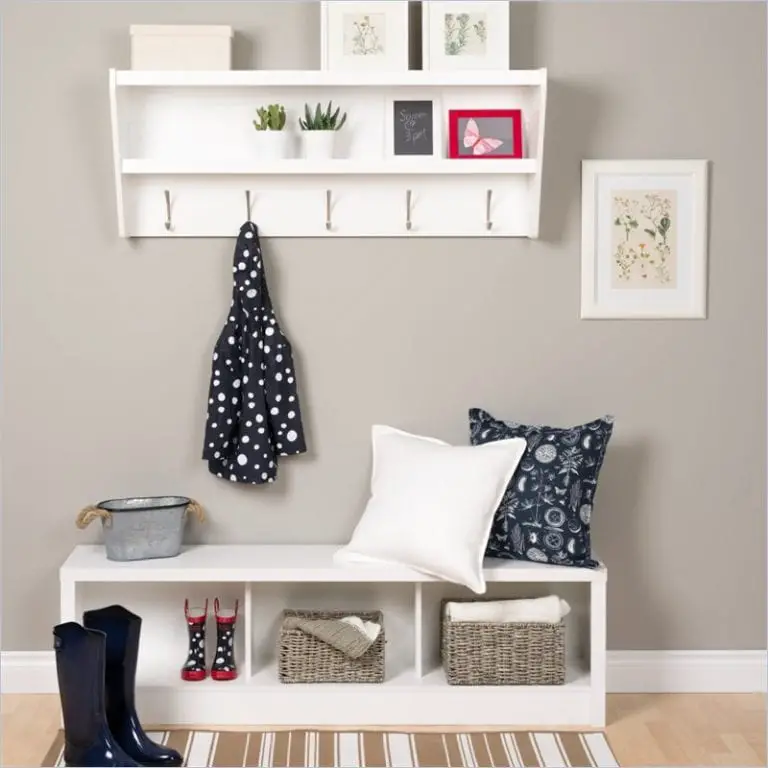 Cubby Bench
We love the subtle, two-tone look of this more masculine choice. Again, cubbies are so versatile and functional for organizing, especially in high-traffic entryways and this piece holds a traditional value that will fit perfectly in a variety of different homes.
Entryway Hall Tree Coat and Shoe Bench
 This piece is incredibly unique and artistic in style, but its dressed in traditional ways as to not be too overwhelming or bold in small spaces. It has everything you need to spruce up the foyer or mud room while being made of quality materials and neutral colors.
Sale
E&D FURNITURE Entryway Bench
4 TIER ENTRYWAY HOME ORGANIZER BENCH-This hall trees totally has 4 tier shelves for you to storage.Coat rack, Shoe Bench and Storage Shelf make everything handy...
MULTIFUNCTIONAL COAT RACK WITH BENCH-This coat rack shoe bench integrates organization, storage and decoration in one.The hooks, shelves and grid panel which...
STURDY AND DURABLE -The sturdy metal frame and high-quality MDF make the mudroom bench with storage more durable and stable. The sitting bench can bear up to...
STYLISH AND CLASSIC-Using the classic combination of black and brown, a stylish industrial-style entryway coat rack shoe bench is made of metal and MDF. Classic...
Last update on 2023-03-07 / Affiliate links / Images from Amazon Product Advertising API
Conclusion
So we hope that you enjoyed our post 15 great entryway bench ideas for the home, and that one of the benches was similar to what you are looking for.
This product was presentation was made with AAWP plugin.
Related Posts