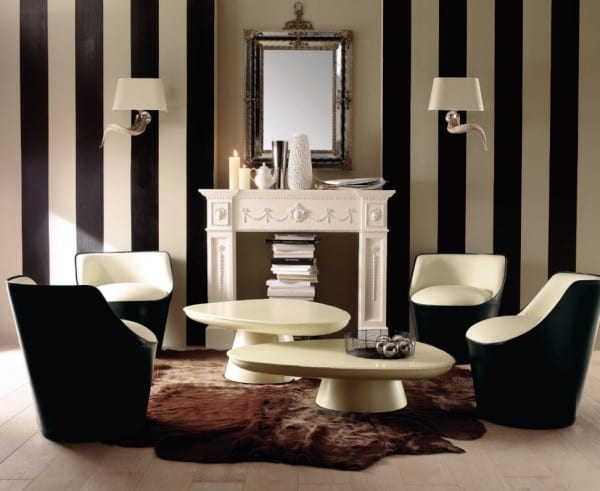 Need to add a little enthusiasm and spice to your interiors?  Try adding stripes into your interiors and see how your room is transformed. Whether you decide to use elusive thin stripes or full-sized bold ones, stripes can add such a variety and personal style to your interiors.  You have the opportunity to make them as dramatic, playful or resolute as you want them to be.  From the hallway to the kitchen to the family room, stripes can be placed anywhere and be the highlights of the space.
Beautify your Interiors with Stripes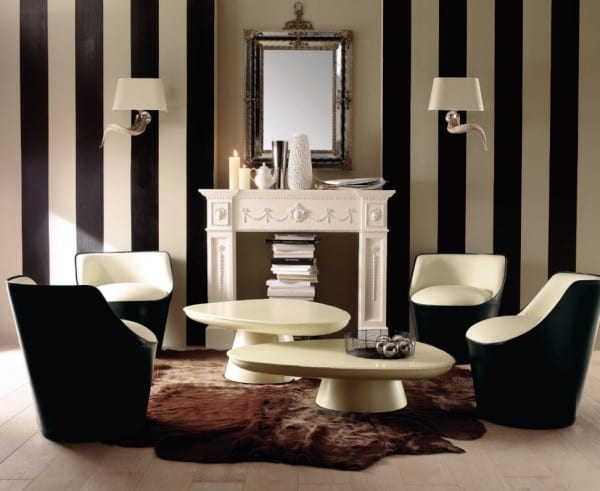 Image via: Usona Home
Stripe, patterns and solids:
Now, there seems to be a misconception that one should not mix stripes with patterns yet always keep them with solids.  Although stripes and solids are a great combination because a bold solid with stripes can add splitting contrast to the space, stripes with patterns if used properly can do wonders as well.  Like, if you go with stripes on the wall then have subtle print textiles within the furnishing accents that will add a beautiful textural contrast to your space.  Or pair elusive stripes with bigger, bolder ones and see the surprising mix it brings.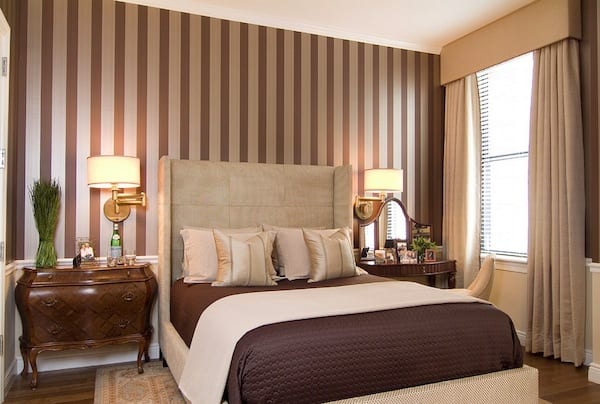 Image via: Alfonso DiLauro
Bold drama or delicate stripes:
Stripes can add a bold and powerful statement to your space.  By using wider stripes and a contrasting color combo or colors within the same family for a softer visual, they will help to liven up any room.  Also, the black and white can truly grasps the eye's attention.  If bold is not your goal then subtle stripes are your aim.  Choose lighter colored stripes that are slightly thinner, such as pastels, tone to tone color combinations for your walls.  Or simply add stripes to your furniture pieces and accents that way you will still get that pop without it be so overwhelming.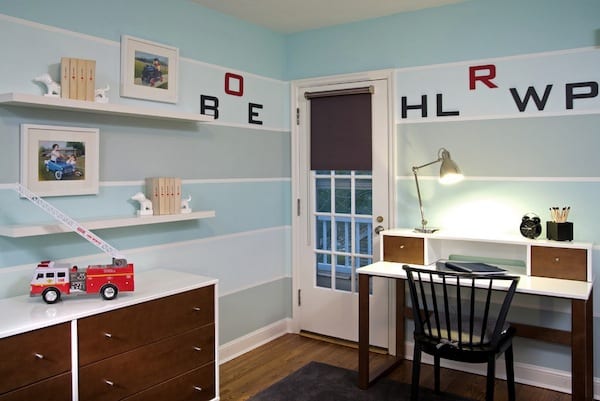 Image via: Inview Interior Design
Choose your favorite stripes – high or wide:
A couple of theories have made about the usage of stripes and one of them is that vertical stripes add height to the space while horizontal stripes make the room seem wider.  Depending on the amount of natural light, architectural features and the use of furniture within the space will all determine if you decide to go vertical or horizontal.  So find inspirations and information from different design magazines to see which would be perfect for your interiors.
Stripes can be an amazing design work that doesn't take much for you to do.  That's right putting in stripes within your interiors can be a great Do-It-Yourself project, just remember to use electric beam levelers to help you achieve straight lines.  Also wallpaper and faux finishes can help you to pull off similar results as well.  Whichever method you choose, try it out and see how you can beautify your interiors with stripes.