We're an affiliate
We hope you like our recommendations! Just so you know, we may collect a share of sales or other compensation from the links on this page. Thank you for using our links, it is much appreciated.
There's something endlessly fascinating about drawers, isn't there?  Maybe we're just overly curious souls here at Furniture Fashion, but the mystery of what's inside a great chest of drawers is as compelling, if not more so, than the actual piece of furniture itself.   Even more intriguing is the thought of what sacred objects might be held within miniature storage chests — artisinal tools? Vintage perfumes or paintbrushes?  Old photographs from generations past?  While it may be impolite to actually take a peek, it's fun to imagine the contents nonetheless.  So, enjoy wondering what's inside each of today's elements, from a luggage-inspired mini chest to something oddly resembling a deer's legs.  Like we said, imaginations never stop around here… and apparently, the same can be said of the craftspeople who make the items we enthusiastically cover.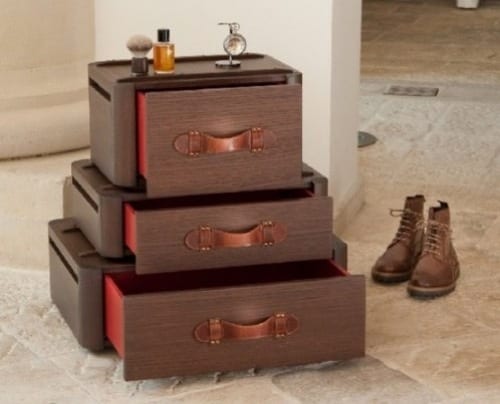 Last item in the series found at Modenus.