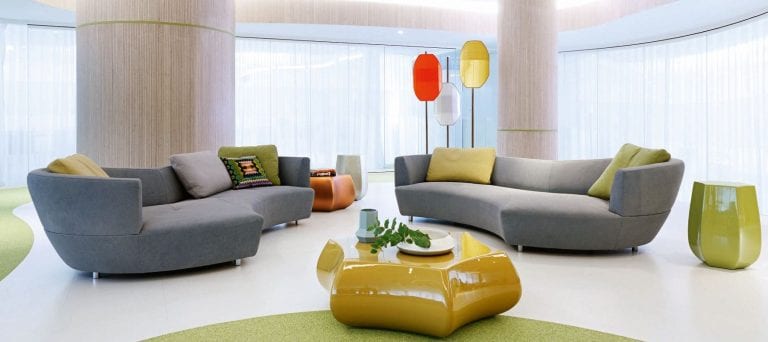 French Country Furniture by Roche Bobois
Now this is one great looking living room, and with help from Roche Bobois it is no doubt as comfortable to the touch as it is pleasing to the eye. The leader in stunning French made modern home furniture makes no apologies for taking things like cost over the top but as we all know you get what you pay for and this is not about price.
The Digital Sofa
Designers Gabriele Assmann & Alfred Kleene really broke up any thought of a straight line with a captivation and unusual shape of the Digital sofa that is available in right or left sides or you can buy the same one twice and face them together for the perfect opposition.
I think this style looks perfect floating in a large room where everyone can admire it from all angles.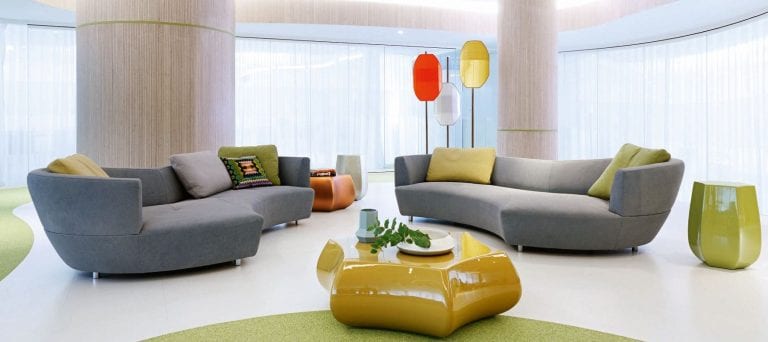 The setting includes the Carambole Coffee, Side and Occasional tables and the Flag straight floor lamp that is available in colors of your choice. The Digital sofa is shown here in a two-tone Toundra buffalo leather and stressed by a chrome plated foot.
The 3 accent pillows are yours to mix as you chose and the Green, Yellow and Lavender are a nice muted selection that really compliments the choice of leather colors and the offer a nice texture versus the leather. If you want to customize and create your own Roche Bobois offer a "customize this product" program on their website.
Other elements include a Pivoting Armchair, and Large and Small Round Ottomans. Sofa Round 3-seat sofa, edge on right .
W. 220 x H. 62 x D. 101 cm Cushions 2 cushions 50x55cm and 1 cushion 70x45cm included. See the full collection here.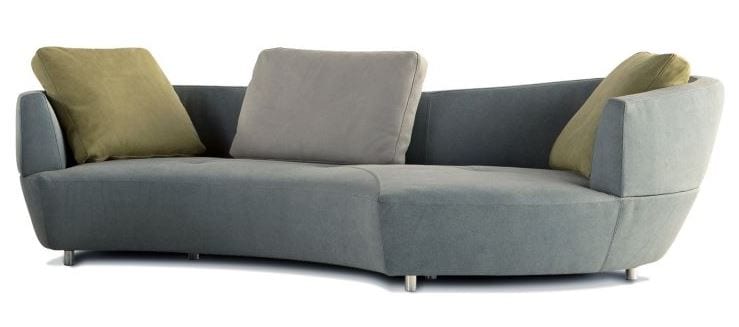 Roche-Bobois is definitely no stranger to great design and exceptional quality. The Symbole modular sofa sectional from designers R. Tapinassi and M. Manzoni as you can see looks up to Roche-Bobois standards, so what about the components.
Roche-Bobois Symbole Modular Sofa Sectional
The Symbole sofa hosts a 100% goose duck down cushions surrounded by a tri-colored top grain corrected cowhide, with a solid wood frame wrapped in laminated panels, all of which rests on a solid beech pedestal.  There is a lot to be said for details and they have all been covered.
Image Rights – Archiproducts.com
Stop for the "Speed Up" by Roche Bobois Furniture
Modern technology and serious vision have enabled designer Sacha Lakic to create the "Speed Up" series of contemporary furniture for French manufacturer Roche Bobois Furniture. It may perfectly combine Sacha's back ground as a futuristic car and motorcycle designer, and Roch Bobois' groundbreaking reputation that allowed such a bold line to be realized.
Thermo shaped components and cool features like neon lighting accent the space age shapes you might see in a sci-fi movie or vision of the future. The Meridienne 3 seat sofa / chaise lounge speaks for its self, but if I had to comment I would say this super cool, ultra modern sofa will no doubt stand the test of time.
The Speed Up series also includes a dining table and chairs, a sideboard, and several storage units in a variety of vibrant colors.
Renaud Thiry's Gaya Cocktail table for Roche Bobois
Gaya Cocktail table is not your usual marble table with metal legs! Roche Bobois re-invents the marble cocktail tables design by embedding marble legs into the tabletop.
Renaud Thiry, the designer behind Roche Bobois Gaya Cocktail table came with meticulous details and stylish proportions and the idea to mix for each table three different marbles Marquinia, Iran Graphite, and Carrara in various proportions to match de colors clients desire.
Even if they look like 3 separate tables, the Gaya Cocktail table is a single piece of furniture made from any of the three marble types above, and cannot be separated. The combination of colors in this contemporary design will turn this piece in almost a work of art that will catch your guests attention. This series is very versatile and suitable both for the home living room, the office waiting area or a hotel's lobby.
Marble coffee tables have certain qualities that separate them from the rest of the tables. We usually prefer them for their strength, durability and rock solid qualities. Probably around this idea Renaud Thiry created this amazing collection that's using such a classic material in such a modern way.
Starting in the 50's as promoters of contemporary furniture, and hyping Bahaus designs, the Roche family was selling furniture in Paris, France on Boulevard Sébastopol in a store named "Au Beau Bois" which later became Bobois. Nowadays, Roche Bobois is the world leading furniture manufacturer and retailer with over 250 stores  and showrooms worldwide.
Like most of the Roche Bobois products, with some exceptions, Gaya Cocktail tables are available in a large array of materials, colors and dimensions. The mix of neutral colors reiterates the basic shapes that characterize the collection. The natural look and wide array of dimensions will make this piece sit well around any contemporary sofa design and it appears both decorative and functional.
IL Teatro Leather Sofa By Roche Bobois
When your designs exude such style, they can break traditional boundaries and combining the best of old and new you have made an actual statement. We know Roche Bobois for their ability to put aside market trends and cost issues and produce desirable home furnishings.
The IL Teatro sofa by designer Philippe Bouix carries on that historic tradition with a wide expansive seating surface of goose down and full top grain leather shown here in opposing colors, which adds drama to the piece.
I particularly like the curved shape that feeds into built-in end tables that are accessible thanks to the low profile arms. As shown 387 x 71 x 105 cm other size sofas are available and a straight model and ottoman. Also shown Flap bookcase and Archipel coffee table designed by Rene Bouchara.
Mah Jong The Shabby Shiek Sofa Sectional from Roche Bobois
Shabby Sheik is in and Roche Bobois shows the colorful side of the less formal furniture movement here with their Mah Jong modular sofa sectional from designer Hans Hopfer. The Les Contemporains Collection by the leader in top end Modern and Provincial furniture from France offers a strikingly bold seating arrangement reminiscent of the 60's or 70's thanks to floral patterns and harvest gold fabrics.
The Mah Jong sectional comprises three basic elements including armless chairs, corner sections, and large square ottomans that can also be used independently for serious lounging or lying. Sectional pieces range from $700 to $2,000.
One pleasant aspect of this modular sectional is the ability to rearrange it and make a different layout as the mood or room requirements change. With a little imagination one can create a sofa, love seat or a chair with ottoman and even disperse to other rooms just to mix things up. The choice of fabrics in this version is stunning and shows some thinking outside the box as they say.
They fashion this striking arrangement forward, and it is not for everyone. We really like the combination of thick, heavy corduroy and floral prints that you will definitely not see down the street at your neighbors. The super low profile really makes this a retro living room group that is a welcoming place to relax.
Related Articles: