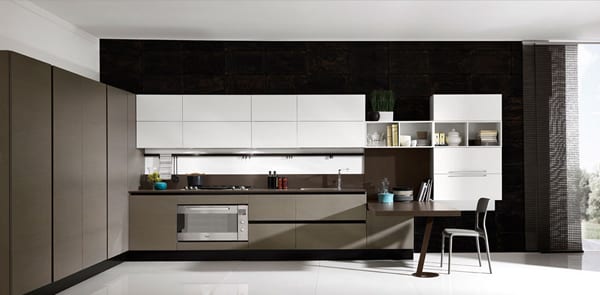 Volare Kitchen by Aran Cucine
Dreaming of a new kitchen? Get the Volare kitchen from Aran Cucine. It has a distinctive circular shape that makes it stand out. It also comes with a different surface which has an integrated sink. The sink enhances your kitchen's comfort and functionality.
Volare also has stainless steel cabinets which add a modern touch. It is the essence of modern design. It has clean lines that are elegant and well-defined. The repeated use of curved lines gives it great visual appeal.
Aran Cucine is known for researching and developing innovative solutions for kitchens. The company stands out for its ability to create and remodel new lines and trends, which showcase originality and quality to the highest level.
This kitchen is a fine example of their work. It comes in seven models in various door finishes, including glossy wood, matt wood, glossy lacquer, matt lacquer, glass, metallic, and yellow pine. If you want a chic look, get it in black with a stainless steel finish. The black countertop is not only trendy; it creates a lovely background for your kitchen accessories.
Kitchens are the heart of the home and are used for more than just cooking. They can be used to socialize and need to be put in the context of your home's living areas. The Volare kitchen from Aran Cucine will help you to achieve that beautifully.
It incorporates a casual space and a workspace and can be used for different purposes. What feature of the Volare kitchen do you love the best?