A classically tailored sofa never goes out of style.  The Brando Sofa by Matthew Hilton is a simple form with modern detailing that make it at home in any space, whether it is a residential living room or a commercial lobby.  The slim frame rests on slanting tripod-style black legs.  Choose between two or three seat cushions with two layers of loose pillow backs that add a fresh feeling like a set of recently fluffed pillows.  The arms slope slightly out to create a more welcoming and open angle that's also more comfortable.
The Brando Sofa by De La Espada is available with both or just one of the arms so that you can use multiple sofas together or just have a little flexibility in your space.  The front of any sofa is usually the only portion worth admiring, but the Brando makes sure that it will impress from any angle, even floating in the center of your room.  The quilted back pattern and three-dimensional shape give the sofa just enough detail to set it apart from the a sea of nondescript sofas that try to claim the label of "classic."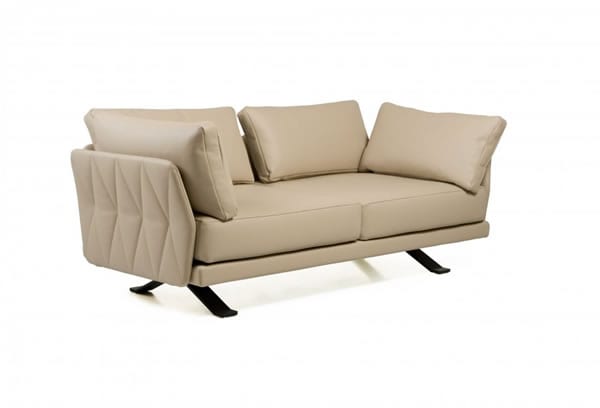 Matthew Hilton understands that classic should never be synonymous with boring in furniture design.  You can have a chic, urban look that gets attention from any side of the room, without losing the understated elegance and grace that comes hand in hand with a true timeless classic.
Sit back, relax, and wonder: how did you ever use anything but the Brando Sofa before now?