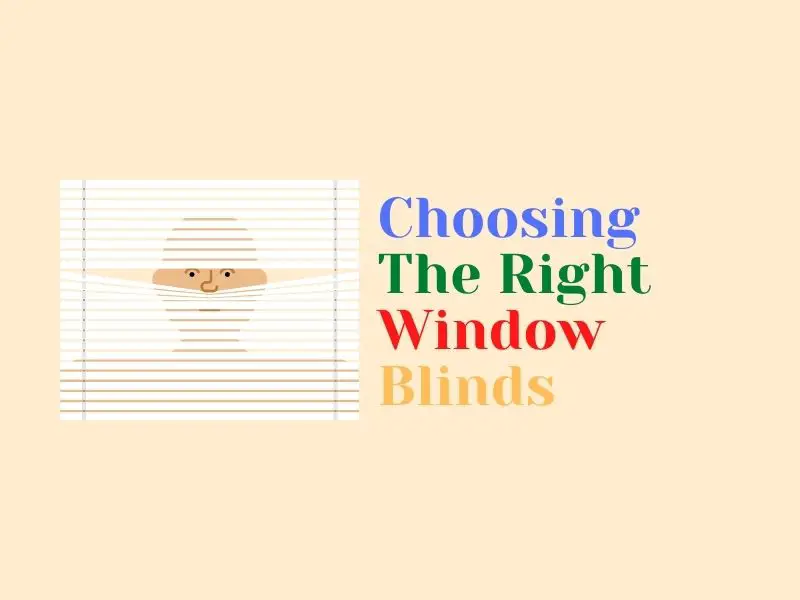 How To Choose the Right Window Blinds
Introduction to Window Blind Types
The information below is all you need to know to buy the perfect blinds and you can quickly learn all there is to know from the comfort of your home.
There are many factors that should influence the type of blinds you choose. You need to account for how well the blinds will complement your furnishings and how they will complement the construction materials used in your house, office or other property. Having a consistent design style is important but there are certain exceptions to this rule including children's bedrooms and play areas. You may also want to consider keeping a style consistent from the view outside of your property.
But most importantly – design and style are very much down to the individual.
Choose blinds that best suit your own tastes.
Blinds Terminology…
Like many industries the window covering industry has some terminology that you may not immediately understand. When talking about window blinds, there are many different types of window blinds but the most popular can be categorised under 3 different types;
1. Venetian Blinds
2. Roller Blinds
3. Roman Window Blinds
Venetian Blinds
Venetian Blinds are available in three different materials,
1. Aluminium (also known as mini blinds),
2. Wood
3. Ecowood (also known as faux -wood, eco-wood or PVC blinds).
Aluminium Venetian Blinds
Aluminium Venetian Blinds are often used in kitchens and bathrooms and in business offices. Almost always Aluminium Venetian Blinds and sold with 25mm slats. This is due to the flexible nature of the Aluminium slat. Sometimes Aluminium Venetian Blinds are known as Mini Blinds.
Aluminium Venetian Blinds are a very inexpensive way to cover a window and although the common colours are white and silver they can be found in a variety of colours to match the interior of your home or office.
Wooden Window Blinds
Wooden Venetian Blinds are a very stylish way to cover you windows and dress up the interior of your home. They are most commonly sold with 50mm slats but are also available in 25mm slats. Other slat size options can be found but are not commonly used.
Most wooden blinds are made of a very lightweight wood called basswood but they can also be found in a variety of oriental hardwoods and bamboo. Basswood is the ideal material due to its robustness – it warps less than other woods over time. Wooden Venetian Blinds are a perfect choice for large windows and are suitable for most windows in the home. The only area to avoid is places where there is moisture in the air like bathrooms. The most common wood type colours are lightwoods for example cedar, mid coloured woods like cherry and darker woods like mahogany. Wooden Venetian Blinds are also often sold in White.
Ecowood Venetian Blinds
Ecowood Venetian Blinds are becoming a very popular choice and are made from composite materials usually PVC or plastic but can include some wood. They are very popular because they are durable and easy to clean and they do not warp or discolour over time like wood. They are especially good for areas that may be exposed to moisture as they do not warp easily. The most common colour for Ecowood Venetian Blinds is white.
Roller Blinds
Roller Blinds are window coverings that can be opened by rolling the shades up on a cylinder that runs above a window. Roller Blinds are made from 100% polyester material. Roller Blinds typically come in two variants, Sunscreen and Blockout. Sunscreen Roller Blinds allow a certain degree of light to come through the fabric into the room, and Blockout, as the name suggests, Blockout all sun and glare.
Roller Blinds are also very inexpensive and therefore have been popular for years. A wide range of colours are available and the simple rolling mechanism of the Roller Blinds means they can last for many years without showing signs of degrading.
Roman Blinds
Roman Blinds are window coverings that are operated by rolling sections of the blind up into a stack. Roman Blinds offer a softer feel in your home and are the type of blind that can often be well matched to other furnishings. Various fabric types can be used in the manufacture of Roman Blinds but typically Polyester, Linen or Cotton fabrics are used. Roman Blinds also typically come in two variants, Sunscreen and Blockout. Sunscreen Blinds allow a certain degree of light to come through the fabric into the room and Blockout, as the name suggests Blockout all sun and glare.
Roman Blinds offer an attractive alternative to traditional window blinds and are well suited for living environments. They can be easily removed from the headrail for cleaning purposes. Roman Blinds are available in a range of stylish patterns and designs.
Which blind for which room?
It is also worth considering a number of more practical factors when looking at blinds for different room types. Some of these are listed below…
Living Room / Living Area Blinds
For rooms that take a lot of natural light in, sunscreens roller blinds are a good option. They allow you to keep your privacy during the day whilst also adding a stylish modern look. Equally Roman Blinds are a good option.
Kitchen Blinds
Windows by a sink should be easy to clean and not suffer from water damage. It is for this reason that Aluminium Venetian blinds and Ecowood Venetian Blinds are a better option than Wooden Venetian Blinds. Sunscreen Roller Blinds and standard Roller Blind fabrics are also easy to clean and quite often used in kitchen areas.
Bedroom Blinds
Blockout Roller Blinds and Roman Blinds are the most popular choices for bedrooms for total privacy and to block all light.
Bathrooms Blinds
Moisture in the air shouldn't normally affect the quality of window blinds, but prolonged moisture can begin to affect blinds after a period of time. If the blinds are likely to get direct water pressure, Aluminium Venetian Blinds or Ecowood Venetian Blinds are the best option. Any polyester based Roller Blind fabrics are not recommended and neither is Wooden Venetian as they wood is likely to warp. Most wood blinds are treated with a coating to resist water, but eventually they will break down when in continual contact with moisture.
Nursery / Play Rooms / Children's Bedrooms:
Safety is the most important factor here. Your blinds should come with safety Chain Guides. It is imperative these are used. It is important to also ensure that Chain Guides are well out of the way of cots, beds and other furniture. Keeping the room dark is often an objective for children's bedrooms. Blockout Roller Blind are best suited for this.
Decorating Advice by Type of Window…
Sliding Door Blinds
For sliding doors Roller Blinds are often the best option as they roll up tightly at the top and take up less space than other blinds types. With Venetian Blinds and Roman Blinds the slats or fabric can take up an additional 200mm when wound up to the top – this will take up valuable space in the walk through or it means you will have to install the blinds high above the top of the sliding doors.
It is also essential to make sure that door handles do not obstruct the blinds movement. Roller Blinds can be reverse rolled away from the handle to miss any obstructions.
When fitting on the face of the door, any product would be suitable, just remember to add around 200mm onto your drop measurement so that when the blind is wound up it is out of the way of the door area.
French Doors Blinds
With French Doors it is recommended that you use the same products as those already on windows in that room this will keep your look consistent.
Another thing to keep in mind, when placing an order for blinds that will cover a door, is the location of the tilt control and the lift control. You will want to have the controls for the blind on the side of the hinges and not the handle. They can get in the way and become a nuisance if they are near your door handle when you are trying to come in and out, they are less likely to get in the way of the hinge.
Windows with a Nice View:
When you have a window with a nice view it is recommended that you install a Sunscreen Roller Blind. This product will ensure that you can continue to enjoy the view.
Blind Depot – A fresh and unique approach to window blinds in Australia
Blind Depot is a specialist supplier of high quality window furnishings. Our enthusiastic team delivers fresh and unique solutions with tailored styles and sizes to meet any customer need.
We pride ourselves on sourcing the most effective products on the market that are of the highest quality. Many Blind Depot products are manufactured in Australia to your specific requirements and are made to measure so we can ensure that we deliver the perfect solution to suit your needs.
Whether it is Venetian Blinds, Roller Blinds or Roman Blinds, Blind Depot offer the Australian public the very best in contemporary styles of window furnishings. As a forward thinking company, we are heavily involved in eco friendly fabric's and materials and where possible offer our customers environmentally friendly options
Helena Karelson Blinds
Designer Helena Karelson adds a much needed twist or curve in this case to the horizontal widow blind. The curvaceous slats of her Contour Blinds positions light that filters through into a rich tapestry of sunbeams for your interior space. In the vertical position the light from behind the window frames the blinds perfectly in a subtle, warm glow.
Karleson's Contour Blinds debuted at this year's London Design Festival, and the First edition premiered at this year's D&AD New Blood exhibition, where it won the prestigious Best New Blood award. See more about this new wave of window treatments from Helena Karelson