Nothing compares to the contemporary StarLit lounger, a design that makes you want to take a break, a nap or just a moment to contemplate the surroundings. Its smooth lines and curves offer peace and relaxation and radiate into space from a generous elegance.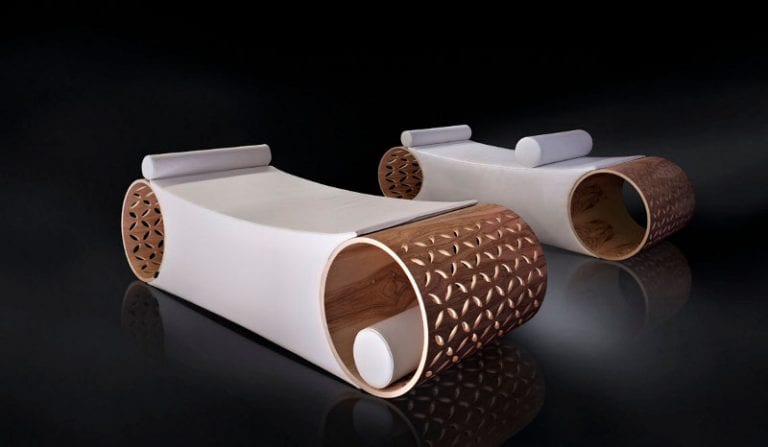 The day bed/ lounger design was originally designed to be especially suitable for use in high-end private or public wellness facilities. But it is also possible to use it for further purposes. Versatile, functional and sophisticated, this interesting lounge chair is just what the interior designer ordered.
Even if the piece looks rather massive, it was designed to meet every room requirement. The two round elements on both sides make Starlit lounger look like a cool sports car.No matter where you place it, it looks so cozy and inviting that it makes you want to take a minute on it.
The carved pattern in the olive wood has the shape of olive leaves. The side cylinders are intended for storing pillows, towels and blankets and all these together turn the lounger into a piece perfect for a relaxing area. With its almost golden tones streaked with a rich brown, olive is a hard wood, compact and homogenous, resistant to woodworm and ideal for the manufacture of fine furniture.
The design by Baldessari & Baldessari for Starpool offers a reinterpretation of the classic "dormeuses" of the bedrooms and parlours of the noble residences of the 18th century. The piece is designed to give you a weightless, floating sensation.
Since 1975, the year in which Turri Ardelio founded the company, their mission was the research of wellness solutions. Starpool is an Italian company that knows the true meaning of the design that made Italy a model in the world, therfor their designs are the result of careful design research aswell as their continuous search for quality.